Drug information of Pirfenidone
Pirfenidone
Pirfenidone is an orally active small molecule drug that may inhibit collagen synthesis, down regulate production of multiple cytokines and block fibroblast proliferation and stimulation in response to cytokines. Pirfenidone has demonstrated activity in multiple fibrotic conditions, including those of the lung, kidney and liver.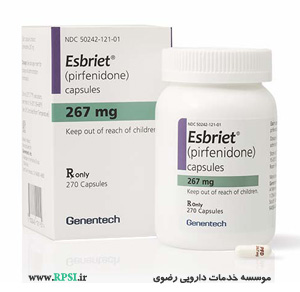 Mechanism of effect
Pirfenidone is an orally active, small molecule that shows a wide range of biologic activity. In vitro evidence has shown that pirfenidone inhibits collagen synthesis, down-regulates profibrotic cytokines and decreases fibroblast proliferation.
Pirfenidone leads to a reduction of TGF-beta2 mRNA levels and of the mature TGF-beta2 protein due to decreased expression and direct inhibition of the TGF-beta pro-protein convertase furin. In addition, pirfenidone reduces the protein levels of the matrix metalloproteinase (MMP)-11, a TGF-beta target gene and furin substrate involved in carcinogenesis.
Pharmacodynamic
Pirfenidone is a novel agent with anti-inflammatory, antioxidant, and antifibrotic properties. It may improve lung function and reduce the number of acute exacerbations in patients with idiopathic pulmonary fibrosis (IPF).
Pharmacokinetics
Peak plasma time: 0.5-4 hr
Food decreased the rate and extent of absorption; Cmax and AUC decreased by ~49% and 16% with food, respectively
A reduced incidence of adverse reactions was observed in the fed group when compared with the fasted group; administered with food in clinical trials
Protein bound: 58%
Vd: 59-71 L
Metabolism: Metabolized in the liver by CYP1A2 to inactive metabolites
Half-life: 3 hr
Majority of dose excreted as 5-carboxy-pirfenidone metabolite (99.6%)
Excretion: 80% urine
Dosage
Adult
Idiopathic Pulmonary Fibrosis
Conduct liver function tests before initiating therapy
Initial dose titration
Take with food
Days 1-7: 267 mg (1 capsule) PO TID
Days 8-14: 534 mg (2 capsules) PO TID
Day 15 and thereafter: 801 mg (3 capsules) PO TID
Maintenance dose
801 mg (3 capsules) PO TID with food
Pediatric
Safety and efficacy not established
Interactions
Mexiletine
,
Amiodarone
,
Ofloxacin
,
Propofol
,
Primidone
,
Tranylcypromine
,
Gemfibrozil
,
primaquine
,
fospropofol
,
Mibefradil
,
Fluoxetine
,
Phenobarbital
,
Methoxalen
,
Nifedipine
,
Carbamazepine
,
Zileuton
,
Duloxetine
,
Diclofenac
,
Rifampin
,
Cimetidine
,
Ciprofloxacin
,
Fluvoxamine
,
aminolevulinic acid oral
,
Aminolevulinic acid topical
,
Rucaparib
,
Nitrendipine
,
Remdesivir
,
Cannabidiol
,
Capmatinib
Alerts
Conduct liver function tests (ALT, AST, and bilirubin) before initiating, monthly for 6 months, and then q3months thereafter and, as clinically indicated; dosage modifications, interruption, or discontinuation may be necessary for liver enzyme elevation.
Photosensitivity and rash reported; avoid exposure to sunlight and sunlamps and wear protective clothing daily; temporary dosage reductions or discontinuations may be required
Nausea, vomiting, diarrhea, dyspepsia, gastroesophageal reflux disease, and abdominal pain reported; temporary dosage reductions or discontinuations may be required
Pirfenidone is a CYP1A2 substrate; discontinue moderate or strong CYP1A inhibitors before initiating pirfenidone and avoid use during therapy; if unable to avoid, pirfenidone dose reduction required
Discontinue strong CYP1A2 inducers before initiating pirfenidone and avoid use during therapy; likely to decrease exposure and lead to loss of pirfenidone efficacy
Smoking associated with decreased systemic exposure; encourage patient to quit smoking
Points of recommendation
You may get sunburned more easily. Avoid sun, sunlamps, and tanning beds. Use sunscreen and wear clothing and eyewear that protects you from the sun.
Stop smoking before starting pirfenidone . Avoid smoking while taking it. Smoking may lower how well pirfenidone works. Talk with your doctor.
If you have heartburn, upset stomach, stomach pain, throwing up, loose stools (diarrhea), or are not hungry, talk with your doctor. There may be ways to lower these side effects.
Have blood work checked as you have been told by the doctor. Talk with the doctor.
Tell your doctor if you are pregnant or plan on getting pregnant. You will need to talk about the benefits and risks of using pirfenidone while you are pregnant.
Tell your doctor if you are breast-feeding. You will need to talk about any risks to your baby.
Take pirfenidone with food.
Take pirfenidone at the same time of day.
To gain the most benefit, do not miss doses.
Keep taking pirfenidone as you have been told by your doctor or other health care provider, even if you feel well.
Take a missed dose as soon as you think about it, with food.
If it is close to the time for your next dose, skip the missed dose and go back to your normal time.
Do not take 2 doses at the same time or extra doses.
If you miss 14 or more days of taking pirfenidone , call your doctor before you start taking it again.