Drug information of Nintedanib
Nintedanib
Nintedanib is a drug indicated for the treatment of idiopathic pulmonary fibrosis (IPF) that targets multiple receptor tyrosine kinases (RTKs) and non-receptor tyrosine kinases (nRTKs).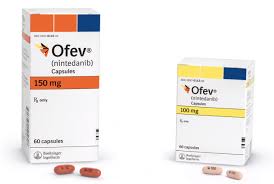 Mechanism of effect
Nintedanib is a small molecule that targets multiple receptor tyrosine kinases (RTKs) and non-receptor tyrosine kinases (nRTKs). Nintedanib inhibits the following RTKs: platelet-derived growth factor receptor (PDGFR) α and β, fibroblast growth factor receptor (FGFR) 1-3, vascular endothelial growth factor receptor (VEGFR) 1-3, and Fms-like tyrosine kinase-3 (FLT3). Among them, FGFR, PDGFR, and VEGFR have been implicated in IPF pathogenesis. Nintedanib binds competitively to the adenosine triphosphate (ATP) binding pocket of these receptors and blocks the intracellular signaling which is crucial for the proliferation, migration, and transformation of fibroblasts representing essential mechanisms of the IPF pathology. In addition, nintedanib inhibits the following nRTKs: Lck, Lyn and Src kinases.
Pharmacodynamic
By competitively and reversibly inhibiting the adenosine triphosphate binding pocket of the receptor tyrosine kinases VEGFR, FGFR and PDGFR, nintedanib blocks the intracellular signalling needed for the proliferation, migration and transformation of fibroblasts.
Pharmacokinetics
Bioavailability: 4.7%; undergoes substantial first-pass metabolism
Peak plasma concentration: 2-4 hr
Food increases systemic exposure by ~20% and delays peak level to ~4 hr
Protein bound: 97.8%
Vd: 1050 L
Metabolism
Hydrolytic cleavage by esterases resulting in the free acid moiety BIBF 1202 is the prevalent metabolic pathway (~25%); BIBF 1202 is subsequently glucuronidated by UGT enzymes, namely UGT 1A1, UGT 1A7, UGT 1A8, and UGT 1A10 to BIBF 1202 glucuronide
Only a minor extent of the biotransformation consists of CYP pathways (~5%), with CYP3A4 being the predominant enzyme involved
Excretion: 93.4% feces/biliary; 0.65% urine
Dosage
Adult
Idiopathic Pulmonary Fibrosis
150 mg PO q12hr with food
Pediatric
Safety and efficacy not established
Side effects
Diarrhea
,
Headache
,
weight decrease
,
nausea
,
vomiting
,
Hypertension
,
hypothyroidism
,
hemorrhage
,
Abdominal pain
,
increased liver enzymes in the blood
,
Myocardial Infarction
Interactions
Tipranavir
,
Primidone
,
Tenofovir
,
Dexamethasone
,
Doxorubicin
,
Rifampin
,
Phenobarbital
,
Nefazodone
,
mitotane
,
Fosphenytoin
,
lumacaftor and Ivacaftor
,
Erdafitinib
,
Drotrecogin alfa
,
Phenytoin
,
Vinblastin
,
Carbamazepine
,
Lomitapide
,
Mipomersen
,
teriflunomide
,
Remdesivir
Alerts
Severe liver injury with fatal outcome reported; majority of hepatic events occur within first 3 months of treatment; conduct liver function tests (ALT, AST, and bilirubin) before initiating, monthly for 3 months, and then q3months thereafter and as clinically indicated
Diarrhea, nausea, and/or vomiting may occur; treat with adequate hydration and antidiarrheal/antiemetic medications; if persists, treatment interruption and dose reduction may be needed
Arterial thromboembolic events reported, including myocardial infarction; caution when treatment patients at higher cardiovascular risk
May increased risk of bleeding or gastrointestinal perforation (based on mechanism of action [VEGFR inhibition]); monitor for bleeding if on full anticoagulant therapy and adjust anticoagulation treatment as needed
Smoking associated with decreased systemic exposure; encourage patients to quit smoking
In postmarketing period non-serious and serious bleeding events reported; use therapy in patients with known risk of bleeding only if anticipated benefit outweighs potential risk
In postmarketing period, cases of gastrointestinal perforations reported; use caution when treating patients who have had recent abdominal surgery, previous history of diverticular disease or receiving concomitant corticosteroids or NSAIDs; discontinue therapy in patients who develop gastrointestinal perforation; only use in patients with known risk of gastrointestinal perforation if the anticipated benefit outweighs the potential risk
Drug interaction overview
Nintedanib is a substrate of CYP3A4 and P-gp transporter
Coadministration with potent P-gp or CYP3A4 inhibitors may increase systemic exposure of nintedanib (monitor closely)
Coadministration with P-gp or CYP3A4 inducers may decrease systemic exposure to nintedanib by 50%; avoid coadministration
Points of recommendation
Tell all of your health care providers that you take nintedanib. This includes your doctors, nurses, pharmacists, and dentists.
You may bleed more easily. Be careful and avoid injury. Use a soft toothbrush and an electric razor. Rarely, some bleeding problems have been deadly.
If you have upset stomach, throwing up, diarrhea, or are not hungry, talk with your doctor. There may be ways to lower these side effects.
Have blood work checked as you have been told by the doctor. Talk with the doctor.
High blood pressure has happened with nintedanib. Have your blood pressure checked as you have been told by your doctor.
This medicine may cause fertility problems. This may affect being able to have children. Talk with the doctor.
This medicine may cause harm to the unborn baby if you take it while you are pregnant.
If you are able to get pregnant, a pregnancy test will be done to show that you are NOT pregnant before starting nintedanib. Talk with your doctor.
Use birth control that you can trust to prevent pregnancy while taking nintedanib and for 3 months after care ends.
If you get pregnant while taking nintedanib or within 3 months after your last dose, call your doctor right away.
Stop smoking before starting nintedanib. Avoid smoking while taking it. Smoking may lower how well nintedanib works. Talk with your doctor.
Take nintedanib with food.
Swallow whole with some water or other drink.
Do not chew or crush.
To gain the most benefit, do not miss doses.
Keep taking nintedanib as you have been told by your doctor or other health care provider, even if you feel well.
Skip the missed dose and go back to your normal time.
Do not take 2 doses at the same time or extra doses.
Related drugs
Acalabrutinib
,
Sunitinib
,
Sorafenib
,
Axitinib
,
Afatinib
,
alectinib
,
vandetanib
,
Larotrectinib
,
gilteritinib
,
Ceritinib
,
Ruxolitinib
,
vemurafenib
,
trametinib
,
encorafenib
,
midostaurin
,
Crizotinib
,
Cabozantinib
,
Cobimetinib
,
brigatinib
,
Regorafenib
,
Ponatinib
,
Dabrafenib
,
Binimetinib
,
Ibrutinib