Drug information of Carteolol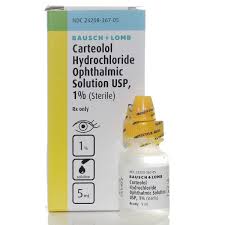 Mechanism of effect
The primary mechanism of the ocular hypotensive action of carteolol in reducing intraocular pressure is most likely a decrease in aqueous humor production. This process is initiated by the non-selective beta1 and beta2 adrenergic receptor blockade.
Pharmacodynamic
Carteolol, when applied topically to the eye, has the action of reducing elevated, as well as normal, intraocular pressure, whether or not accompanied by glaucoma. Carteolol reduces intraocular pressure with little or no effect on pupil size or accommodation in contrast to the miosis which cholinergic agents are known to produce.
Pharmacokinetics
Half-Life: 6 hr
Duration: 12 hr
Excretion: urine
Dosage
Adult
Chronic Open-Angle Glaucoma & Intraocular Hypertension
Instill 1 gtt in affected eye(s) BID
Pediatric
Not recommended
Interactions
Dolasetron
,
lipiodol
,
Aminophiline
,
Epinephrine
,
Budesonide+formoterol
,
Theophyline
,
Terbutaline
,
Diltiazem
,
Oxtriphylline
,
indacaterol
,
Bitolterol
,
Isoetarine
,
Pirbuterol
,
Dyphylline
,
Olodaterol
,
umeclidinium bromide/vilanterol inhaled
,
Salmeterol
,
Methyldopa
,
Verapamil
,
ritodrine
,
Metaproterenol
,
Arformoterol
,
ProHance
,
Levalbuterol
Alerts
caution in diabetes as may mask signs of hypolgycemia
Points of recommendation
Tell all of your health care providers that you take carteolol (ophthalmic). This includes your doctors, nurses, pharmacists, and dentists.
Use care when driving or doing other tasks that call for clear eyesight.
Tell your doctor if you have an eye infection, eye injury, or will be having eye surgery.
This medicine may hide the signs of low blood sugar. Talk with the doctor.
This medicine may make it harder to tell if you have signs of an overactive thyroid like fast heartbeat. If you have an overactive thyroid and stop taking carteolol (ophthalmic) all of a sudden, it may get worse and could be life-threatening. Talk with your doctor.
If you have had a very bad allergic reaction, talk with your doctor. If you use epinephrine to treat very bad allergic reactions, talk with your doctor. Epinephrine may not work as well while you are taking carteolol (ophthalmic).
Tell your doctor if you are pregnant or plan on getting pregnant. You will need to talk about the benefits and risks of using carteolol (ophthalmic) while you are pregnant.
Tell your doctor if you are breast-feeding. You will need to talk about any risks to your baby.
Use carteolol (ophthalmic) at the same time of day.
Use as you have been told, even if your signs get better.
Do not touch the container tip to the eye, lid, or other skin.
Wash your hands before and after use.
Tilt your head back and drop drug into the eye.
After use, keep your eyes closed. Put pressure on the inside corner of the eye. Do this for 1 to 2 minutes. This keeps the drug in your eye.
Use a missed dose as soon as you think about it.
If it is close to the time for your next dose, skip the missed dose and go back to your normal time.
Do not use 2 doses or extra doses.
Pregnancy level
Group c - Not adequate studies in pregnant women