Drug information of Darifenacin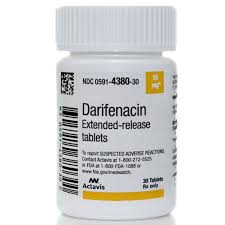 Mechanism of effect
Darifenacin selectively antagonizes the muscarinic M3 receptor. M3 receptors are involved in contraction of human bladder and gastrointestinal smooth muscle, saliva production, and iris sphincter function.
Pharmacodynamic
Muscarinic receptors play an important role in several major cholinergically mediated functions, including contractions of the urinary bladder smooth muscle and stimulation of salivary secretion. Adverse drug effects such as dry mouth, constipation and abnormal vision may be mediated through effects on M3 receptors in these organs.
Pharmacokinetics
Protein Bound: 98%
Vd: 163 L
Peak plasma time: 7 hr
Metabolism: Liver, by CYP3A4 and CYP2D6
Half-Life: 13-19 hr
Excretion: 60% urine; 40% feces
Dosage
Adult
Overactive Bladder
Initial: 7.5 mg PO qDay
May be increased to 15 mg based on patient response as early as 2 weeks later
Do not increase dose if taking concomitant CYP3A4 inhibitors
Pediatric
Safety and efficacy not established
Side effects
nausea
,
dry mouth
,
vomiting
,
vertigo
,
Peripheral edema
,
Flu-like symptoms
,
dry eyes
,
Weight increase
,
Abdominal pain
,
vaginitis
,
rhinitis
,
urinary tract infection
Interactions
Acetylcholine
,
potassium citrate
,
pilocarpine oral
,
Pramlintide
,
Secretin
,
Erythromycin
,
Everolimus
,
Itraconazole
,
Pimozide
,
Thioridazine
,
Dihydroergotamine
,
glycopyrrolate topical
,
Eliglustat
,
tolvaptan
,
revefenacin
,
silodosin
,
Nefazodone
,
dronedarone
,
Idelalisib
,
Pazopanib
,
Apalutamide
,
ivosidenib
,
Carbamazepine
,
Ketoconazole
,
Clarithromycin
,
ergotamine
,
Rifabutin
,
Ranolazine
,
Rifampin
,
Cimetidine
,
Sirolimus
,
Cisapride
,
Simvastatin
,
Lovastatin
,
Mibefradil
,
cobicistat
,
Delavirdine
,
Huperzine A
,
Lopinavir and Ritonavir
,
oleandomycin
,
Gefitinib
,
Blonanserin
Alerts
Bladder outflow obstruction, controlled narrow-angle glaucoma, decreased GI motility, renal/hepatic impairment
Angioedema of the face, lips, tongue, and/or larynx have been reported, in some cases angioedema occurred after the first dose
CNS anticholinergic effects reported including headache, confusion, hallucinations, and somnolence
Heat prostration may occur in the presence of increased environmental temperature
Use caution in patients with decreased GI motility, hiatal hernia, reflux esophagitis, and ulcerative colitis
Use caution in patients with controlled narrow-angle glaucoma and patients with hepatic impairment, or myesthenia gravis
Points of recommendation
Tell all of your health care providers that you take darifenacin. This includes your doctors, nurses, pharmacists, and dentists.
Avoid driving and doing other tasks or actions that call for you to be alert until you see how darifenacin affects you.
Talk with your doctor before you drink alcohol or use other drugs and natural products that slow your actions.
Be careful in hot weather or while being active. Drink lots of fluids to stop fluid loss.
A very bad reaction called angioedema has happened with darifenacin. Sometimes, this may be life-threatening. Signs may include swelling of the hands, face, lips, eyes, tongue, or throat; trouble breathing; trouble swallowing; or unusual hoarseness. Get medical help right away if you have any of these signs.
Tell your doctor if you are pregnant or plan on getting pregnant. You will need to talk about the benefits and risks of using darifenacin while you are pregnant.
Tell your doctor if you are breast-feeding. You will need to talk about any risks to your baby.
Take darifenacin at the same time of day.
Take with or without food.
Take with a full glass of water.
Swallow whole. Do not chew, break, or crush.
To gain the most benefit, do not miss doses.
Keep taking darifenacin as you have been told by your doctor or other health care provider, even if you feel well.
Take a missed dose as soon as you think about it.
If it is close to the time for your next dose, skip the missed dose and go back to your normal time.
Do not take 2 doses at the same time or extra doses.
Pregnancy level
Group c - Not adequate studies in pregnant women