Drug information of Doxylamine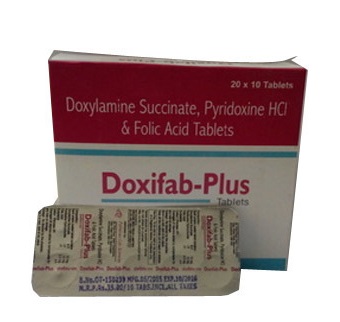 Mechanism of effect
Like other antihistamines, doxylamine acts by competitively inhibiting histamine at H1 receptors. It also has substantial sedative and anticholinergic effects.
Pharmacodynamic
Doxylamine is an antihistamine commonly used as a sleep aid. This drug is also used to relieve symptoms of hay fever (allergic rhinitis), hives (rash or itching), and other allergic reactions. In a study, it was found to be superior to even the barbiturate, phenobarbital for use as a sedative. Doxylamine is also a potent anticholinergic.
Pharmacokinetics
Peak Plasma Time: 2-3 hr
Peak Plasma Concentration: 100 ng/mL
Half-Life: 10-12 hr
Excretion: Urine
Dosage
Adult
Insomnia
25 mg PO qHS PRN 30 min before bedtime
Pediatric
Insomnia
<12 years: Not recommended
>12 years: 25 mg PO qHS PRN 30 min before bedtime
Interactions
Acetylcholine
,
fentanyl
,
potassium citrate
,
Butalbital and Acetaminophen
,
Potassium chloride
,
Procarbazine
,
Tranylcypromine
,
Topiramate
,
Zonisamide
,
Selegiline
,
Sufentanil
,
Hydrocodone
,
levomethadyl acetate
,
Linezolid
,
Sodium Oxybate
,
Phenelzine
,
isocarboxazid
,
methylene blue
,
propoxyphene
,
Acetaminophen and benzhydrocodone
,
Ramelteon
,
Secobarbital
,
Tolcapone
,
Temazepam
,
Clorazepate
,
Quazepam
,
Cariprazine
,
glycopyrrolate topical
,
Ethchlorvynol
,
ethotoin
Alerts
May cause CNS depression, which may impair physical and mental activities
Not to exceed 2 weeks of use
Caution in asthma, glaucoma, enlarged prostate, cardiovascular disease, respiratory disease, or thyroid dysfunction
Use with caution in patients with increased intraocular pressure or angle closure glaucoma
Not for use to treat insomnia in children <12 years; may cause paradoxical excitation in young children
CNS effects may be potentiated when used with other sedative drugs or ethanol
Points of recommendation
Tell all of your health care providers that you take doxylamine. This includes your doctors, nurses, pharmacists, and dentists.
Avoid driving and doing other tasks or actions that call for you to be alert after you take doxylamine. You may still feel sleepy the day after you take doxylamine. Avoid these tasks or actions until you feel fully awake.
Avoid drinking alcohol while taking doxylamine.
Talk with your doctor before you use other drugs and natural products that slow your actions.
Be careful in hot weather or while being active. Drink lots of fluids to stop fluid loss.
Tell your doctor if you are pregnant or plan on getting pregnant. You will need to talk about the benefits and risks of using doxylamine while you are pregnant.
Tell your doctor if you are breast-feeding. You will need to talk about any risks to your baby.
Take 30 minutes before bedtime.
Do not take doxylamine for more than 2 weeks unless told to do so by your doctor.