Drug information of Flavoxate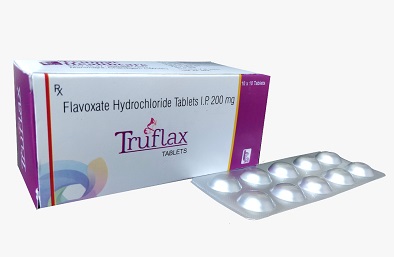 Mechanism of effect
Flavoxate acts as a direct antagonist at muscarinic acetylcholine receptors in cholinergically innervated organs. Its anticholinergic-parasympatholytic action reduces the tonus of smooth muscle in the bladder, effectively reducing the number of required voids, urge incontinence episodes, urge severity and improving retention, facilitating increased volume per void.
Pharmacodynamic
Flavoxate is a spasmolytic flavone derivative that acts by relaxing the smooth muscle in the urinary tract. Flavoxate is a competitive muscarinic receptor antagonist indicated for the treatment of overactive bladder with symptoms of urge urinary incontinence, urgency, and urinary frequency.
Pharmacokinetics
Onset: 55 min
Peak Effect: 112 min
Excretion: Urine (10-30%)
Dosage
Adult
Overactive Bladder
100-200 mg PO q6-8hr
Pediatric
Dysuria, Urinary Frequency
<12 years: Not recommended; safety and efficacy not established
≥12 years: 100-200 mg PO q6-8hr
Side effects
Anxiety
,
Headache
,
nausea
,
dry mouth
,
abdominal pain
,
dizziness
,
vomiting
,
Blurred vision
,
vertigo
,
urticaria
,
palpitations
,
difficulty urinating
Interactions
Acetylcholine
,
potassium citrate
,
pilocarpine oral
,
Pramlintide
,
Secretin
,
Potassium chloride
,
Topiramate
,
Zonisamide
,
Sodium Oxybate
,
propoxyphene
,
Huperzine A
,
glycopyrrolate topical
Alerts
Use with caution in patients with glaucoma
May impair ability to perform hazardous tasks
May cause ocular disturbances; advice patients of potential effects
Vertigo may occur
Points of recommendation
Tell all of your health care providers that you take flavoxate. This includes your doctors, nurses, pharmacists, and dentists.
Avoid driving and doing other tasks or actions that call for you to be alert or have clear eyesight until you see how flavoxate affects you.
Talk with your doctor before you drink alcohol or use other drugs and natural products that slow your actions.
Tell your doctor if you are pregnant or plan on getting pregnant. You will need to talk about the benefits and risks of using flavoxate while you are pregnant.
Tell your doctor if you are breast-feeding. You will need to talk about any risks to your baby.
To gain the most benefit, do not miss doses.
Keep taking flavoxate as you have been told by your doctor or other health care provider, even if you feel well.
Take a missed dose as soon as you think about it.
If it is close to the time for your next dose, skip the missed dose and go back to your normal time.
Do not take 2 doses at the same time or extra doses.