Drug information of Trimeprazine
Trimeprazine
Trimeprazine (also known as Alimemazine) is a tricyclic antihistamine, similar in structure to the phenothiazine antipsychotics, but differing in the ring-substitution and chain characteristics. A phenothiazine derivative that is used as an antipruritic.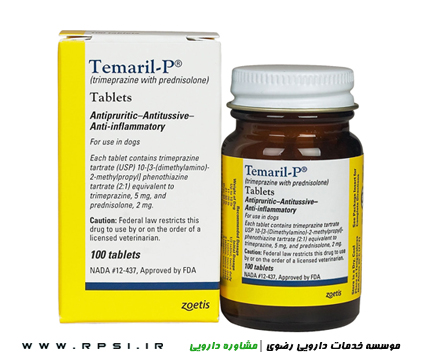 Mechanism of effect
Trimeprazine competes with free histamine for binding at HA-receptor sites. This antagonizes the effects of histamine on HA-receptors, leading to a reduction of the negative symptoms brought on by histamine HA-receptor binding.
Pharmacodynamic
It acts as an anti-histamine, a sedative, and an anti-emetic (anti-nausea). Trimeprazine is used principally as an anti-emetic, to prevent motion sickness or as an anti-histamine in combination with other medications in cough and cold preparations. Tricyclic antihistamines are also structurally-related to the tricyclic antidepressants, explaining the antihistaminergic adverse effects of these two drug classes and also the poor tolerability profile of tricyclic H1-antihistamines.
Pharmacokinetics
Absorption: Well absorbed in the digestive tract.
Metabolism: Hepatic
Interactions
Acetylcholine
,
potassium citrate
,
Dolasetron
,
Dofetilide
,
Butalbital and Acetaminophen
,
Iopamidol
,
Tetrabenazine
,
Tramadol
,
Topiramate
,
Thioridazine
,
Zonisamide
,
Metoclopramide
,
Sodium Oxybate
,
propoxyphene
,
iohexol (Omnipaque)
,
Metrizamide
,
Deutetrabenazine
,
Ramelteon
,
Secobarbital
,
Tolcapone
,
Clorazepate
,
Quazepam
,
Cariprazine
,
glycopyrrolate topical
,
Bepridil
,
bedaquiline
,
ethotoin
Alerts
If you have an allergy to this medicine (trimeprazine tablets) or any part of this medicine (trimeprazine tablets).
If you are allergic to any drugs like this one, any other drugs, foods, or other substances. Tell your doctor about the allergy and what signs you had, like rash; hives; itching; shortness of breath; wheezing; cough; swelling of face, lips, tongue, or throat; or any other signs.
If you are very sleepy.
If you have recently drunk a lot of alcohol or taken a big amount of drugs that may slow your actions like phenobarbital or some pain drugs like oxycodone.
If you have ever had a blood problem.
Do not give this medicine (trimeprazine tablets) to a child younger than 2 years of age.
Points of recommendation
Tell all of your health care providers that you take this medicine. This includes your doctors, nurses, pharmacists, and dentists.
Do not take more than what your doctor told you to take. Taking more than you are told may raise your chance of very bad side effects.
Avoid driving and doing other tasks or actions that call for you to be alert until you see how this medicine (trimeprazine tablets) affects you.
Talk with your doctor before you drink alcohol or use other drugs and natural products that slow your actions.
Tell your doctor if you are pregnant or plan on getting pregnant. You will need to talk about the benefits and risks of using this medicine (trimeprazine tablets) while you are pregnant.
Tell your doctor if you are breast-feeding. You will need to talk about any risks to your baby.
Take at bedtime. If you have also been told to take this medicine during the day, take those doses after meals.
If you take this medicine on a regular basis, take a missed dose as soon as you think about it.
If it is close to the time for your next dose, skip the missed dose and go back to your normal time.
Do not take 2 doses at the same time or extra doses.
Related drugs
Cetirizine
,
Methdilazine
,
Triprolidine
,
Tripelennamine
,
Promethazine
,
Diphenhydramin
,
Cyproheptadine
,
Fexofenadine
,
Loratadin
,
Clemastine
,
Levocetirizine
,
Dexchlorpheniramine
,
Desloratadine
,
Dexbrompheniramine
,
Terfenadine