Drug information of Verteporfin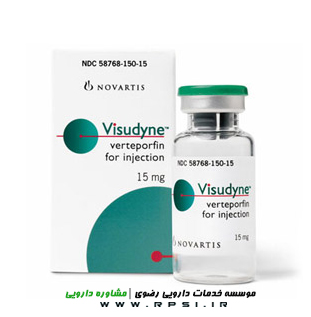 Mechanism of effect
Verteporfin is transported in the plasma primarily by lipoproteins. Once verteporfin is activated by light in the presence of oxygen, highly reactive, short-lived singlet oxygen and reactive oxygen radicals are generated. Light activation of verteporfin results in local damage to neovascular endothelium, resulting in vessel occlusion. Damaged endothelium is known to release procoagulant and vasoactive factors through the lipo-oxygenase (leukotriene) and cyclo-oxygenase (eicosanoids such as thromboxane) pathways, resulting in platelet aggregation, fibrin clot formation and vasoconstriction. Verteporfin appears to somewhat preferentially accumulate in neovasculature, including choroidal neovasculature. However, animal models indicate that the drug is also present in the retina. As singlet oxygen and reactive oxygen radicals are cytotoxic, Verteporfin can also be used to destroy tumor cells.
Pharmacodynamic
Verteporfin, otherwise known as benzoporphyrin derivative, is a medication used in conjunction with laser treatment to eliminate the abnormal blood vessels in the eye associated with conditions such as the wet form of macular degeneration. Verteporfin accumulates in these abnormal blood vessels and, when stimulated by nonthermal red light with a wavelength of 693 nm in the presence of oxygen, produces highly reactive short-lived singlet oxygen and other reactive oxygen radicals, resulting in local damage to the endothelium and blockage of the vessels.
Pharmacokinetics
Half-Life: 5-6 hr
Metabolism: To a small extent by liver and plasma esterases to a diacid metabolite that exhibits pharmacologic activity similar to that of verteporfin
Excretion: Feces
Dosage
Adult
Macular Degeneration with Classic Subfoveal Choroidal Neovascularization
6 mg/m² IV infusion, total volume 30 mL over 10 min
Follow with 50 J/cm² of 689 nm laser light on retina at intensity of 600 mW/cm² x 83 sec
Pediatric
Safety and efficacy not established
Side effects
sleep disorder
,
Headache
,
nausea
,
chest pain
,
vertigo
,
Dyspnea
,
asthenia
,
decreased WBC
,
Flu-like symptoms
,
conjunctivitis
,
Hyper-cholesteremia
,
Creatinine increased
,
pneumonia
,
itching
,
atrial fibrillation
,
eczema
,
Photosensitivity
,
Diplopia
,
Leukopenia
,
Syncope
,
itchy eyes
,
Hypersensitivity
,
peripheral vascular disorder
,
varicose veins
,
GI cancer
,
myasthenia
,
Prostatic disorder
,
visual field defect
Alerts
Avoid bright light for 5 days after injection
Moderate/severe hepatic impairment
Chest pain, hypersensitivity, and vasovagal reactions reported (observe patient during infusion)
Use with caution in patients with biliary obstruction
Patients under anesthesia not studied
Use in both eyes concurrently not studied (if required, apply to the agressive lesion first followed by the second eye a week later; may apply concurrently to both eyes thereafter)
Use precaution to avoid extravasation (stop infusion immediately if it occurs)
Safety and efficacy of use >2 years not established
Patients who experience severe decrease of vision of 4 lines or more within 1 week, following treatment, should not be retreated, at least until vision completely recovers to pretreatment levels and potential benefits and risks of subsequent treatment are carefully considered by treating physician
Points of recommendation
Tell all of your health care providers that you take verteporfin. This includes your doctors, nurses, pharmacists, and dentists.
Have an eye exam as you have been told by your doctor.
Use care when driving or doing other tasks that call for clear eyesight.
Your skin may be more sensitive to light. Avoid sources of bright light for 5 days after you get verteporfin. This includes sun, sunlamps, tanning beds, and bright indoor light. Wear clothing and eyewear that protects you from the sun. Sunscreens will not help. You may also need to avoid using certain medical devices after getting verteporfin. Talk with your doctor.
Do not stay in the dark. It is best to get normal amounts of indoor light. Talk with your doctor.
Tell your doctor if you are pregnant or plan on getting pregnant. You will need to talk about the benefits and risks of using verteporfin while you are pregnant.
Pregnancy level
Group c - Not adequate studies in pregnant women