Drug information of Canagliflozin
Canagliflozin
Canagliflozin belongs to a new class of anti-diabetic drugs that works by inhibiting the sodium-glucose transport protein (SGLT2). This transport protein is found in the kidney and is responsible for reabsorbing glucose that has been filtered.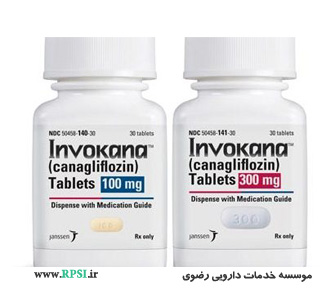 Mechanism of effect
Sodium-glucose co-transporter 2 (SGLT2), expressed in the proximal renal tubules, is responsible for the majority of the reabsorption of filtered glucose from the tubular lumen.
Canagliflozin is an inhibitor of SGLT2. By inhibiting SGLT2, canagliflozin reduces reabsorption of filtered glucose and lowers the renal threshold for glucose (RTG), and thereby increases urinary glucose excretion.
Pharmacodynamic
Canagliflozin binds to SGLT2 more potently (250-times) than SGLT1 in vitro. Dose dependent decreases in renal threshold for glucose and increases in urinary glucose excretion were observed when single and multiple oral doses were administered to type 2 diabetes patients.
Decreases in plasma glucose in a dose-dependent fashion were also noted as early as the first day of administration. When given to healthy and type 2 diabetic patients before a meal, a delay in intestinal glucose absorption and a reduction in postprandial glucose was observed. Canagliflozin does not prolong the QTc interval.
Pharmacokinetics
Bioavailability: 65%
Peak plasma time: 1-2 hr
Protein bound: 99% (predominantly to albumin)
Vd: 119 L
Metabolism: O-glucuronidation is the major metabolic elimination pathway, mainly by UGT1A9 and UGT2B4 to 2 inactive O-glucuronide metabolites
CYP3A4-mediated (oxidative) metabolism is minimal (~7%)
Half-life: 10.6 hr (100 mg dose); 13.1 hr (300 mg dose)
Total body clearance: 192 mL/min
Excretion
Feces: 41.5% (canagliflozin), 7% (hydroxylated metabolite), 3.2% (O-glucuronide metabolite)
Urine: 33% excreted in urine, mainly as O-glucuronide metabolites (30.5%); <1% excreted unchanged
Dosage
Adult
Diabetes Mellitus Type 2
Initial: 100 mg PO qDay taken before the first meal of the day
May increase dose to 300 mg qDay in patients tolerating 100 mg/day who have an eGFR ≥60 mL/min/1.73 m² and require additional glycemic control
Pediatric
Safety and efficacy not established
Interactions
Thyrotropin alfa
,
Spironolactone
,
Enalapril
,
insulin
,
Tacrolimus
,
Drospirenone
,
Digoxin
,
Aliskiren
,
Betrixaban
,
Moexipril
,
quinapril
,
nateglinide
,
Gatifloxacin
,
Azilsartan
,
Candesartan
,
dulaglutide
,
Irbesartan
,
Olmesartan
,
Eprosartan
,
Fosinopril
,
Ramipril
,
Trandolapril
,
Perindopril
,
Telmisartan
,
ritonavir
,
Tolbutamide
,
glyburide
,
Tolazamide
,
chlorpropamide
,
Triamterene
,
Carbamazepine
,
eplerenone
,
Amiloride
,
Trimethoprim
,
Pentamidine
,
Glipizide
,
Glimepiride
,
Losartan
,
Lisinopril
,
Heparin
,
Valsartan
,
Captopril
,
Repaglinide
,
Rifampin
,
Succinylcholine
,
Cyclosporine
,
Phenobarbital
,
Phenytoin
,
Lopinavir and Ritonavir
,
Vorinostat
,
Alclometasone
,
Nesiritide
,
flurandrenolide
Alerts
Black Box Warnings
Lower limb amputation
An approximately 2-fold increased risk of lower limb amputations
Before initiating, consider factors that may increase the risk of amputation (eg, history of prior amputation, peripheral vascular disease, neuropathy, diabetic foot ulcers)
Monitor patients for infection, new pain or tenderness, and sores or ulcers involving the lower limbs; discontinue if these complications occur
Counsel patients about importance of routine preventative foot care
Points of recommendation
Avoid driving and doing other tasks or actions that call for you to be alert until you see how canagliflozin affects you.
Do not drive if your blood sugar has been low. There is a greater chance of you having a crash.
To lower the chance of feeling dizzy or passing out, rise slowly if you have been sitting or lying down. Be careful going up and down stairs.
Be careful in hot weather or while being active. Drink lots of fluids to stop fluid loss.
If loose stools (diarrhea) happen or you are throwing up, call your doctor. You will need to drink more fluids to keep from losing too much fluid.
If you are on a low-salt or salt-free diet, talk with your doctor.
If you are not able to eat or drink like normal, talk with your doctor. This includes if you are sick, fasting, or you are having certain procedures or surgery.
Have blood work checked as you have been told by the doctor. Talk with the doctor.
This medicine may affect certain lab tests. Tell all of your health care providers and lab workers that you take canagliflozin.
Check your blood sugar as you have been told by your doctor.
Too much acid in the blood or urine (ketoacidosis) and very bad urinary tract infections (UTIs) have happened with canagliflozin. Ketoacidosis can be deadly. Both of these health problems may need to be treated in a hospital. Talk with the doctor.
It may be harder to control your blood sugar during times of stress like when you have a fever, an infection, an injury, or surgery. A change in level of physical activity or exercise and a change in diet may also affect your blood sugar. Talk with your doctor.
This medicine may raise the chance of a broken bone. Talk with the doctor.
Kidney problems have happened with canagliflozin. Sometimes, kidney problems may need to be treated in the hospital. Dialysis may also be needed. Talk with your doctor.
Take before the first meal of the day.
To gain the most benefit, do not miss doses.
Keep taking canagliflozin as you have been told by your doctor or other health care provider, even if you feel well.
Take a missed dose as soon as you think about it.
If it is close to the time for your next dose, skip the missed dose and go back to your normal time.
Do not take 2 doses at the same time or extra doses.