Drug information of Empagliflozin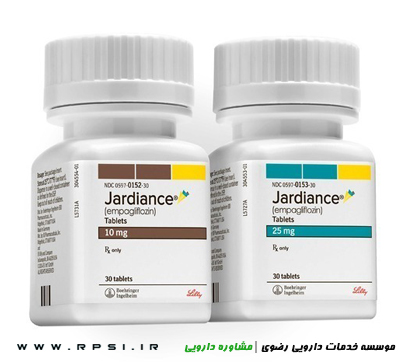 Mechanism of effect
Empagliflozin is a sodium glucose co-transporter-2 (SGLT-2) inhibitor. SGLT2 co-transporters are responsible for reabsorption of glucose from the glomerular filtrate in the kidney. The glucuretic effect resulting from SGLT2 inhibition reduces renal absorption and lowers the renal threshold for glucose, resulting in increased glucose excretion. Additionally, it contributes to reduced hyperglycaemia, assists weight loss, and reduces blood pressure.
Pharmacodynamic
Not Available
Pharmacokinetics
Peak plasma time: 1.5 hr
Peak plasma concentration: 259 nmol/L (10 mg/day); 687 nmol/L (25 mg/day)
AUC: 1870 nmol•hr/L (10 mg/day); 4740 nmol•hr/L (25 mg/day)
Protein bound: 86.2%
Red blood cell partitioning: 36.8%
Vd: 73.8 L
Metabolism
Primary route of metabolism is glucuronidation by the uridine 5'-diphospho-glucuronosyltransferases UGT2B7, UGT1A3, UGT1A8, and UGT1A9
No major metabolites were detected and the most abundant metabolites were 3 glucuronide conjugates (2-O-, 3-O-, and 6-O-glucuronide)
Systemic exposure of each metabolite was <10%
Half-life: 12.4 hr
Clearance: 10.6 L/hr
Excretion: 54.4% urine; 41.2% feces
Dosage
Adult
Type 2 Diabetes Mellitus
10 mg PO qDay
May increase to 25 mg/day if needed and tolerated
Pediatric
<18 years: Safety and efficacy not established
Alerts
Causes intravascular volume contraction; symptomatic hypotension may occur after initiating, particularly in patients with renal impairment, low systolic blood pressure, on diuretics, or in the elderly
Increases serum creatinine and decreases eGFR; risk increased in elderly or those with moderate renal impairment
Increased incidence of bone fractures reported; American Diabetes Association recommends avoiding sodium glucose cotransporter-2 inhibitors in patients with fracture risk factors
May increase low density lipoprotein levels; monitor and treat as necessary
Genital mycotic infections may occur; patients with history of genital mycotic infections and uncircumcised males are more susceptible
Increases risk of urinary tract infections (UTIs), including life-threatening urosepsis and pyelonephritis that started as UTIs
Dose-related increases in LDL-C reported
Serious hypersensitivity reactions (eg, angioedema) reported; if a hypersensitivity reaction occurs, discontinue treatment; treat promptly per standard of care, and monitor until signs and symptoms resolve
Renal function
Acute kidney injury reported
Consider risk factors, including hypovolemia, heart failure, and chronic renal insufficiency or use of medications, including diuretics, ACE inhibitors, NSAIDs, or angiotensin receptor blockers
Prior to initiating therapy; correct volume status before initiating if needed and monitor renal function periodically thereafter
Necrotizing fasciitis
Necrotizing fasciitis of the perineum (Fournier gangrene) reported with SGLT2 inhibitors
Signs and symptoms include tenderness, redness, or swelling of the genitals or the area from the genitals back to the rectum, and have a fever above 100.4 F or a general feeling of being unwell
If suspected, discontinue SGLT2 inhibitor and start treatment immediately with broad-spectrum antibiotics and surgical debridement if necessary
Ketoacidosis
Fatal cases of ketoacidosis associated with SGLT2 inhibitors reported; monitor for signs of ketoacidosis and advise patients to seek immediate medical attention for symptoms (eg, difficulty breathing, nausea, vomiting, abdominal pain, confusion, unusual fatigue or sleepiness)
Assess patients who present with signs and symptoms of metabolic acidosis for ketoacidosis, regardless of blood glucose level
Consider risk factors for ketoacidosis prior to initiating therapy
Patients may require temporary discontinuation of therapy in clinical situation that may predispose to ketoacidosis
Drug interactions overview
Coadministration of empagliflozin with diuretics resulted in increased urine volume and frequency of voids, which might enhance the potential for volume depletion
Hypoglycemia risk increased with insulin and insulin secretagogues (eg, sulfonylureas); a lower dose of insulin or the insulin secretagogue may be required
SGLT2 inhibitors increase urinary glucose excretion and will lead to positive urine glucose tests; use alternative methods to monitor glycemic control
Monitoring glycemic control with 1,5-AG assay is not recommended; this test is unreliable in assessing glyce mic control in patients taking SGLT2 inhibitors
Points of recommendation
Tell all of your health care providers that you take empagliflozin. This includes your doctors, nurses, pharmacists, and dentists.
Do not drive if your blood sugar has been low. There is a greater chance of you having a crash.
To lower the chance of feeling dizzy or passing out, rise slowly if you have been sitting or lying down. Be careful going up and down stairs.
Be careful in hot weather or while being active. Drink lots of fluids to stop fluid loss.
If you cannot drink liquids by mouth or if you have upset stomach, throwing up, or diarrhea that does not go away, you need to avoid getting dehydrated. Contact your doctor to find out what to do. Dehydration may lead to new or worse kidney problems.
Have blood work checked as you have been told by the doctor. Talk with the doctor.
This medicine may affect certain lab tests. Tell all of your health care providers and lab workers that you take empagliflozin.
It may be harder to control your blood sugar during times of stress like when you have a fever, an infection, an injury, or surgery. A change in level of physical activity or exercise and a change in diet may also affect your blood sugar. Talk with your doctor.
Check your blood sugar as you have been told by your doctor.
Talk with your doctor about which glucose tests are best to use.
Too much acid in the blood or urine (ketoacidosis) and very bad urinary tract infections (UTIs) have happened with empagliflozin. Ketoacidosis can be deadly. Both of these health problems may need to be treated in a hospital. Talk with the doctor.
Follow the diet and workout plan that your doctor told you about.
If you are on a low-salt or salt-free diet, talk with your doctor.
Talk with your doctor before you drink alcohol.
This medicine may cause harm to the unborn baby if you take it while you are pregnant. If you are pregnant or you get pregnant while taking empagliflozin, call your doctor right away.
Take with or without food.
Take in the morning.
Drink lots of noncaffeine liquids unless told to drink less liquid by your doctor.
To gain the most benefit, do not miss doses.
Keep taking empagliflozin as you have been told by your doctor or other health care provider, even if you feel well.
Take a missed dose as soon as you think about it.
If it is close to the time for your next dose, skip the missed dose and go back to your normal time.
Do not take 2 doses at the same time or extra doses.