Drug information of Oxiconazole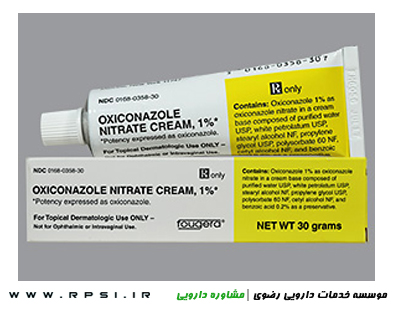 Mechanism of effect
Oxiconazole inhibits ergosterol biosynthesis, which is required for cytoplasmic membrane integrity of fungi. It acts to destabilize the fungal cyctochrome P450 51 enzyme (also known as Lanosterol 14-alpha demethylase). This is vital in the cell membrance structure of the fungus. Its inhibition leads to cell lysis. Oxiconazole has also been shown in inhibit DNA synthesis and suppress intracellular concentrations of ATP. Like other imidazole antifungals, Oxiconazole can increase membrane permeability to zinc, augmenting its cytotoxicity.
Pharmacodynamic
Oxiconazole is a broad-spectrum imidazole derivative whose antifungal activity is derived primarily from the inhibition of ergosterol biosynthesis, which is critical for cellular membrane integrity. It has fungicidal or fungistatic activity in vitro against a number of pathogenic fungi including the following dermatophytes, and yeasts: T. rubrum, T. mentagrophytes, T. tonsurans, T. violaceum, E. floccosum, M. canis, M. audouini, M. gypseum, C. albicans, and M. furfur.
Pharmacokinetics
Absorption: minimal
Excretion: urine (0.3%) within 5 days
Enzymes inhibited: hepatic CYP3A4
Dosage
Adult
Fungal Infections
Apply qDay-BID to affected & surrounding area
Tinea pedis: x4 weeks
Tinea cruris & corporis: x2 weeks
Pediatric
Fungal Infections
Apply qDay-BID to affected & surrounding area
These infections rarely occur in <12 years old
Interactions
Erythromycin
,
Everolimus
,
Pimozide
,
Dihydroergotamine
,
Sirolimus
,
Cisapride
,
silodosin
,
Simvastatin
,
Lovastatin
,
ergotamine
,
Ranolazine
,
dronedarone
,
tolvaptan
Points of recommendation
Tell all of your health care providers that you take oxiconazole cream. This includes your doctors, nurses, pharmacists, and dentists.

Tell your doctor if you are pregnant or plan on getting pregnant. You will need to talk about the benefits and risks of using oxiconazole cream while you are pregnant.

Tell your doctor if you are breast-feeding. You will need to talk about any risks to your baby.
Use as you have been told, even if your signs get better.
To gain the most benefit, do not miss doses.
Wash your hands before and after use. Do not wash your hands after use if putting this on your hand.
Clean affected part before use. Make sure to dry well.
Put a thin layer on the affected skin and rub in gently.
Do not use coverings (bandages, dressings, make-up) unless told to do so by the doctor.
Put on a missed dose as soon as you think about it.

If it is close to the time for your next dose, skip the missed dose and go back to your normal time.

Do not put on 2 doses at the same time or extra doses.
Related drugs
Econazole
,
Tolnaftate
,
Ciclopirox
,
Terbinafine
,
Ketoconazole
,
Clotrimazole
,
sertaconazole
,
miconazol
,
Luliconazole
,
Sulconazole
,
Butenafine
,
clioquinol
,
Naftifine
,
Undecylenic acid