Drug information of Sulconazole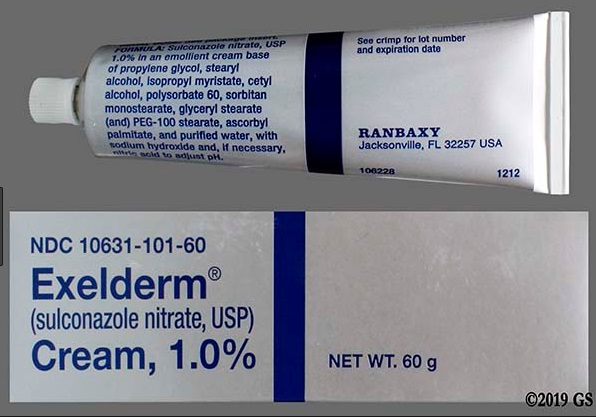 Mechanism of effect
Antifungal ointment, interferes with cell membrane sterol biosynthesis
Pharmacodynamic
The function of imidazole derivatives can be attributed to their structural resemblance to purines essential to metabolism.
Pharmacokinetics
Absorption: 8.7-11.3%
Urine: 6.7%
Feces: 2%
Dosage
Adult
Tinea Infection
Tinea corporis, cruris, versicolor: apply cream or solution qHS or BID x 3 weeks
Tinea pedis: apply cream qHS or BID x 3-4 weeks
Pediatric
Safety & efficacy not established
Alerts
Hypersensivity to other azole antifungals (eg, miconazole, ketoconazole, itraconazole)
Points of recommendation
Follow all directions on your prescription label. Do not use this medicine in larger or smaller amounts or for longer than recommended.
Do not take by mouth. Sulconazole topical is for use only on the skin. If this medicine gets in your eyes, mouth, or vagina, rinse with water.
Wash your hands with soap and water before and after applying this medication. Also wash the skin area to be treated. Use a mild soap or cleanser.
Do not cover the treated skin area unless your doctor tells you to.
Use this medication for the full prescribed length of time. Your symptoms may improve before the infection is completely cleared.
Call your doctor if your symptoms do not improve after 4 weeks of treatment, or your infection gets worse.
Do not use sulconazole to treat any condition that has not been checked by your doctor.
Store at room temperature away from moisture, heat, and light.
Apply the missed dose as soon as you remember. Skip the missed dose if it is almost time for your next dose. Do not use extra medicine to make up the missed dose.
Avoid wearing tight-fitting, synthetic clothing that doesn't allow air circulation. Wear loose-fitting clothing made of cotton and other natural fibers until the infection is healed.
Avoid using other medications on the areas you treat with sulconazole unless your doctor tells you to.
Pregnancy level
Group c - Not adequate studies in pregnant women
Related drugs
Econazole
,
Tolnaftate
,
Ciclopirox
,
Oxiconazole
,
Luliconazole
,
Terbinafine
,
Ketoconazole
,
Clotrimazole
,
miconazol
,
Butenafine
,
clioquinol
,
Naftifine
,
Undecylenic acid