Drug information of Crofelemer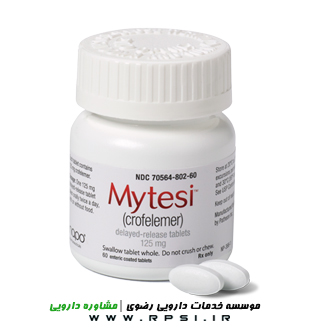 Mechanism of effect
Crofelemer is an inhibitor of the cystic fibrosis transmembrane regulator chloride channel (CFTR).Crofelemer also inhibits calcium activated chloride channels (CaCC), which in combination with CFTR, are expressed on the luminal side of intestinal cells. Crofelemer inhibition of both of these channels prevents water loss from diarrhea by inhibiting chloride secretion.
Pharmacodynamic
Crofelemer is an inhibitor of secretory diarrhea via inhibition of the CFTR chloride transporter. Crofelemer is not an antimicrobial, and therefore does not drive the emergence of resistance; it does not inhibit motility, and therefore does not cause constipation or rebound diarrhea; and it is not systemically absorbed, reducing the potential for adverse drug interactions and toxicity.
Pharmacokinetics
Absorption: Minimal; below the level of quantitation (ie, 50 ng/mL)
Dosage
Adult
Noninfectious Diarrhea
Antidiarrheal indicated for noninfectious diarrhea in patients with HIV/AIDS on antiretroviral therapy
125 mg PO BID
Pediatric
<18 years: Safety and efficacy not established
Alerts
Not indicated for infectious diarrhea; before initiating, rule out infectious etiologies of diarrhea
If initiated based on a presumptive diagnosis of noninfectious diarrhea, then there is a risk that patients with infectious etiologies will not receive the appropriate treatments, and their disease may worsen
In vitro studies have shown that crofelemer has the potential to inhibit CYP3A4 and transporters MRP2 and OATP1A2 at concentrations expected in the gut; unlikely to inhibit systemically because minimally absorbed
Points of recommendation
Tell all of your health care providers that you take crofelemer. This includes your doctors, nurses, pharmacists, and dentists.
Tell your doctor if you are pregnant or plan on getting pregnant. You will need to talk about the benefits and risks of using crofelemer while you are pregnant.
Take with or without food.
Swallow whole. Do not chew, break, or crush.
Take a missed dose as soon as you think about it.
If it is close to the time for your next dose, skip the missed dose and go back to your normal time.
Do not take 2 doses at the same time or extra doses.
Pregnancy level
Group c - Not adequate studies in pregnant women