Drug information of Daclizumab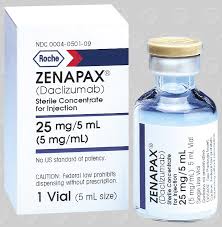 Mechanism of effect
Daclizumab is a humanized monoclonal antibody which binds to the CD25 subunit of the high-affinity interleukin-2 (IL-2) receptor to prevent signaling at the high-affinity IL-2 receptor while allowing increased IL-2 availability for signaling at the intermediate-affinity IL-2 receptor. Because IL-2 has a role in activating and regulating the immune system; CD25 antagonism may result in therapeutic benefit in multiple sclerosis .
Pharmacokinetics
Distribution
Vd: SubQ: ~6.34 L
Metabolism
Catabolized to peptides and amino acids
Time to Peak
SubQ: 5 to 7 days
Half-Life Elimination
SubQ: 21 days
Drug indications
Labeled Indications
Multiple sclerosis, relapsing: Treatment of relapsing forms of multiple sclerosis (MS) in adults. Daclizumab should generally be reserved for patients who have had an inadequate response to 2 or more medications indicated for the treatment of MS.
Dosage
Adult
Usual Adult Dose for Multiple Sclerosis
17 years and older:
150 mcg subcutaneously once a month

Comments:
-Sites for injection are the thigh, abdomen, and back of the upper arm.
-If a dose is missed within 2 weeks of the scheduled dose, it should be given immediately and the original monthly dosing schedule should be resumed.
-If a dose is missed and it is more than 2 weeks from the scheduled dose, the missed dose should be skipped and the original monthly dosing schedule should be resumed.
-Only one dose should be administered at one time.

Use: For the treatment of adult patients with relapsing forms of multiple sclerosis (MS) who have had an inadequate response to 2 or more drugs.
Drug contraindications
Hypersensitivity to daclizumab or any component of the formulation; preexisting hepatic disease or hepatic impairment, including ALT or AST at least 2 times the ULN; history of autoimmune hepatitis or other autoimmune condition involving the liver.
Side effects
WARNING/CAUTION: Even though it may be rare, some people may have very bad and sometimes deadly side effects when taking a drug. Tell your doctor or get medical help right away if you have any of the following signs or symptoms that may be related to a very bad side effect:
Signs of an allergic reaction, like rash; hives; itching; red, swollen, blistered, or peeling skin with or without fever; wheezing; tightness in the chest or throat; trouble breathing, swallowing, or talking; unusual hoarseness; or swelling of the mouth, face, lips, tongue, or throat.
Signs of infection like fever, chills, very bad sore throat, ear or sinus pain, cough, more sputum or change in color of sputum, pain with passing urine, mouth sores, or wound that will not heal.
Signs of depression, thoughts of suicide, nervousness, emotional ups and downs, thinking that is not normal, anxiety, or lack of interest in life.
All drugs may cause side effects. However, many people have no side effects or only have minor side effects. Call your doctor or get medical help if any of these side effects or any other side effects bother you or do not go away:
Nose and throat irritation.
Signs of a common cold.
Flu-like signs.
Interactions
Hib vaccine
,
Adenovirus types 4 and 7 live, oral
,
atovaquone/proguanil
,
Zoster Vaccines
,
Gefitinib
,
Remdesivir
,
Yellow fever vaccine
,
Meningococcal conjugate vaccine
,
Infliximab
,
Fingolimod
,
Natalizumab
,
cladribine
,
Influenza vaccine
,
Fluoxymesterone
,
pexidartinib
,
Siponimod
,
Typhoid vaccine (live), oral
,
ozanimod
,
rotavirus vaccine
,
Measles vaccine
,
Rubella Vaccines
,
Mumps vaccine
,
Varicella-Zoster Vaccines
,
Golimumab
,
Talimogene laherparepvec
,
BCG vaccine
,
Lomitapide
,
Mipomersen
,
teriflunomide
,
Adalimumab
,
Certolizumab
,
bacillus coagulans and inulin
influenza virus vaccine, h1n1, live , influenza virus vaccine,
poliovirus vaccine , smallpox
Alerts
This drug can cause very bad liver problems. Sometimes, these have been deadly. Liver problems can happen any time during treatment with this drug. Liver problems have also happened up to 5 months after the last dose of this drug. Do not take this drug if you have liver problems. Talk with the doctor.
Have blood work checked as you have been told by the doctor. Talk with the doctor.
Call your doctor right away if you have signs of liver problems like dark urine, feeling tired, not hungry, upset stomachor stomach pain, light-colored stools, throwing up, or yellow skin or eyes.Certain immune system problems can happen with this drug. Some of these may include skin reactions, swollen glands, a certain bowel problem (colitis), and a type of anemia (hemolytic anemia). Some problems took many months to go away after the last dose of this drug while some problems did not go away. Call your doctor right away if you feel very tired or weak or have a rash or skin irritation; tender, painful, or swollen lymph nodes; pale skin; or shortness of breath. Call your doctor if you have signs of colitis like bloody stools, diarrheathat does not go away, fever, or stomach pain. Call your doctor if you have any new or unexplained health problem.
Points of recommendation
SubQ: For subcutaneous administration only. Administer subcutaneously into the thigh, abdomen, or back of the upper arm.
Remove prefilled syringe from refrigerator and allow to warm to room temperature 30 minutes prior to injection. Patients may be trained on proper technique for self-administration. Use each prefilled syringe one time and then place in a sharps container for disposal according to community guidelines.
What do I need to tell my doctor BEFORE I take Daclizumab?
If you have an allergy to daclizumab or any other part of daclizumab.
If you are allergic to daclizumab; any part of daclizumab; or any other drugs, foods, or substances. Tell your doctor about the allergy and what signs you had.
If you have ever had any of these health problems: Autoimmune hepatitis or liver disease.
If you have TB (tuberculosis), talk with your doctor.
If you have an infection.
Tell all of your health care providers that you take daclizumab. This includes your doctors, nurses, pharmacists, and dentists.
Have patient safety card with you at all times.
You may need to have a TB (tuberculosis) test before starting daclizumab.
Hepatitis testing needs to be done before taking daclizumab.
Talk with your doctor before getting any vaccines while you take daclizumab and after you stop taking it. Vaccine use with daclizumab may either raise the chance of an infection or make the vaccine not work as well. Talk with your doctor.
You may have more chance of getting an infection. Wash hands often. Stay away from people with infections, colds, or flu.
Do not give to a child. Talk with your doctor.
Tell your doctor if you are pregnant or plan on getting pregnant. You will need to talk about the benefits and risks of using daclizumab while you are pregnant.
Tell your doctor if you are breast-feeding. You will need to talk about any risks to your baby.
Use daclizumab as ordered by your doctor. Read all information given to you. Follow all instructions closely.
It is given as a shot into the fatty part of the skin on the top of the thigh, belly area, or upper arm.
If you will be giving yourself the shot, your doctor or nurse will teach you how to give the shot.
Before using daclizumab, take it out of the refrigerator and leave it at room temperature for 30 minutes.
Do not heat or microwave.
Do not use if the solution is cloudy, leaking, or has particles.
This medicine is colorless to a faint yellow. Do not use if the solution changes color.
Throw syringe away after use. Do not use the same syringe more than one time.
Take a missed dose as soon as you think about it.
If it has been 2 weeks or more since the missed dose, skip the missed dose and go back to your normal time.
Do not take 2 doses at the same time or extra doses.
If you are not sure what to do if you miss a dose, call your doctor.
Storage
Store at 2°C to 8°C (36°F to 46°F). Do not expose to temperatures above 30°C (86°F). Do not freeze (discard if frozen). Keep in the original carton to protect from light.
If refrigeration is unavailable, may be stored protected from light for up to 30 days at up to 30°C (86°F). Do not place back into the refrigerator after allowing it to warm to room temperature. Discard after 30 days without refrigeration.
Pregnancy level
HAVE NOT BEEN ESTABLISHED
-This drug should be used during pregnancy only if the benefit outweighs the risk.

AU TGA pregnancy category: B3
US FDA pregnancy category: Not assigned

Breast feeding warning
A decision should be made to discontinue breastfeeding or discontinue the drug, taking into account the importance of the drug to the mother.

Excreted into human milk: Unknown
Excreted into animal milk: Yes

Comments:
-Human IgG is excreted into human milk.
-The effects in the nursing infant are unknown.
Because this drug is a large protein molecule with a molecular weight of about 144,000, the amount in milk is likely to be very low and absorption is unlikely because it is probably destroyed in the infant GI tract. Some experts recommend avoiding breastfeeding.
Drug forms
Zinbryta