Drug information of Distigmine
Distigmine
Distigmine is a parasympathomimetic agent with a longer duration of action and enhanced drug accumulation compared to Pyridostigmine and Neostigmine.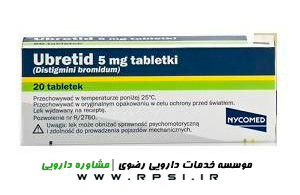 Mechanism of effect
It is an anticholinergic drug and long-acting reversible carbamate cholinesterase inhibitor that binds directly and competitively to the agonist binding sites of muscurinic receptors. It works by stopping the breakdown of something called acetylcholine. Acetylcholine is found naturally in the body. It works by helping muscles to contract.
Pharmacodynamic
It improves detrusor function thereby restoring normal voiding patterns in patients suffering from detrusor underactivity.
Pharmacokinetics
Not available
Dosage
Complications following an operation (paralysis of the bowel or intestine or difficulty passing water)
The usual dose is one tablet each day
Nerve conditions which make passing water difficult
The usual dose is one tablet each day or every other day
Myasthenia gravis
The usual starting dose is one tablet each day
This may be increased every 3-4 days
The maximum number you can take
each day is four tablets
Children
For children, the dose depends on the age of the child. The maximum number for a child is two tablets each day.
Alerts
You are feeling dizzy or lightheaded, fainting. These could be signs of low blood pressure.
▲ You have difficulty breathing, wheezing or tightness in the chest
▲ You have heart problems
▲ You have a stomach ulcer
▲ You have indigestion or heartburn
▲ You have epilepsy
▲ You have Parkinson's disease
Points of recommendation
You may have blurred vision while taking Distigmine. If this happens, do not drive or use any tools or machines.
This medicine contains lactose, which is a type of sugar. If you have been told by your doctor that you cannot tolerate some sugars, talk to your doctor before taking this medicine.
Always take Distigmine exactly as your doctor has told you. You should check with your doctor or pharmacist if you are not sure.
Take half an hour before breakfast on an empty stomach Swallow the tablets whole with a drink of water. Do not crush or chew your tablet
If you feel the effect of this medicine is too weak or too strong, do not change the dose yourself, but ask your doctor.
If you forget a dose, take it as soon as you remember it. However, if it is nearly time for the next dose, skip the missed dose.
Do not take a double dose to make up for a forgotten dose.