Drug information of Terconazole
Terconazole
Terconazole is an anti-fungal drug that is mainly used to treat vaginal yeast infections (or vaginal candidiasis). It is classified as a triazole ketal derivative.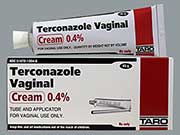 Mechanism of effect
Terconazole may exert its antifungal activity by disrupting normal fungal cell membrane permeability. Terconazole and other triazole antifungal agents inhibit cytochrome P450 14-alpha-demethylase in susceptible fungi, which leads to the accumulation of lanosterol and other methylated sterols and a decrease in ergosterol concentration. Depletion of ergosterol in the membrane disrupts the structure and function of the fungal cell leading to a decrease or inhibition of fungal growth.
Pharmacodynamic
By inhibiting the 14-alpha-demethylase (lanosterol 14-alpha-demethylase), Terconazole inhibits ergosterol synthesis. Depletion of ergosterol in fungal membrane disrupts the structure and many functions of fungal membrane leading to inhibition of fungal growth.
Pharmacokinetics
Absorption: Systemic absorption after vaginal administration may depend on presence of a uterus; 5-8% absorption in women who had a hysterectomy versus 12-16% in nonhysterectomy women
Protein binding: 94.9%
Metabolism: Systemically absorbed drug appears to be rapidly and extensively metabolized. Terconazole primarily undergoes oxidatative N- and O-dealkylation, dioxolane ring cleavage, and conjugation.
Route of elimination: Following oral (30 mg) administration of 14C-labelled terconazole, excretion of radioactivity was both by renal (32-56%) and fecal (47-52%) routes.
Half life: 6.9 hours (range 4.0-11.3)
Excretion: Feces & urine
Dosage
Adult
Candidal Vulvovaginitis
0.4% vaginal cream: 1 full applicator intravaginally qHS x7 days OR
0.8% cream: 1 full applicator intravaginally qHS x3 days
Suppository: Insert 1 suppository (80mg) intravaginally qHS x3 days
Pediatric
Safety & efficacy not established
Alerts
Discontinue if irritation or sensitization occurs
Perform/repeat microbiological studies (KOH smear and/or cultures) in patients not responding to terconazole to rule out other pathogens
Anaphylaxis and toxic epidermal necrolysis (TENs) reported; discontinued if anaphylaxis or TENs develops
Product is petroleum based, which may damage latex or rubber condoms or diaphragms (separate use by 3 days)
Points of recommendation
Use exactly as directed on the label, or as prescribed by your doctor. Do not use in larger or smaller amounts or for longer than recommended.
Wash your hands before and after inserting the cream or suppository.
Use this medication for the full prescribed length of time. Your symptoms may improve before the infection is completely cleared. Skipping doses may also increase your risk of further infection that is resistant to antifungal medicine.
Call your doctor if your symptoms do not improve after 3 days, or if you still have symptoms for longer than 7 days. Frequent vaginal yeast infections that do not clear up with treatment may be a sign of a more serious condition.
Terconazole vaginal suppositories contain ingredients that can damage a diaphragm. You should not use this form of birth control during treatment with terconazole vaginal suppositories.
The single-use cream applicator is for one use only. Throw the applicator away after one use, even if there is still some medicine left in it after inserting your dose.
Your sexual partner should contact a doctor if he develops redness, itching, or other discomfort of the penis. These may be signs that you have passed a yeast infection to your partner.
Store at room temperature away from moisture and heat.
Use the missed dose as soon as you remember. Skip the missed dose if it is almost time for your next scheduled dose. Do not use extra medicine to make up the missed dose.
Avoid having sexual intercourse during treatment, unless your doctor says that you may.
Do not use a tampon, vaginal douche, or other vaginal products while you are using terconazole vaginal.
Avoid wearing tight-fitting, synthetic clothing such as nylon underwear or panty hose that does not allow air circulation. Wear loose-fitting clothing made of cotton and other natural fibers until your infection is healed.
Pregnancy level
Group c - Not adequate studies in pregnant women