Drug information of Degarelix
Degarelix
Degarelix is a man-made form of a protein that reduces the amount of certain hormones in the body, including testosterone
Degarelix injection is used to treat prostate cancer. It works by decreasing the amount of testosterone in the body, which the tumor needs to grow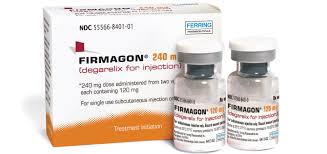 Mechanism of effect
Gonadotropin-releasing hormone (GnRH) antagonist which reversibly binds to GnRH receptors in the anterior pituitary gland, blocking the receptor and decreasing secretion of luteinizing hormone (LH) and follicle stimulation hormone (FSH), resulting in rapid androgen deprivation by decreasing testosterone production, thereby decreasing testosterone levels. Testosterone levels do not exhibit an initial surge, or flare, as is typical with GnRH agonists
Pharmacokinetics
Metabolism
Hepatobiliary, via peptide hydrolysis
Time to reach the peak
Plasma: Loading dose: SubQ: Within 2 days
Distribution
Vd: >1000 L
Half life
Loading dose: SubQ: ~53 days; Maintenance dose: SubQ: ~31 days (Canadian labeling)
Excretion
Feces (~70% to 80%, primarily as peptide fragments); urine (~20% to 30%)
Drug indications
Treatment of advanced prostate cancer
Dosage
Usual Adult Dose for Prostate Cancer
-Initial Dose: 240 mg administered as 2 subcutaneous injections of 120 mg each at a concentration of 40 mg/mL .
-Maintenance Dose: 80 mg administered as 1 subcutaneous injection at a concentration of 20 mg/mL every 28 days.
Drug contraindications
Known hypersensitivity to degarelix or any component of the formulation; women who are or may become pregnant.
Side effects
Central nervous system: Fatigue
Endocrine & metabolic: Hot flash, increased gamma-glutamyl transferase, weight loss, weight gain
Hepatic: Increased serum transaminases
Local: Injection site reactions, pain at injection site, erythema at injection site, swelling at injection site, induration at injection site, injection site nodule, injection site infection
Miscellaneous: Fever
Cardiovascular: Hypertension
Dermatologic: Diaphoresis
Gastrointestinal: Constipation, nausea, diarrhea
Genitourinary: Urinary tract infection, erectile dysfunction, testicular atrophy
Immunologic: Antibody development (antidegarelix)
Neuromuscular & skeletal: Back pain, arthralgia, weakness
Miscellaneous: Night sweats
Interactions
Dolasetron
,
vandetanib
,
sparfloxacin
,
Dofetilide
,
Halofantrine
,
Grepafloxacin
,
Haloperidol
,
Entrectinib
,
Bepridil
,
bedaquiline
,
Gemtuzumab
,
vemurafenib
,
Halaven
Haloperidol, Indium 111 Capromab Pendetide, QT-prolonging Agents (Highest Risk).
Alerts
1-Avoid rubbing or scratching the skin where a degarelix injection was given.
2-Degarelix can pass into body fluids (urine, feces, vomit). For at least 48 hours after you receive a dose, avoid allowing your body fluids to come into contact with your hands or other surfaces.
3-Safety and efficacy have not been established in patients younger than 18 years3.
4-Testosterone suppression is associated with the development of anemia.
5-Androgen deprivation therapy is associated with decreased bone mineral density.
6-Hypersensitivity reactions (including anaphylaxis, urticaria, and angioedema) have been reported. Discontinue for serious hypersensitivity reaction (immediately if dose not fully injected); manage hypersensitivity as clinically indicated. Do not rechallenge after serious hypersensitivity reaction
7-Androgen deprivation therapy may prolong the QT interval. Use with caution in patients with congenital long QT syndrome, known history of QT prolongation, or other risk factors for QT prolongation (eg, concomitant use of medications known to prolong QT interval, heart failure, and/or electrolyte abnormalities). Consider periodic electrolyte and ECG monitoring.
8-Androgen-deprivation therapy may increase the risk for cardiovascular disease
9-Androgen deprivation therapy may be associated with an increased risk for insulin resistance and diabetes.
10-Degarelix exposure is decreased in patients with hepatic impairment, dosage adjustment is not recommended in patients with mild to moderate hepatic impairment, although testosterone levels should be monitored. Has not been studied in patients with severe hepatic impairment; use with caution. Mild transient increases in transaminases have been observed; monitor liver function in
patients with known or suspected hepatic disorder.
11-Data for use in patients with moderate to severe renal impairment (CrCl <50 mL/minute) is limited;use with caution .
Points of recommendation
1-Although this medicine is not for use by women, degarelix should not be used by a woman who is pregnant or breast-feeding, or who may become pregnant .
2-Before you receive degarelix, tell your doctor if you have liver or kidney disease, a personal or family history of "Long QT syndrome," congestive heart failure, or an electrolyte imbalance, such as low or high levels of potassium or magnesium in your blood .

3-Tell your doctor about all other medications you use, especially a heart rhythm medication .
4-Degarelix is usually given once every 28 days .
5-To be sure this medication is helping your condition, your blood may need to be tested on a regular basis.
6-Degarelix is injected under the skin around your stomach.
7-On the day of your injection, avoid wearing a belt, tight waistband, or tight clothing around your stomach where the injection will be given.
8-The first time you receive this medicine, you will be given two injections. At your monthly follow-up visits you will receive only one injection.
9-Administer this drug in the abdominal region only.
10-Vary the injection site periodically to minimize patient discomfort, and administer in abdomen areas not exposed to pressure .
11-Perform a slow, deep subcutaneous injection over 30 seconds .
12-This drug is for subcutaneous injection only; do not administer intravenously or intramuscularly
13-Use this drug only as a first-line androgen deprivation therapy; there is no data available on use of this drug in patients who have failed treatment with GnRH agonists (e.g., leuprorelin, goserelin).
Storage
Store at 25°C; excursions permitted to 15°C to 30°C . Use within 1 hour of reconstitution (US labeling). The Canadian labeling recommends immediate administration following reconstitution (preferred); stability has been demonstrated for 2 hours following reconstitution. Do not shake the vials.
Pregnancy level
X
Use is contraindicated in women who are or may become pregnant.
Breast feeding warning
excretion in milk unknown/not recommended.