Drug information of Salbutamol
Salbutamol
Salbutamol (albuterol) is a bronchodilator that relaxes muscles in the airways and increases air flow to the lungs. Salbutamolis used to treat or prevent bronchospasm in people with reversible obstructive airway disease. Albuterol inhalation is also used to prevent exercise-induced bronchospasm.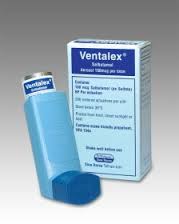 Mechanism of effect
Salbutamol is a beta(2)-adrenergic agonist and thus it stimulates beta(2)-adrenergic receptors. Binding of albuterol to beta(2)-receptors in the lungs results in relaxation of bronchial smooth muscles.
Pharmacodynamic
Salbutamol (INN) or albuterol (USAN), a moderately selective beta(2)-receptor agonist similar in structure to terbutaline, is widely used as a bronchodilator to manage asthma and other chronic obstructive airway diseases.
Pharmacokinetics
Systemic absorption is rapid following aerosol administration. Hydrolyzed by esterases in tissue and blood to the active compound colterol. The drug is also conjugatively metabolized to salbutamol 4'-O-sulfate. Approximately 72% of the inhaled dose is excreted in the urine within 24 hours, 28% as unchanged drug and 44% as metabolite. Half life: 1.6 hours.
Dosage
Bronchospasm For treatment of acute episodes of bronchospasm or prevention of symptoms associated with bronchospasm, the usual dosage for adults and children is 2 inhalations repeated every 4 to 6 hours; in some patients, 1 inhalation every 4 hours may be sufficient. More frequent administration or a greater number of inhalations is not recommended. Exercise-Induced Bronchospasm For prevention of exercise-induced bronchospasm, the usual dosage for adults and children aged 4 years and older is 2 inhalations 15 to 30 minutes before exercise.
Side effects
Headache
,
Hypertension
,
Throat irritation
,
Cough
,
Tremor
,
Hypokalemia
,
Angina pectoris
,
musculoskeletal pain
,
Upper respiratory inflammation
,
peripheral vasodilatation
,
metabolic acidosis
Interactions
Amitriptyline
,
Propranolol
,
Doxepin
,
Atenolol
,
Atomoxetine
,
Amiodarone
,
Erythromycin
,
Ofloxacin
,
Imipramine
,
Clomipramine
,
Flecainide
,
Quinidine
,
Moxifloxacin
,
Moclobemide
,
Nortriptyline
,
Nilotinib
,
Clarithromycin
,
Clozapine
,
Citalopram
,
Fluoxetine
,
Furosemide
,
Granisetron
,
Levofloxacin
,
Metolazone
,
Tranylcypromine
,
Trimipramine
,
Gemifloxacin
,
Desipramine
,
Sotalol
,
Ciprofloxacin
,
Metoprolol
,
Carvedilol
,
formoterol
,
Bisoprolol
,
Quetiapine
,
Bendroflumethiazide
,
cyclopenthiazide
Alerts
1-Salbutamolcan produce paradoxical bronchospasm, which may be life threatening. If paradoxical bronchospasm occurs following dosing with Salbutamol, it should be discontinued immediately and alternative therapy should be instituted.
2-Salbutamol, like all other beta2-adrenergic agonists, can produce clinically significant cardiovascular effects in some patients such as changes in pulse rate or blood pressure. If such effects occur, Salbutamolmay need to be discontinued.
3-Salbutamol, like other sympathomimetic amines, should be used with caution in patients with convulsive disorders, hyperthyroidism, or diabetes mellitus and in patients who are unusually responsive to sympathomimetic amines.
4-Beta-adrenergic agonist medicines may produce significant hypokalemia in some patients, possibly through intracellular shunting, which has the potential to produce adverse cardiovascular effects.
Points of recommendation
1- Inform patients that the action of Salbutamolshould last up to 4 to 6 hours. Do not use Salbutamolmore frequently than recommended.
2- Advise patients who are pregnant or nursing to contact their physicians about the use of Salbutamol.
3- The use of beta-adrenergic agonist bronchodilators alone may not be adequate to control asthma in many patients. Early consideration should be given to adding anti-inflammatory agents, e.g., corticosteroids, to the therapeutic regimen.