Drug information of Dexlansoprazole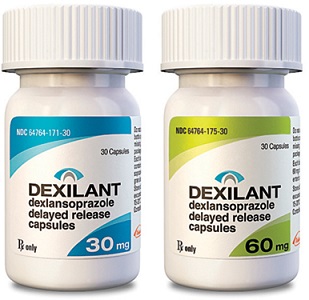 Mechanism of effect
Proton pump inhibitor; decreases acid secretion in gastric parietal cells through inhibition of (H+, K+)-ATPase enzyme system, blocking the final step in gastric acid production.
Pharmacokinetics
Vd: Symptomatic GERD: 40 L
Metabolism:Hepatic (extensive) via CYP2C19-mediated hydroxylation and CYP3A4-mediated oxidation; followed by reduction to sulfate, glucuronide, and glutathione conjugates (inactive)
Excretion:Urine (~51% as metabolites); feces (~48%)
Time to Peak:Serum: Two distinct peaks secondary to dual release formulation: Initial peak between 1 and 2 hours and a second higher peak between 4 and 5 hours.
Half-Life Elimination:~1 to 2 hours
Protein Binding:96% to 99%
Drug indications
Erosive esophagitis
Gastroesophageal reflux disease
Off Label Uses: Stress ulcer prophylaxis in critically ill patients
Dosage
Note: Doses >30 mg do not provide additional benefit during maintenance phase.
Erosive esophagitis: Oral:
Healing: 60 mg once daily for up to 8 weeks
Maintenance: 30 mg once daily
Gastroesophageal reflux disease, symptomatic: Oral: 30 mg once daily for 4 weeks
Missed doses: If a dose is missed, administer as soon as possible; however, if the next scheduled dose is due, take the next dose on time and do not take the missed dose (do not take 2 doses at one time to make up for a missed dose).
Discontinuation of therapy: Oral: Some experts recommend a step-down approach in order to avoid worsening or rebound symptoms. One strategy is to decrease the dose by 50% over 2 to 4 weeks. If the patient is already on the lowest possible dose, alternate day therapy may be considered. If symptoms worsen during treatment or after discontinuation, patient should be re-evaluated
Dosing: Pediatric
Note: Doses >30 mg do not provide additional benefit during maintenance phase.
Erosive esophagitis: Oral:
Healing: Children ≥12 years of age and Adolescents: Refer to adult dosing.
Maintenance: Children ≥12 years of age and Adolescents ≤17 years: 30 mg once daily for up to 16 weeks.
Gastroesophageal reflux disease, symptomatic: Children ≥12 years of age and Adolescents: Oral: Refer to adult dosing
Dosage Modifications
Hepatic impairment
Milde: Dose adjustment not necessary
Moderate: Not to exceed 30 mg/day
Severe: Not recommended
Drug contraindications
- Hypersensitivity reactions, including anaphylaxis and acute interstitial nephritis reported
- PPIs are contraindicated with rilpivirine-containing products
Side effects
Adverse Effects:
Diarrhea
Abdominal pain
Nausea
URI
Vomiting
Flatulence
Arrhythmia
Bradycardia
Barrett's esophagus
DVT
Dyspnea
Hepatomegaly
Hypertension
Paresthesia
Rectal hemorrhage
Vulvovaginal infection
Postmarketing Reports
Blurred vision
Oral edema
Facial edema
Anaphylactic shock (requiring emergency intervention)
Stevens-Johnsons syndrome
Toxic epidermal necrolysis (sometimes fatal)
Pharyngeal edema, throat tightness
Generalized rash
Leukocytoclastic vasculitis
Bone fracture
Cutaneous and systemic lupus erythematosus
Cyanocobalamin (vitamin B-12) deficiency
Fundic gland polyps
Interactions
Cetuximab
,
nelfinavir
,
Secretin
,
Pazopanib
,
ampicillin
,
ferric carboxymaltose
,
Erlotinib
,
Itraconazole
,
Posaconazole
,
Theophyline
,
vismodegib
,
st. john's wort
,
Eslicarbazepine acetate
,
mesalamine
,
voxelotor
,
dichlorphenamide
,
stiripentol
,
Dacomitinib
,
rilpivirine
,
Gefitinib
,
Iron Dextran Complex
,
neratinib
,
cenobamate
,
elagolix
,
Fedratinib
,
Triclabendazole
,
Flibanserin
,
Crizotinib
,
Istradefylline
,
Acalabrutinib
,
Delavirdine
,
Sofosbuvir and velpatasvir
,
Ferrous Gluconate
,
Apalutamide
,
pexidartinib
,
Ponatinib
,
lumacaftor and Ivacaftor
,
Iron polysaccharide
,
Dabrafenib
,
Sodium ferric gluconate complex
,
Cefditoren pivoxil
,
Fosamprenavir
,
Indinavir
,
Dexmethylphenidate
,
lisdexamfetamine
,
Idelalisib
,
Iron
,
Liothyronine
,
Axitinib
,
Dextroamphetamine
,
Methamphetamine
,
saquinavir
,
mitotane
,
Midazolam
,
Nilotinib
,
Ketoconazole
,
Clopidogrel
,
ledipasvir and sofosbuvir
,
Atazanavir
,
Cyclosporine
,
Ferrous sulfate
,
Ferrous fumarate
,
Levothyroxine
,
Mycophenolate mofetil
,
Methotrexate
,
Tacrolimus
,
Tinidazole
,
Digoxin
,
Risedronate
,
Rifampin
,
Iron sucrose
,
Dasatinib
,
Cannabidiol
,
Bacampicillin
, ferric maltol,intranasal, rose hips, tecovirimat, blessed thistle, cyanocobalamin, devil's claw, elvitegravir/cobicistat/emtricitabine/tenofovir DF, liotrix, phytoestrogens, thyroid desiccated
Alerts
-Proton pump inhibitors (PPIs) are possibly associated with increased incidence of Clostridium difficile-associated diarrhea (CDAD)
-May interfere with absorption of drugs for which pH is a determinant of oral bioavailability (eg, atazanavir)
-Proton pump inhibitors may decrease the efficacy of clopidogrel by reducing the formation of the active metabolite
-Cutaneous lupus erythematosus (CLE) and systemic lupus erythematosus (SLE) reported with PPIs
-PPI therapy may be associated with an increased risk for osteoporosis-related fractures of the hip, wrist, or spine; particularly with prolonged (>1 yr), high-dose therapy
-Relief of symptoms does not eliminate the possibility of a gastric malignancy;
-Decreased gastric acidity increases serum chromogranin A (CgA) levels and may cause false-positive diagnostic results for neuroendocrine tumors;
-Therapy increases risk of Salmonella, Campylobacter, and other infections
-Hypomagnesemia may occur with prolonged use
-Daily long-term use may lead to malabsorption or a deficiency of cyanocobalamin
-Acute interstitial nephritis reported in patients taking proton pump inhibitors
-Significant increase in systemic exposure of dexlansoprazole reported in patients with moderate hepatic impairment
-PPI therapy is associated with increased risk of fundic gland polyp
Points of recommendation
-consider diagnosis of CDAD for patients taking PPIs who have diarrhea that does not improve
-discontinue if signs or symptoms consistent with CLE or SLE are observed and refer patient to specialist
-consider additional follow-up and diagnostic testing in adult patients who have suboptimal response or early symptomatic relapse after completing treatment with a PPI
-consider monitoring magnesium levels prior to initiation of PPI treatment and periodically
-temporarily stop dexlansoprazole treatment at least 14 days before assessing CgA levels and consider repeating the test if initial CgA levels are high
-May elevate and/or prolong serum concentrations of methotrexate and/or its metabolite when administered oncomitantly with PPIs, possibly leading to toxicity; consider a temporary withdrawal of dexlansoprazole therapy with high dose methotrexate administration
-Capsule:May take with or without food,
-Oral disintegrating tablet:
Take at least 30 minutes before a meal
Do not break or cut
Place the tablet on the tongue, allow to disintegrate and swallow without water
Do not chew microgranules
May also be swallowed whole with water
Pregnancy level
There are no studies with dexlansoprazole use in pregnant women to inform a drug-associated risk; dexlansoprazole is R-enantiomer of lansoprazole, and published observational studies of lansoprazole use during pregnancy did not demonstrate an association of adverse pregnancy-related outcomes with lansoprazole.
Adverse events have not been observed in animal reproduction studies.
Breast feeding warning
There is no information regarding presence of dexlansoprazole in human milk, effects on breastfed infant, or on milk production; however, lansoprazole and its metabolites are present in rat milk; developmental and health benefits of breastfeeding should be considered along with mother's clinical need for therapy and potential adverse effects on breastfed child from therapy or from the underlying maternal condition.
Drug forms
Dexilant