Drug information of Salmeterol
Salmeterol
Salmeterol is a bronchodilator. It works by relaxing muscles in the airways to improve breathing. Salmeterol inhalation is used to prevent asthma attacks or exercise-induced bronchospasm.
Salmeterol inhalation is also used to treat chronic obstructive pulmonary disease (COPD) including emphysema and chronic bronchitis.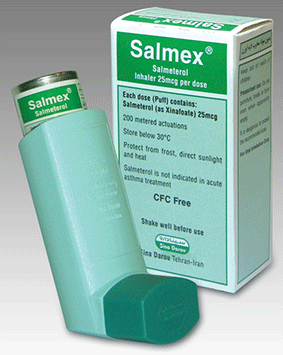 Mechanism of effect
Relaxes bronchial smooth muscle by selective action on beta2-receptors with little effect on heart rate; salmeterol acts locally in the lung.
Pharmacodynamic
Salmeterol is a long acting beta2-adrenoceptor agonist (LABA), usually only prescribed for severe persistent asthma following previous treatment with a short-acting beta agonist such as salbutamol and is prescribed concurrently with a corticosteroid, such as beclometasone
Pharmacokinetics
Absorption:Systemic: Inhalation: Undetectable to poor Metabolism:Hepatic; hydroxylated via CYP3A4 Excretion:Feces (60%); urine (25%) Onset of Action:Asthma: 30-48 minutes, COPD: 2 hours;
Peak effect: Asthma: 3 hours, COPD: 2-5 hours Time to Peak:Serum: ~20 minutes Duration of Action:12 hours Half-Life Elimination:5.5 hours Protein Binding:96%
Dosage
Dosing: Adult
Asthma/Bronchospasm (maintenance and prevention): Inhalation: One inhalation twice daily (~12 hours apart); maximum: 1 inhalation twice daily
COPD (maintenance): Inhalation: One inhalation twice daily (~12 hours apart); maximum: 1 inhalation twice daily
Exercise-induced bronchospasm (prevention): Inhalation: One inhalation at least 30 minutes prior to exercise; additional doses should not be used for 12 hours; should not be used in individuals already receiving salmeterol twice daily.
Dosing: Pediatric
Asthma/Bronchospasm (maintenance/prevention) and exercise-induced bronchospasm (prevention): Inhalation: Children ≥4 years and Adolescents: Refer to adult dosing.
Side effects
Migraine
,
nausea
,
Headache
,
Dermatit
,
dizziness
,
rash
,
urticaria
,
Hypertension
,
paresthesia
,
edema
,
Cough
,
anxiety
,
conjunctivitis
,
bronchitis
,
Pain
,
arterial thrombolic event
,
Increased ALT
,
Increased AST
,
eczema
,
pharyngitis
,
nasal congestion
Interactions
Amitriptyline
,
Erythromycin
,
Propranolol
,
Drospirenone
,
Atomoxetine
,
Aprepitant
,
Cefalexin
,
Metoprolol
,
Carvedilol
,
Clemastine
,
formoterol
,
Bisoprolol
,
Darunavir
,
Levobunolol
,
ritonavir
,
saquinavir
,
nelfinavir
,
Indinavir
,
Mefloquine
,
Carteolol
,
cobicistat
,
Bendroflumethiazide
,
Troleandomycin
,
tucatinib
Alerts
1-Do not use for the relief of acute bronchospasm. 2-Do not exceed recommended dose; serious adverse events, including fatalities, have been associated with excessive use of inhaled sympathomimetics.
Points of recommendation
1-Before inhaling the dose, breath out fully
2-hold breath for about 10 seconds or for as long as comfortable and exhale slowly
3-Do not use with a spacer device or wash mouthpiece
4-Diskus should be kept dry