Drug information of Cefixime
Cefixime
Cefixime is used to treat certain infections caused by bacteria such as bronchitis (infection of the airway tubes leading to the lungs); gonorrhea (a sexually transmitted disease); and infections of the ears, throat, tonsils, and urinary tract. It works by killing bacteria.
Cefixime is highly stable in the presence of beta-lactamase enzymes. As a result, many organisms resistant to penicillins and some cephalosporins due to the presence of beta-lactamases, may be susceptible to cefixime.
Antibiotics such as cefixime will not work for colds, flu, or other viral infections. Using antibiotics when they are not needed increases your risk of getting an infection later that resists antibiotic treatment.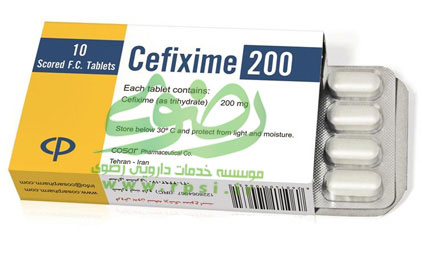 Mechanism of effect
Inhibits mucopeptide synthesis in bacterial cell wall.
Pharmacodynamic
The antibacterial effect of cefixime results from inhibition of mucopeptide synthesis in the bacterial cell wall.
Pharmacokinetics
About 40% to 50% is absorbed. Protein binding is about 65%.About 50% of absorbed dose is excreted unchanged in the urine in 24 h.
Dosage
Usual Adult Dose for Urinary Tract Infection Uncomplicated infections:
400 mg orally once a day or 200 mg orally every 12 hours.
Usual Pediatric Dose for Urinary Tract Infection Uncomplicated infections:
6 months to 12 years (weighing 45 kg or less): Oral suspension, chewable tablets: 8 mg/kg orally once a day or 4 mg/kg orally every 12 hours Children weighing more than 45 kg or older than 12 years:
400 mg orally once a day or 200 mg orally every 12 hours
Alerts
1-Safety and efficacy not established in children younger than 6 mo of age.
2-If administered to penicillin-allergic patients, use with caution because cross-sensitivity has been documented and may occur in up to 10% of patients with penicillin allergy.
3-Use with caution in patients with renal function impairment
4-GI disease:Use with caution, especially for colitis.
5-A fall in prothrombin activity may occur; patients at risk include patients with renal or hepatic function impairment, poor nutritional status, patients receiving protracted antimicrobial therapy, and patients previously stabilized on anticoagulant therapy.
Points of recommendation
1-Advise patient to take without regard to meals but to take with food if GI upset occurs.
2-Instruct patient to complete entire course of therapy even if symptoms of infection have disappeared
3-Advise patient to discontinue therapy and contact health care provider immediately if skin rash, hives, itching, or shortness of breath occur.
4-Instruct patient to immediately report severe diarrhea, diarrhea containing blood or pus, or severe abdominal cramping.