Drug information of Sibutramine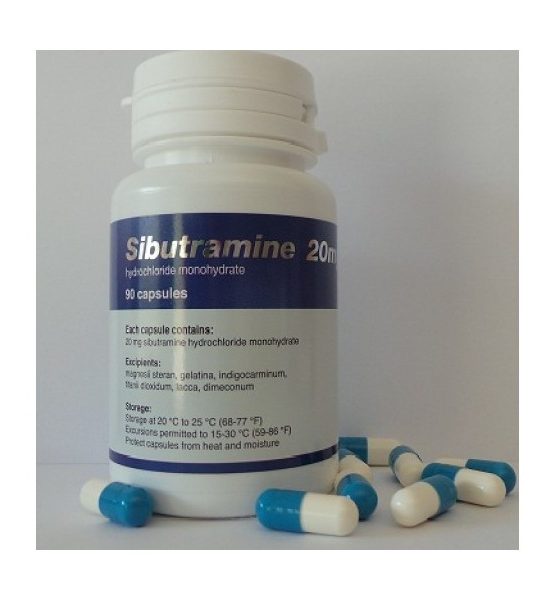 Mechanism of effect
Sibutramine produces its therapeutic effects by inhibition of norepinephrine (NE), serotonin (5-hydroxytryptamine, 5-HT), and to a lesser extent, dopamine reuptake at the neuronal synapse. By inhibiting the reuptake of these neurotransmitters, sibutramine promotes a sense of satiety and decrease in appetite, thereby reducing food intake. Sibutramine and its major pharmacologically active metabolites (M1 and M2) do not act via release of monoamines.
Pharmacodynamic
Sibutramine, M1 and M2 exhibit no evidence of anticholinergic or antihistaminergic actions. In addition, receptor binding profiles show that sibutramine, M1 and M2 have low affinity for serotonin (5-HT1, 5-HT1A, 5-HT1B, 5-HT2A, 5-HT2C), norepinephrine (b, b1, b3, a1 and a2), dopamine (D1 and D2), benzodiazepine, and glutamate (NMDA) receptors. These compounds also lack monoamine oxidase inhibitory activity in vitro and in vivo.
Pharmacokinetics
Absorption: Rapid absorption following oral administration. Absolute bioavailability is not known, but at least 77% of a single oral dose of sibutramine is absorbed.
Protein binding: 97% (to human plasma proteins)
Metabolism: Hepatic
Route of elimination: Sibutramine is metabolized in the liver principally by the cytochrome P450 (3A4) isoenzyme, to desmethyl metabolites, M1 and M2. These active metabolites are further metabolized by hydroxylation and conjugation to pharmacologically inactive metabolites, M5 and M6. Approximately 85% (range 68-95%) of a single orally administered radiolabeled dose was excreted in urine and feces over a 15-day collection period with the majority of the dose (77%) excreted in the urine. The primary route of excretion for M1 and M2 is hepatic metabolism and for M5 and M6 is renal excretion.
Half life: 1.1 hours
Clearance: Oral cl=1750 L/h [oral administration]
Dosage
Usual Adult Dose for Obesity
Initial Dose: 10 mg orally once a day.
Usual Pediatric Dose for Obesity
14 to 17 years:
Initial Dose: 10 mg orally once a day.
Interactions
Paroxetine
,
Trazodone
,
Doxepin
,
Amitriptyline
,
Iopamidol
,
Ephedrine
,
Ondansetron
,
Imipramine
,
Bupropion
,
phendimetrazine
,
Milnacipran
,
Metrizamide
,
Benzphetamine
,
Mazindol
,
Levomilnacipran
,
5-hydroxytryptophan
,
Dolasetron
,
Sufentanil
,
Alfentanil
,
lisdexamfetamine
,
Lorcaserin
,
Desvenlafaxine
,
Methamphetamine
,
Amphetamine
,
eletriptan
,
Mirtazapine
,
Tryptophan
,
Vilazodone
,
Pentazocine
,
Naratriptan
,
Almotriptan
,
Diethylpropion
,
Frovatriptan
,
Fenfluramine
,
propoxyphene
,
protriptyline
,
meperidine
,
iohexol (Omnipaque)
,
Nefazodone
,
Dextroamphetamine
,
Amoxapine
,
isocarboxazid
,
Remifentanil
,
safinamide
,
methylene blue
,
rasagiline
,
fentanyl
,
Linezolid
,
lithium
,
phentermine
,
Sodium Oxybate
,
Phenelzine
,
Granisetron
,
Nortriptyline
,
Clomipramine
,
Zolmitriptan
,
escitalopram
,
ergotamine
,
Duloxetine
,
Dihydroergotamine
,
Rizatriptan
,
Sertraline
,
Selegiline
,
Furazolidone
,
Buspirone
,
Procarbazine
,
Tramadol
,
Tranylcypromine
,
Trimipramine
,
Desipramine
,
Citalopram
,
Cyclosporine
,
Fluvoxamine
,
Fluoxetine
,
Venlafaxine
,
Tapentadol
,
Phenylpropanolamine
,
Palonosetron
,
Dexfenfluramine
,
Ramucirumab
,
Naltrexone and Bupropion
,
lasmiditan
,
Remoxipride
Alerts
Before taking sibutramine, tell your doctor if you have glaucoma, high blood pressure, liver or kidney disease, depression, underactive thyroid, seizures, a bleeding disorder, a history of gallstones, or if you are older than 65 or younger than 16.
Tell your doctor about all prescription and over-the-counter medications you use, especially antidepressants, cold or allergy medication, narcotic pain medicine, or migraine headache medicines.
Tell your doctor if you do not lose at least 4 pounds after taking the medication for 4 weeks along with a low calorie diet.
Points of recommendation
Take exactly as prescribed by your doctor. Do not take in larger or smaller amounts or for longer than recommended. Follow the directions on your prescription label.
Sibutramine can be taken with or without food.
You should lose at least 4 pounds during the first 4 weeks of taking sibutramine and eating a low calorie diet. Tell your doctor if you do not lose at least 4 pounds after taking the medication for 4 weeks.
Your blood pressure and pulse will need to be checked often. Visit your doctor regularly.
Sibutramine should not be taken for longer than 2 years.
Store at room temperature away from moisture, heat, and light.
Do not share sibutramine with another person. Keep the medication in a place where others cannot get to it.
Take the missed dose as soon as you remember. Skip the missed dose if it is almost time for your next scheduled dose. Do not take extra medicine to make up the missed dose.
Sibutramine may impair your thinking or reactions. Be careful if you drive or do anything that requires you to be alert.
Do not take any other prescription or over-the-counter weight-loss products without your doctor's advice.
Avoid taking cough and cold or allergy medications while taking sibutramine.
Avoid drinking alcohol while taking sibutramine.
Pregnancy level
Group c - Not adequate studies in pregnant women