Drug information of Cyproheptadine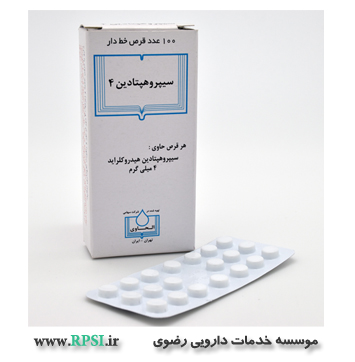 Mechanism of effect
• Serotonin and histamine antagonist; competitively inhibits H1 receptor, mediating bronchial constriction, smooth-muscle contraction, edema, hypotension, CNS depression, and cardiac arrhythmias.
• prevents histamine release in blood vessels and is more effective in preventing histamine response than in reversing it; may be useful in patients with syndromes sustained by histamine-producing tumors
• Moderate anticholinergic activity with low sedative effect
• May have anti-5HT2 effects
• May have some calcium-channel blocking activity
Pharmacodynamic
• Cyproheptadine is a piperidine antihistamine. Unlike other antihistamines, this drug also antagonizes serotonin receptors. This action makes Cyproheptadine useful in conditions such as vascular headache and anorexia.
• Cyproheptadine does not prevent the release of histamine but rather competes with free histamine for binding at HA-receptor sites. Cyproheptadine competitively antagonizes the effects of histamine on HA-receptors in the GI tract, uterus, large blood vessels, and bronchial smooth muscle.
• Most antihistamines possess significant anticholinergic properties, but Cyproheptadine exerts only weak anticholinergic actions.
• Blockade of central muscarinic receptors appears to account for Cyproheptadine's antiemetic effects, although the exact mechanism is unknown.
• Cyproheptadine also competes with serotonin at receptor sites in smooth muscle in the intestines and other locations.
• Antagonism of serotonin on the appetite center of the hypothalamus may account for Cyproheptadine's ability to stimulate appetite.
• Cyproheptadine also has been used to counter vascular headaches, which many believe are caused by changes in serotonin activity, however it is unclear how Cyproheptadine exerts a beneficial effect on this condition.

Pharmacokinetics
Peak plasma time : 6-9 hr
Metabolism
Metabolized by glucuronidation via UGT1A
Metabolites: Quaternary ammonium glucuronide conjugate
Elimination
Excretion: Urine (40%), feces (2-20%)

Dosage
• Hypersensitivity Reaction
4 mg PO q8hr initially; maintenance: 4-20 mg/day, up to 32 mg/day divided q8hr in some patients; not to exceed 0.5 mg/kg/day
• Spasticity Associated With Spinal Cord (Off-label)
2-4 mg PO q8hr initially; not to exceed 24 mg/day
• Migraine Headache Prophylaxis (Off-Label)
2 mg PO q12hr with or without propanol
• Decreased Appetite Secondary to Chronic Disease (Off-label)
2 mg PO q6hr for one week; THEN 4 mg PO q6hr
• Drug-Induced Sexual Dysfunction (Off-label)
4-12 mg PO 1-2 hours before anticipated coitus or 1-16 mg/day
• Serotonin Syndrome (Off-Label)
12 mg initially PO, followed by 2 mg q2hr or 4-8 mg PO q6hr as needed to control symptoms
Interactions
Acetylcholine
,
Tranylcypromine
,
Linezolid
,
Sodium Oxybate
,
Phenelzine
,
isocarboxazid
,
safinamide
,
rasagiline
,
Eluxadoline
,
Metyrapone
,
potassium citrate
,
tedizolid
,
glycopyrrolate topical
,
5-hydroxytryptophan
,
Blonanserin
Alerts
• Use caution in cardiovascular disease, including hypertension and ischemic heart disease, patients with increased intraocular pressure, history of asthma or other chornic breathing disorders, thyroid dysfunction and renal insufficiency.
• Avoid use in elderly because of high incidence of anticholinergic effects; may exacerbate existing lower urinary conditions or benign prostatic hyperplasia; if used, administer at low end of dosage range
• May cause CNS depression, which may impair mental abilities; use caution when operating heavy machinery
• Use with care in children.Do not give this medicine ( cyproheptadine tablets ) to a premature baby or a newborn.
• You may get sunburned more easily. Avoid sun, sunlamps, and tanning beds. Use sunscreen and wear clothing and eyewear that protects you from the sun.
Points of recommendation
• Avoid driving and doing other tasks or actions that call for you to be alert until you see how this medicine ( cyproheptadine tablets ) affects you.
• Take with or without food. Take with food if it causes an upset stomach.
Related drugs
Promethazine
,
Hydroxyzine
,
Chlorpheniramine
,
Bepotastine
,
Azatadine
,
Carbinoxamine
,
pyrilamine (Mepyramine)
,
Phenindamine
,
Triprolidine
,
Tripelennamine
,
Trimeprazine
,
Terfenadine