Drug information of Sirolimus
Sirolimus
Rapamune (sirolimus) is an immunosuppressive agent . Sirolimus is a macrolide compound obtained from Streptomyces hygroscopicus that acts by selectively blocking the transcriptional activation of cytokines thereby inhibiting cytokine production.
It is bioactive only when bound to immunophilins. Sirolimus is a potent immunosuppressant and possesses both antifungal and antineoplastic properties.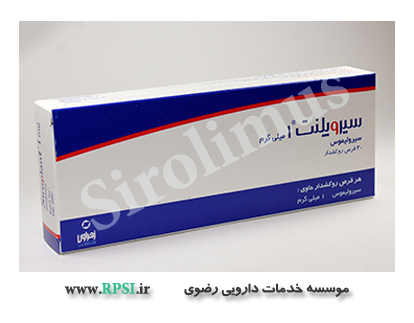 Mechanism of effect
sirolimus Inhibits T-cell activation and proliferation and inhibits antibody production that occurs in response to antigenic and cytokine stimulation; inhibits T- cell proliferation by inhibiting progression from the G1 to the S phase of the cell cycle.
Pharmacodynamic
Sirolimus , a macrocyclic lactone produced by Streptomyces hygroscopicus, is an immunosuppressive agent indicated for the prophylaxis of organ rejection in patients receiving renal transplants .
It is recommended that sirolimus be used in a regimen with cyclosporine and corticosteroids.
Pharmacokinetics
Absorption :
Bioavailability: 14% (oral solution); 41% (tablet)
Peak Plasma Time: 1-3 hr (oral solution); 1-6 hr (tablet)
Distribution :
Protein Bound: 92%
Vd:12 L/kg
Metabolism :
CYP3A4
Elimination :
Half-Life: 2.5 days
Excretion: feces (91%)
Dosage
• Prophylaxis of Renal Transplant Rejection
Initiate with concomitant cyclosporine and corticosteroids
Oral solution and tablets interchangeable on a mg per mg basis
Target whole blood trough concentrations: 16-24 ng/mL for the first year following transplantation; thereafter, 12-20 ng/Ml
Renal transplantation: Not to exceed 40 mg/day
• High Immunologic Risk
<40 kg: 3 mg/m² loading dose
≥40 kg: 15 mg PO loading dose
Maintenance: 5 mg/day PO if >40 kg and 1 mg/m²/day if <40 kg on day 2 and thereafter; obtain trough levels between days 5 and 7
• Low-to-moderate Immunologic risk
<40 kg: 3 mg/m² loading dose
≥40 kg: 6 mg PO loading dose
Maintenance: 2 mg/day PO if ≥ 40 kg and 1 mg/m²/day if <40 kg on day 2 and thereafter; obtain trough levels between days 5 and 7
• Lymphangioleiomyomatosis
(LAM)
Initial: 2 mg/day PO x10-20 days and then measure whole blood trough level
Side effects
nausea
,
Headache
,
constipation
,
Seizures
,
Diarrhea
,
Hypertension
,
acne
,
fever
,
hypertriglyceridemia
,
Pain
,
Sepsis
,
Hyper-cholesteremia
,
Hypokalemia
,
Hyperglycemia
,
Creatinine increased
,
pneumonia
,
diabetes mellitus
,
Hypophosphatemia
,
ovarian cysts
,
swelling
,
skin rash
,
Abdominal pain
,
Leukopenia
,
increased lactate dehydrogenase
,
Irregular periods
Interactions
Pamidronate
,
Thymoglubin
,
Zafirlukast
,
Pantoprazole
,
Tamsulosin
,
Ciprofloxacin
,
Furosemide
,
Losartan
,
Mycophenolate mofetil
,
Aspirin
,
meperidine
,
LANTUS
,
Mycophenolic acid
,
Symbicort ( Budesonide +Formoterol )
,
Valcyte (valganciclovir)
,
Voriconazole
,
Carvedilol
,
Ketoconazole
,
Cotrimoxazole
,
Insulin glargine
,
Insulin aspart
,
Carbamazepine
,
Rifabutin
,
Rifapentine
,
Kanamycin
,
Pentamidine
,
methylene blue
,
ritonavir
,
nelfinavir
,
Meglumine Compound
,
Prednisolone
,
Mifepristone
,
Indinavir
,
Golimumab
,
Hib vaccine
,
brigatinib
,
Fosinopril
,
Ramipril
,
Efavirenz
,
Ibandronate
,
lumacaftor and Ivacaftor
,
Etravirine
,
Netilmicin
,
Darifenacin
,
Mibefradil
,
cobicistat
,
Delavirdine
,
Oxiconazole
,
Canakinumab
,
Basiliximab
,
Alefacept
,
Adenovirus types 4 and 7 live, oral
,
Diatrizoate (Amidotrizoic acid)
,
Butabarbital
,
Olsalazine
,
Balsalazide
,
Valdecoxib
,
Bromfenac
,
Ioxaglate
,
Rilonacept
,
Hepatitis B Vaccine
,
Lorlatinib
,
Troleandomycin
,
Oxaprozin
,
Gallium Nitrate
,
Iothalamate Meglumine
,
Glycerol Phenylbutyrate
,
Nitrendipine
,
oleandomycin
,
Sarecycline
,
Typhoid vaccine (live), oral
,
Meningococcal conjugate vaccine
,
Rabies Vaccine
,
Venetoclax
,
Tegaserod
,
sirukumab
,
secukinumab
,
Ombitasvir, Paritaprevir, and Ritonavir
,
bacillus coagulans and inulin
,
Glucobay (Acarbose)
,
Efalizumab
Alerts
• Do not use in liver or lung transplantation as safety and efficacy is not established
• Excess mortality, graft loss, and hepatic artery thrombosis have been observed in liver transplant recipients.
• Bronchial anastomotic dehiscence has been observed in lung transplant recipients .
• Should be prescribed only by physicians who have experience with immunosuppression in organ transplant recipients and can provide necessary follow-up and appropriate monitoring .
• Increased risk of infection, lymphoma, and other malignancies due to increased immunosuppression .
• Very bad and sometimes deadly blood problems like thrombotic thrombocytopenic purpura/hemolytic uremic syndrome (TTP/HUS) have happened with this medicine ( sirolimus tablets ) in some people.
• Call your doctor right away if you feel very tired or weak or have any bruising or bleeding; dark urine or yellow skin or eyes; pale skin; change in the amount of urine passed; change in eyesight; change in strength on 1 side is greater than the other, trouble speaking or thinking, or change in balance; or fever.
Points of recommendation
• Take with or without food. Always take with food or always take on an empty stomach.
• To gain the most benefit, do not miss doses.
• Keep taking this medicine as you have been told by your doctor or other health care provider, even if you feel well.
• Do not take cyclosporine capsules (Neoral®, Gengraf®) or oral solution (Neoral®) within 4 hours of this medicine ( sirolimus tablets ).
• Swallow whole. Do not chew, break, or crush.
• Do not switch between different forms of this medicine (sirolimus tablets) without first talking with the doctor.
• High blood pressure has happened with this medicine. Have your blood pressure checked as you have been told by your doctor.
• This medicine may cause high cholesterol and triglyceride levels. Talk with the doctor.
• You may have more chance of getting an infection. Wash hands often. Stay away from people with infections, colds, or flu.
• Talk with your doctor before getting any vaccines.
• Avoid grapefruit and grapefruit juice.
• Use birth control that you can trust before care begins, during care, and for 3 months after care ends.. Have blood work checked as you have been told by the doctor.
• Have your urine checked as you have been told by your doctor.
• If you have high blood sugar (diabetes), you will need to watch your blood sugar closely. Tell your doctor if you get signs of high blood sugar like confusion, feeling sleepy, more thirst, more hungry, passing urine more often, flushing, fast breathing, or breath that smells like fruit.