Drug information of Flurazepam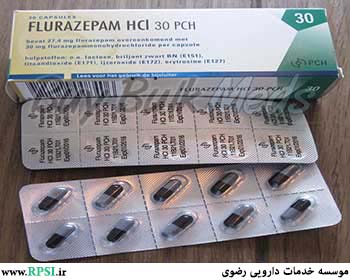 Mechanism of effect
Flurazepam, like other central nervous system agents of the 1,4-benzodiazepine class, presumably exerts its effects by binding to stereo-specific receptors at several sites within the central nervous system (CNS). The exact mechanism of action is unknown.
Pharmacodynamic
Flurazepam, a benzodiazepine derivative, is a hypnotic agent which does not appear to decrease dream time as measured by rapid eye movements (REM). Furthermore, it decreases sleep latency and number of awakenings for a consequent increase in total sleep time
Pharmacokinetics
Flurazepam hydrochloride is rapidly absorbed from the gastro-intestinal tract. Flurazepam is rapidly metabolized and is excreted primarily in the urine. Protein binding: 83%.The mean apparent half-life of flurazepam is 2.3 hours.
Dosage
Usual Adult Dose for Insomnia 30 mg orally before retiring. In some patients, 15 mg may suffice.
Side effects
nausea
,
Headache
,
dry mouth
,
constipation
,
dizziness
,
vomiting
,
Blurred vision
,
Depression
,
Diarrhea
,
confusion
,
Tremor
,
Hypersensitivity
,
agitation
,
ataxia
,
Cholestasis
,
Anaphylactic reaction
,
hallucinations
,
Dyskinesia
Interactions
Buspirone
,
Zolpidem
,
Aprepitant
,
Itraconazole
,
Bosentan
,
Methyldopa
,
Ketoconazole
,
Clozapine
,
Nervoxin
,
Neurogol
,
Sedamin
,
Yohimbine
,
Tranquival
,
valirest
,
Valerian
,
fentanyl
,
Sodium Oxybate
,
Tapentadol
,
saquinavir
,
Procaine
,
Acetaminophen and benzhydrocodone
,
Oxymorphone
,
Lorlatinib
,
Ethchlorvynol
,
lasmiditan
Alerts
1-Withdrawal symptoms of the barbiturate type have occurred after the discontinuation of benzodiazepines. 2-Severe Anaphylactic or Anaphylactoid Reactions, Abnormal Thinking and Behavior Changes,، Daytime Impairment, Worsening of Depression may occure. 3-Use with caution in patients with hepatic dysfunction.
Points of recommendation
1-Ask patients about alcohol consumption, medicines they are taking now, and drugs they may be taking without a prescription. 2-Advise patients that alcohol generally should not be used during treatment with Flurazepam. 3-Tell patients not to increase the dose of Flurazepam on their own, and to inform you if they believe the drug "does not work".