Drug information of Flucinolone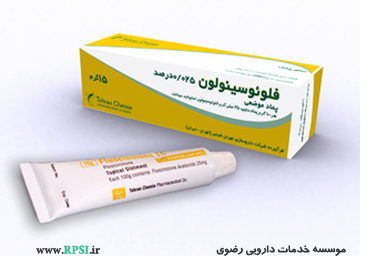 Mechanism of effect
Corticosteroids decrease inflammation by stabilizing leukocyte lysosomal membranes, preventing release of destructive acid hydrolases from leukocytes; inhibiting macrophage accumulation in inflamed areas; reducing leukocyte adhesion to capillary endothelium;
reducing capillary wall permeability and edema formation; decreasing complement components; antagonizing histamine activity and release of kinin from substrates; reducing fibroblast proliferation, collagen deposition, and subsequent scar tissue formation.
Pharmacodynamic
Not Available
Pharmacokinetics
Metabolism:Primarily hepatic
Excretion: Urine (primarily); feces (minimal)
Distribution: Throughout local skin
Absorption: Minimal (~1%); nature of skin at application; occlusion and inflammation may increase absorption
Dosage
Adult
Inflammatory/Pruritic Dermatoses, Eczemas, Lichen Planus, Burns
Apply q6-12hr
Atopic Dermatitis
Body oil: Apply thin film to affected area q8hr
Pediatric
Inflammatory/Pruritic Dermatoses, Eczemas, Lichen Planus, Burns
Apply q6-12hr; limit to minimum amount necessary for therapeutic efficacy
Atopic Dermatitis
<3 years: Safety and efficacy not established
≥3 years: Body oil: Apply thin film to affected area q12hr; not for use >4 weeks
Alerts
Chronic topical corticosteroid therapy may interfere with growth & development in pediatric patients
Children may exhibit greater susceptibility to corticosteroid-induced HPA axis suppression and Cushing's syndrome due to larger skin surface area to body weight ratio
Use med to very high potency for <2 wk to reduce local and systemic side effects
Use low potency for chronic therapy
Kaposi's sarcoma reported with prolonged corticosteroid therapy
Avoid medium to very high potency on face, folds, groin because can increase steroid absorption
Use lower potency for children (ie, increase BSA/kg, therefore increase systemic absorption)
Points of recommendation
Follow all directions on your prescription label. Do not use this medicine in larger or smaller amounts or for longer than recommended. Topical steroid medicine can be absorbed through the skin, which may cause steroid side effects throughout the body.
Do not cover treated skin areas with a bandage or other covering unless your doctor has told you to. If you are treating the diaper area of a baby, do not use plastic pants or tight-fitting diapers.
Covering the skin that is treated with fluocinolone topical can increase the amount of medicine your skin absorbs, which may lead to unwanted side effects. However, plastic film covering (such as plastic wrap or a shower cap) is sometimes used when treating psoriasis. Follow your doctor's instructions.
Wash your hands before and after using fluocinolone topical, unless you are using the medication to treat the skin on your hands.
Apply a small amount of the medicine to the affected area and rub it gently into the skin. Do not use this medication over a large area of skin.
If you are using the shampoo form of this medication, apply a small amount (1 ounce or less) to wet hair and work into a lather. Leave the shampoo on the scalp for 5 minutes and then rinse thoroughly.
Call your doctor if your symptoms do not improve, if they get worse, or if you develop signs of a skin infection.
If you use this medication long-term, you may need frequent medical tests at your doctor's office.
Store at room temperature away from moisture and heat. Keep the bottle tightly closed when not in use.
Use the missed dose as soon as you remember. Skip the missed dose if it is almost time for your next scheduled dose. Do not use extra medicine to make up the missed dose.