Drug information of Fluphenazine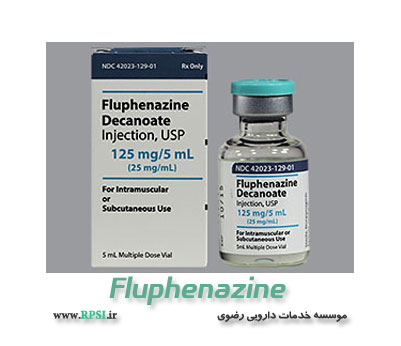 Mechanism of effect
Phenothiazine; antagonizes dopaminergic D1 and D2 receptors; depresses release of hypothalamic and hypophyseal hormones
Pharmacodynamic
Fluphenazine is a trifluoro-methyl phenothiazine derivative intended for the management of schizophrenia and other psychotic disorders. Fluphenazine has not been shown effective in the management of behaviorial complications in patients with mental retardation.
Pharmacokinetics
Absorption
Bioavailability: Rapidly absorbed
Onset: Hydrochloride salt, 1 hr; decanoate, 24-72 hr
Duration: Hydrochloride salt, 6-8 hr; decanoate, 4 weeks
Peak plasma time: Hydrochloride salt, 2 hr; decanoate, 8-10 hr
Peak effect: Decanoate, 48-96 hr
Elimination
Half-life: Hydrochloride salt, 14-16 hr; decanoate, 14 days
Excretion: Urine, feces
Dosage
Psychotic Disorders
Fluphenazine hydrochloride
2.5-10 mg/day PO divided q6-8hr initially; maintenance: 1-5 mg PO/IM divided q6-8hr; not to exceed 40 mg/day
Fluphenazine decanoate
12.5-25 mg (25 mg/mL) IM/SC every 2-4 weeks
Dosing considerations
Conversion from hydrochloride salt to decanoate: 10 mg/day PO HCl salt = ~12.5 mg IM/SC every 3 weeks of decanoate salt
Side effects
depression
,
Anxiety
,
Headache
,
dizziness
,
vertigo
,
asthenia
,
anorexia
,
Weight increase
,
extrapyramidal effects
,
difficulty urinating
,
Restlessness
,
indigestion
,
Irregular periods
Interactions
Acetylcholine
,
Tretinoin
,
Cisapride
,
Pimozide
,
Sotalol
,
lithium
,
Quinidine
,
Indapamide
,
Ibutilide
,
Terfenadine
,
Metrizamide
,
fentanyl
,
potassium citrate
,
Sodium Oxybate
,
Tapentadol
,
safinamide
,
Apomorphine
,
Dolasetron
,
vandetanib
,
Droperidol
,
Procainamide
,
Dofetilide
,
Anagrelide
,
Arsenic trioxide
,
Halofantrine
,
Grepafloxacin
,
aminolevulinic acid oral
,
Aminolevulinic acid topical
,
Acetaminophen and benzhydrocodone
,
Oxymorphone
,
glycopyrrolate topical
,
Methyl aminolevulinate
,
Bepridil
,
bedaquiline
,
lasmiditan
Alerts
Patients with dementia-related psychosis who are treated with antipsychotic drugs are at increased risk for death, as shown in short-term controlled trials; deaths in these trials appeared to be either cardiovascular (eg, heart failure, sudden death) or infectious (eg, pneumonia) in nature
This drug is not approved for treatment of patients with dementia-related psychosis
Dermatologic reactions are common
Watch for urinary retention, blurred vision, dry mouth, and constipation as result of anticholinergic effects
Risk of extrapyramidal symptoms (EPS), NMS, hypotension; hypotension may be particularly severe in patients with pheochromocytoma or mitral insufficiency
May need anticholinergic antiparkinsonian agent to counter EPS; in case of severe hypotension, use norepinephrine or phenylepinephrine, and do not use epinephrine or dopamine
Depresses hypothalamic thermoregulatory mechanism; exposure to extreme temperatures may cause hypo- or hyperthermia
US Food and Drug Administration (FDA) warning regarding off-label use for dementia in elderly
Points of recommendation
Avoid driving and doing other tasks or actions that call for you to be alert until you see how this medicine affects you.
Talk with your doctor before you drink alcohol or use other drugs and natural products that slow your actions.
You may get sunburned more easily. Avoid sun, sunlamps, and tanning beds. Use sunscreen and wear clothing and eyewear that protects you from the sun.
Be careful in hot weather or while being active. Drink lots of fluids to stop fluid loss.
If you will be near phosphorus insecticides, talk with your doctor.
Low white blood cell counts have happened with drugs like this one. This may lead to a higher chance of getting an infection. Deadly infections have rarely happened. Tell your doctor if you have ever had a low white blood cell count. Call your doctor right away if you have signs of infection like fever, chills, or sore throat.
Do not stop taking fluphenazine injection all of a sudden without calling your doctor.
Have blood work checked as you have been told by the doctor.
This medicine may cause the results of some pregnancy tests to be wrong.
If you are 65 or older, use fluphenazine injection with care.