Drug information of Fluoxetine
Fluoxetine
Fluoxetine is a selective serotonin reuptake inhibitors (SSRI) antidepressant. Fluoxetine affects chemicals in the brain that may become unbalanced and cause depression, panic, anxiety, or obsessive-compulsive symptoms. Fluoxetine is used to treat major depressive disorder, bulimia nervosa (an eating disorder) obsessive-compulsive disorder, panic disorder, and premenstrual dysphoric disorder (PMDD).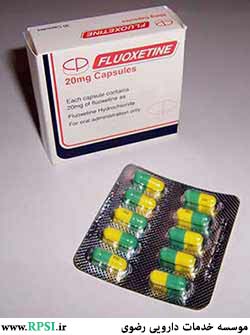 Mechanism of effect
The antidepressant, antiobsessive-compulsive, and antibulimic actions of Fluoxetine are presumed to be linked to its inhibition of CNS neuronal uptake of serotonin.
Pharmacodynamic
Fluoxetine, an antidepressant agent belonging to the selective serotonin reuptake inhibitors (SSRIs), is used to treat depression, bulimia nervosa, premenstrual dysphoric disorder, panic disorder and post-traumatic stress
Pharmacokinetics
Well absorbed from the GI tract following oral administration. approximately 94.5% of Fluoxetine is bound in vitro to human serum proteins. Fluoxetine is extensively metabolized in the liver to norFluoxetine and a number of other unidentified metabolites. The primary route of elimination appears to be hepatic metabolism to inactive metabolites excreted by the kidney. Half life: 1-3 days [acute administration].
Dosage
Usual Adult Dose for Bulimia Immediate-release oral formulations: Recommended dose: 60 mg orally once a day Usual Adult Dose for Depression Immediate-release oral formulations: Initial dose: 20 mg orally once a day, increased after several weeks if insufficient clinical improvement is observed Maintenance dose: 20 to 60 mg orally per day Maximum dose: 80 mg orally per day Delayed release oral capsules: Initial dose: 90 mg orally once a week, commenced 7 days after the last daily dose of immediate-release fluoxetine 20 mg formulations. Usual Pediatric Dose for Depression Immediate-release oral formulations: 8 to 18 years: Initial dose: 10 to 20 mg orally once a day; the 10 mg daily dose may be increased after one week to 20 mg orally once a day Lower weight children: Initial dose: 10 mg orally once a day, increased to 20 mg orally once a day after several weeks if insufficient clinical improvement is observed Maintenance dose: 10 to 20 mg orally once a day
Side effects
nausea
,
insomnia
,
dry mouth
,
rash
,
Diarrhea
,
asthenia
,
dyspepsia
,
sinusitis
,
impotence
,
Flu-like symptoms
,
anxiety
,
vasodilatation
,
anorexia
,
somnolence
,
Tremor
,
pharyngitis
,
sweating
,
decreased libido
Interactions
Atomoxetine
,
Ergotamine-C
,
Olanzapine
,
Ipratropium bromide
,
Bupropion
,
Buspirone
,
perphenazine
,
Pantoprazole
,
Paclitaxel
,
Pimozide
,
Tamsulosin
,
Tetrabenazine
,
Triptorelin
,
Desmopressin
,
Rizatriptan
,
Zolpidem
,
Salbutamol
,
Cerebrolysin
,
Citalopram
,
Cilostazol
,
Cyclosporine
,
Amitriptyline
,
insulin
,
Imipramine
,
Propafenone
,
Propranolol
,
Trazodone
,
Clarithromycin
,
Clozapine
,
Clomipramine
,
Lithium carbonate
,
Moclobemide
,
Nortriptyline
,
Warfarin
,
Voriconazole
,
Carvedilol
,
Dihydroergotamine
,
Risperidone
,
Sibutramine
,
Phenytoin
,
Tranylcypromine
,
Trimipramine
,
Tolterodine
,
Thioridazine
,
Desipramine
,
Doxepin
,
Granisetron
,
Gliclazide
,
Metoprolol
,
Methylergonovin
,
Venlafaxine
,
Insulin glargine
,
Flecainide
,
Bisoprolol
,
Zolmitriptan
,
fentanyl
,
Cyclobenzaprine
,
Aspirin
,
Buprenorphine
,
Tapentadol
,
Pethidine
,
Remifentanil
,
methylene blue
,
rasagiline
,
Apixaban
,
Phenylpropanolamine
,
Dolasetron
,
Palonosetron
,
vandetanib
,
Sufentanil
,
Alfentanil
,
sparfloxacin
,
Procainamide
,
Mefloquine
,
Indapamide
,
Dofetilide
,
Peginterferon alfa-2b
,
Lorcaserin
,
Pirfenidone
,
Arsenic trioxide
,
Tipranavir
,
Desvenlafaxine
,
Milnacipran
,
Halofantrine
,
Grepafloxacin
,
Nebivolol
,
Dexfenfluramine
,
Terfenadine
,
Ramucirumab
,
Pitolisant
,
Entrectinib
,
Levomilnacipran
,
5-hydroxytryptophan
,
Eliglustat
,
Ruxolitinib
,
tropisetron
,
Brexpiprazole
,
Naltrexone and Bupropion
,
Bepridil
,
bedaquiline
,
Cannabidiol
,
lasmiditan
,
vemurafenib
,
Netupitant
Alerts
1-Patients with major depressive disorder (MDD), both adult and pediatric, may experience worsening of their depression and/or the emergence of suicidal ideation and behavior (suicidality) or unusual changes in behavior. 2- Fluoxetine is not approved for use in treating bipolar depression. 3-Rash and Possibly Allergic Events 4-The development of a potentially life-threatening serotonin syndrome or Neuroleptic Malignant Syndrome (NMS)-like reactions have been reported with SSRIs, including Fluoxetine Tablets USP treatment
Points of recommendation
1-SSRIs and SNRIs, including Fluoxetine, may increase the risk of bleeding events. Patients should be cautioned about the risk of bleeding associated with the concomitant use of Fluoxetine and NSAIDs, aspirin, or other drugs that affect coagulation. 2-Significant weight loss, especially in underweight depressed or bulimic patients may be an undesirable result of treatment with Fluoxetine. 3-Hyponatremia may occur as a result of treatment with SSRIs and SNRIs, including Fluoxetine. this hyponatremia appears to be the result of the syndrome of inappropriate antidiuretic hormone secretion (SIADH). 4- Fluoxetine should be introduced with care in patients with a history of seizures
Tags