Drug information of Gabapentin
Gabapentin
Gabapentin is an anti-epileptic medication, also called an anticonvulsant. It affects chemicals and nerves in the body that are involved in the cause of seizures and some types of pain.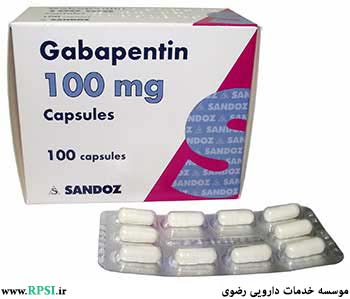 Mechanism of effect
Gabapentin interacts with cortical neurons at auxillary subunits of voltage-sensitive calcium channels. Gabapentin increases the synaptic concentration of GABA, enhances GABA responses at non-synaptic sites in neuronal tissues, and reduces the release of mono-amine neurotransmitters.
One of the mechanisms implicated in this effect of gabapentin is the reduction of the axon excitability measured as an amplitude change of the presynaptic fibre volley (FV) in the CA1 area of the hippocampus.
This is mediated through its binding to presynaptic NMDA receptors. Other studies have shown that the antihyperalgesic and antiallodynic effects of gabapentin are mediated by the descending noradrenergic system, resulting in the activation of spinal alpha2-adrenergic receptors.
Gabapentin has also been shown to bind and activate the adenosine A1 receptor.
Pharmacodynamic
Gabapentin, an analog of GABA, is used as an anticonvulsant to treat partial seizures, amyotrophic lateral sclerosis (ALS), and painful neuropathies.
Pharmacokinetics
Rapid. Absorbed in part by the L-amino acid transport system, which is a carrier-mediated, saturable transport system; as the dose increases, bioavailability decreases.
Bioavailability ranges from approximately 60% for a 900 mg dose per day to approximately 27% for a 4800 milligram dose per day.
Food has a slight effect on the rate and extent of absorption of gabapentin (14% increase in AUC).
Volume of distribution: 58±6 L. Less than 3% of gabapentin circulates bound to plasma protein.. All pharmacological actions following gabapentin administration are due to the activity of the parent compound; gabapentin is not appreciably metabolized in humans.
Gabapentin is eliminated from the systemic circulation by renal excretion as unchanged drug. Gabapentin is not appreciably metabolized in humans. Half life: 5-7 hours.Clearance: 190 mL/min
Dosage
Epilepsy with Partial Onset Seizures Gabapentin is recommended
for add-on therapy in patients 3 years of age and older. Effectiveness in pediatric patients below the age of 3 years has not been established.
Patients 12 years of age and above: The starting dose is 300 mg three times a day. The effective dose of Gabapentin is 300 mg to 600 mg three times a day.
Dosages up to 2400 mg/day have been well tolerated in long-term clinical studies. Doses of 3600 mg/day have also been administered to a small number of patients for a relatively short duration, and have been well tolerated.
Gabapentin should be administered three times a day using 300 mg or 400 mg capsules, or 600 mg or 800 mg tablets. The
maximum time between doses should not exceed 12 hours. Pediatric Patients Age 3 to 11 years: The starting dose range is 10 mg/kg/day to 15 mg/kg/day, given in three divided doses, and the effective dose reached by upward titration over a period of approximately 3 days.
The effective dose of Gabapentin in patients 3 to 4 years of age is 40 mg/kg/day, given in three divided doses. The effective dose of Gabapentin in patients 5 to 11 years of age is 25 mg/kg/day to 35 mg/kg/day, given in three divided doses.
Gabapentin may be administered as the oral solution, capsule, or tablet, or using combinations of these formulations. Dosages up to 50 mg/kg/day have been well tolerated in a long-term clinical study. The maximum time interval between doses should not exceed 12 hours.
Postherpetic Neuralgia In adults with postherpetic neuralgia, Gabapentin therapy may be initiated on Day 1 as a single300 mg dose, on Day 2 as 600 mg/day (300 mg two times a day), and on Day 3 as 900 mg/day (300 mg three times a day). The dose can subsequently be titrated up as needed for pain reliefto a dose of 1800 mg/day (600 mg three times a day).
Side effects
nausea
,
Headache
,
dizziness
,
vomiting
,
fatigue
,
vertigo
,
paresthesia
,
anorexia
,
somnolence
,
malaise
,
ataxia
,
flatulence
,
Weight increase
Interactions
Erythromycin
,
Zolpidem
,
Aluminium gel
,
Phenytoin
,
Magnesium hydroxide
,
Nitrazepam
,
Phentolamine Mesylate
,
Zaleplon
,
Ethchlorvynol
,
Biolectra Magnesium
,
Bromazepam
Alerts
1-Drug Reaction with Eosinophilia and Systemic Symptoms (DRESS), also known as multiorgan hypersensitivity, has occurred with Gabapentin
2-Patients taking Gabapentin should not drive until they have gained sufficient experience to assess whether Gabapentin impairs their ability to drive.
3-Dizziness and somnolence were among the most common
adverse reactions leading to discontinuation of Gabapentin
4-Patients who require concomitant treatment with opioids may experience increases in Gabapentin concentrations. Patients should be carefully observed for signs of central nervous system (CNS) depression, such as somnolence, sedation and respiratory depression and the dose of Gabapentin or opioid should be reduced appropriately
5-Antiepileptic drugs (AEDs), including Gabapentin, increase the risk of suicidal thoughts or behavior in patients taking these drugs for any indication.
Points of recommendation
1-Take Gabapentin capsules with plenty of water. 2-Gabapentin tablets can be taken with or without food. If you take an antacid containing aluminum and magnesium, you should wait at least 2 hours before taking your next dose of Gabapentin 3-Do not drive, operate heavy machinery, or do other dangerous activities until you know how Gabapentin affects you. Gabapentin can slow your thinking and motor skills.