Drug information of Iodixanol
Iodixanol
Iodixanol is in a group of drugs called radiopaque (RAY dee oh payk) contrast agents. Iodixanol contains iodine, a substance that absorbs x-rays. Radiopaque contrast agents are used to allow blood vessels, organs, and other non-bony tissues to be seen more clearly on a CT scan or other radiologic (x-ray) examination. Iodixanol is used to help diagnose certain disorders of the brain, blood vessels, and kidneys.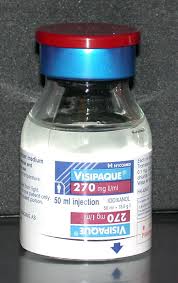 Mechanism of effect
Organic iodine compounds attenuate x-rays as they pass through the body, thereby allowing the body structures containing iodine to be delineated in contrast to those structures that do not contain iodine. The degree of opacity produced by these compounds is directly proportional to the total amount (concentration and volume) of the iodinated contrast agent in the path of the x-rays. After intravascular administration, iodixanol makes opaque those internal structures in its path of flow, allowing their visualization until significant hemodilution and elimination occur.
Pharmacodynamic
Iodixanol is a contrast agent commonly used during coronary angiography, particularly in individuals with renal dysfunction, as it is believed to be less toxic to the kidneys than most other intravascular contrast agents. It is an iso-osmolar contrast agent
Pharmacokinetics
Protein binding:Negligible Excreted unchanged. In adults, approximately 97% of the injected dose of iodixanol is excreted unchanged in urine within 24 hours, with less than 2% excreted in feces within five days post-injection. Half life:2.1 hours.
Dosage
Usual Adult Dose for Coronary Arteriography Intra-arterial Administration: Right Coronary Artery 3 to 8 mL (320 mgI/mL) Left Coronary Artery 3 to 10 mL (320 mgI/mL) Left Ventricle 20 to 45 mL (320 mgI/mL) Max Total Dose: Usually not to exceed 200 mL
Side effects
nausea
,
Headache
,
chest pain
,
dizziness
,
vomiting
,
rash
,
fever
,
anxiety
,
Injection-site reaction
,
taste perversion
,
itching
Alerts
Iodixanol should not be given to a child who has recently used a laxative (stool softener) or has not eaten properly.
Points of recommendation
Do not allow yourself to become dehydrated during the first few days after receiving iodixanol. Call your doctor if you have any vomiting or diarrhea during this time