Drug information of Divalproex sodium
Divalproex sodium
Divalproex sodium comes in different pill forms that are for different uses.
Divalproex sodium tablets and capsules are used to treat seizures in people with epilepsy who are at least 10 years old. Divalproex sodium tablets are sometimes used together with other seizure medications.
Divalproex sodium tablets are also used in adults to prevent migraine headaches, or to treat manic episodes related to bipolar disorder (manic depression)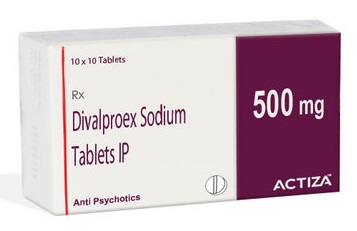 Mechanism of effect
Divalproex is converted to valproic acid in the stomach. Scientists do not know the mechanism of action of valproic acid. The most popular theory is that valproic acid exerts its effects by increasing the concentration of gamma-aminobutyric acid (GABA) in the brain. GABA is a neurotransmitter, a chemical that nerves use to communicate with one another.
Pharmacokinetics
The intravenous and oral forms of valproic acid are expected to produce the same AUC, Cmax, and Cmin at steady-state
Most drug is metabolized to glucuronide conjugates (30-50%) of the parent drug or of metabolites
Most drug is eliminated through hepatic metabolism, about 30-50%.Label The other major contributing pathway is mitochondrial β-oxidation, about 40%. Other oxidative pathways make up an additional 15-20%. Less than 3% is excreted unchanged in the urine
Dosage
COMPLEX PARTIAL SEIZURES:
Initial Dose: 10 to 15 mg/kg/day orally (see below for frequency)
-Increase in increments of 5 to 10 mg/kg/week to achieve optimal clinical response;
-Plasma levels should be checked if satisfactory response has not been achieved (usual accepted therapeutic range 50 to 100 mcg/mL)
Maximum dose: 60 mg/kg/day

SIMPLE AND COMPLEX ABSENCE SEIZURES:
Initial Therapy: 15 mg/kg/day orally (see below for frequency)
-Increase in increments of 5 to 10 mg/kg/day until seizures are controlled or side effects preclude further increases
Maximum Recommended Dose: 60 mg/kg/day

FREQUENCY:
-Delayed-release tablets and sprinkle capsules: Doses greater than 250 mg/day should be given in divided doses
-Extended-release tablets: Should be administered once a day

CONVERSION to Monotherapy:
-Initial dose as above while concomitant antiepileptic drug (AED) is reduced by 25% every 2 weeks; AED dose reductions can begin with initiation of therapy or delayed by 1 to 2 weeks; speed and duration may be highly variable, and patients should be monitored closely during this period

CONVERSION From Delayed-Release to Extended-Release: Patients should receive an extended-release dose that is 8% to 20% higher than the total daily dose of the delayed-release

Comments:
-This drug is indicated in the treatment of complex partial seizures that occur in isolation or in association with other types of seizures; its use as initial monotherapy has not been systematically studied.
-A good correlation has not been established between daily dose, serum concentrations, and therapeutic effect, however, a serum level between 50 and 100 mcg/mL is therapeutic for most patients; some patients may be controlled with higher or lower serum concentrations.
-Optimal clinical response is usually achieved at doses below 60 mg/kg/day; if satisfactory clinical response has not been achieved, plasma levels should be measured.
-No recommendations can be made for doses exceeding 60 mg/kg/day

Uses: As monotherapy and adjunctive therapy in the treatment of patients with complex partial seizures; as monotherapy and adjunctive therapy for the treatment of simple and complex absence seizures; and adjunctively in patients with multiple seizure types that include absence seizures.
Alerts
Regarding liver damage, birth defects, and pancreatitis
Suicidal thoughts warning
Allergic reaction

Points of recommendation
Swallow divalproex whole, do not crush or chew.
The dosage of divalproex depends on a number of factors including a person's age, the reason divalproex is prescribed, an individual's sensitivity to side effects, and the hydration and nutritional status of a person. Always take divalproex exactly as prescribed. Never take too much divalproex or stop suddenly without your doctor's advice. Symptoms of overdosage of divalproex include changes in consciousness, fainting, and slow or irregular heartbeat.
Always take divalproex with plenty of water and maintain good hydration throughout the day.
May be taken with or without food; however, food may decrease the incidence of indigestion or stomach irritation.
Take exactly as prescribed by your doctor. If you miss a dose, take it as soon as you remember; however, do not double up a dose if it is almost time for the next dose.
If divalproex makes you drowsy, avoid driving or other hazardous tasks. Avoid alcohol as it will contribute to the drowsiness.
May be given once daily, unless a two to three times daily dosing schedule is deemed beneficial or the total daily dosage exceeds 250mg.
Talk with your doctor if you notice any medication residue in your stools. You may not be getting the full dose of your medicine.
Be alert for changes in behavior including agitation, depressed mood, and suicide-related events and seek medical advice if changes are apparent.
Contact your doctor urgently if you experience stomach pain that spreads to your back, nausea and vomiting, dark urine, facial swelling, loss of appetite, or yellowing of the skin or eyes. Also contact your doctor if you experience any mood changes, unusual bruising or bleeding, flu-like symptoms, severe skin reactions, or worsening of your symptoms.
Blood tests may be needed to monitor the effects of divalproex.
Always tell your dentist or healthcare provider that you take divalproex. Wearing a medical alert tag is a good idea.
Avoid excessive sunlight exposure or tanning beds as divalproex may make you burn more easily. Wear sunblock and protective clothing when outdoors.
Pregnancy level
Do not start or stop taking divalproex sodium during pregnancy without your doctor's advice. Divalproex sodium may harm an unborn baby, but having a seizure during pregnancy could harm both mother and baby. Do not use divalproex sodium to prevent migraine headaches if you are pregnant.
Breast feeding warning
lactation is not recomended