Drug information of Sacubitril and valsartan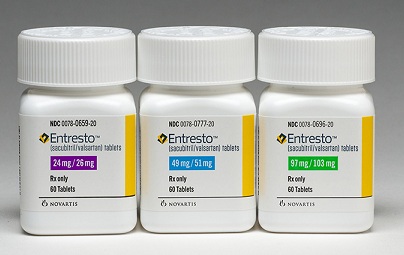 Mechanism of effect
Sacubitril: Neprilysin inhibitor; neprilysin is responsible for degradation of atrial and brain natriuretic peptide; the cardiovascular and renal effects of sacubitril's active metabolite (LBQ657) in heart failure are attributed to the increased levels of peptides that are degraded by neprilysin (eg, natriuretic peptide); administration results in increased natriuresis, increased urine cGMP, and decreased plasma MR-proANP and NT-proBNP
Valsartan: Angiotensin II receptor type I inhibitor; decreases blood pressure and blocks vasoconstrictor and aldosterone-secreting effects of angiotensin II
Pharmacodynamic
significantly increased urine ANP and cGMP and plasma cGMP, and decreased plasma NT-proBNP, aldosterone and endothelin-1. In clinical studies, this combination had no effect on QTc interval.
Pharmacokinetics
Absolute bioavailability
Sacubitril: ≥60%
Valsartan in Entresto is more bioavailable than the valsartan in other marketed tablet formulations; 26 mg, 51 mg, and 103 mg of valsartan in Entresto is equivalent to 40 mg, 80 mg, and 160 mg of valsartan in other marketed tablet formulations, respectively
Steady-state
Reached in 3 days
At steady state, sacubitril and valsartan do not accumulate significantly, whereas LBQ657 accumulates by 1.6-fold
Peak plasma concentration
Sacubitril: 0.5 hr
LBQ657: 2 hr
Valsartan: 1.5 hr
Protein bound
Sacubitril: 94-97%
LBQ657: 94-97%; LBQ657 crosses the blood-brain barrier to a limited extent (0.28%)
Valsartan: 94-97%
Vd
Sacubitril: 103 L
Valsartan: 75 L
Metabolism
Sacubitril is a prodrug that is metabolized by esterases to the active metabolite LBQ657
LBQ657 is not further metabolized to a significant extent
Valsartan is minimally metabolized; only about 20% of the dose is recovered as metabolites; a hydroxyl metabolite has been identified in plasma at low concentrations (<10%)
Half-life
Sacubitril: 1.4 hr
LBQ657: 11.5 hr
Valsartan: 9.9 hr
Excretion
Sacubitril: 52-68% (primarily as LBQ657) in urine; 37-48% (primarily as LBQ657) in feces
Valsartan: 13% in urine; 86% in feces
Dosage
Adult
Heart Failure
Recommended starting dose: 49 mg/51 mg PO BID
Target maintenance dose: After 2-4 weeks, double the dose to the target maintenance dose of 97 mg/103 mg PO BID as tolerated
Pediatric
Safety and efficacy not established
Interactions
Drospirenone
,
Spironolactone
,
Enalapril
,
Lithium carbonate
,
Lisinopril
,
Captopril
,
Amiloride
,
Benazepril
,
Aliskiren
,
Moexipril
,
quinapril
,
lofexidine
,
Trimethoprim
,
Triamterene
,
Fosinopril
,
Ramipril
,
Trandolapril
,
Perindopril
,
Treprostinil
,
Angiotensin II
Alerts
Not for use in patients with hereditary angioedema; observe for signs and symptoms of angioedema; if angioedema occurs, discontinue drug immediately, provide appropriate therapy, and monitor for airway compromise
Sacubitril/valsartan lowers blood pressure and may cause symptomatic hypotension; patients who are volume-depleted or salt-depleted, or those taking diuretics, are at greater risk
Monitor renal function and potassium levels in susceptible patients (eg, diabetes, hypoaldosteronism, high-potassium diet, renal artery stenosis); dosage reduction or interruption may be required
· Black Box Warnings
Discontinue as soon as possible when pregnancy is detected
Drug affects renin-angiotensin system, causing oligohydramnios, which may result in fetal injury or death
Points of recommendation
Follow all directions on your prescription label. Your doctor may occasionally change your dose to make sure you get the best results. Do not take this medicine in larger or smaller amounts or for longer than recommended.
You may take sacubitril and valsartan with or without food. Take the medicine at the same time each day.
Your blood pressure will need to be checked often. Your kidney function may also need to be checked.
Store this medicine in the original container at room temperature away from moisture and heat.
Take the missed dose as soon as you remember. Skip the missed dose if it is almost time for your next scheduled dose. Do not take extra medicine to make up the missed dose.
Pregnancy level
Not assigned