Drug information of Letrozole
Letrozole
Letrozole lowers estrogen levels in postmenopausal women, which may slow the growth of certain types of breast tumors that need estrogen to grow in the body. Letrozole is used to treat breast cancer in postmenopausal women. It is often given to women who have been taking tamoxifen (Nolvadex, Soltamox) for 5 years.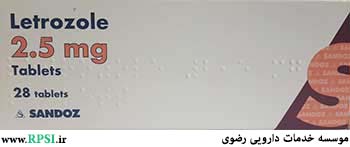 Mechanism of effect
Letrozole is a nonsteroidal competitive inhibitor of the aromatase enzyme system; it inhibits the conversion of androgens to estrogens
Pharmacodynamic
Letrozole is an aromatase inhibitor used in the treatment of breast cancer. Aromatase inhibitors work by inhibiting the action of the enzyme aromatase, which converts androgens into estrogens by a process called aromatization. As breast tissue is stimulated by estrogens, decreasing their production is a way of suppressing recurrence of the breast tumor tissue
Pharmacokinetics
Letrozole is rapidly and completely absorbed from the gastrointestinal tract and absorption is not affected by food. Primarily hepatic via CYP3A4 and CYP2A6. Letrozole inhibits the aromatase enzyme by competitively binding to the heme of the cytochrome P450 subunit of the enzyme, resulting in a reduction of estrogen biosynthesis in all tissues. It is metabolized slowly to an inactive metabolite whose glucuronide conjugate is excreted renally, representing the major clearance pathway. Half life: 2 days.
Dosage
Usual Adult Dose for Breast Cancer 2.5 mg tablet orally administered once a day without regard to meals.
Side effects
nausea
,
Headache
,
chest pain
,
dry mouth
,
constipation
,
abdominal pain
,
dizziness
,
vomiting
,
fatigue
,
Blurred vision
,
Angioedema
,
rash
,
flushing
,
Diarrhea
,
Dyspnea
,
asthenia
,
pruritus
,
Hypertension
,
leukopenia
,
palpitations
,
dyspepsia
,
Peripheral edema
,
Cough
,
anorexia
,
Arthralgia
,
Hyper-cholesteremia
,
arterial thrombolic event
,
Hypersensitivity
,
eye irritation
,
Cataracts
,
Weight increase
Alerts
1-Use of Letrozole may cause decreases in bone mineral density (BMD). 2-Consideration should be given to monitoring serum cholesterol 3-Subjects with cirrhosis and severe hepatic impairment who were dosed with 2.5 mg of Letrozole tablets experienced approximately twice the exposure to Letrozole as healthy volunteers with normal liver function. 4-Because fatigue, dizziness, and somnolence have been reported with the use of Letrozole, caution is advised when driving or using machinery until it is known how the patient reacts to Letrozole use
Points of recommendation
1- Pregnancy:Letrozole is contraindicated in women of premenopausal endocrine status. The physician needs to discuss the necessity of adequate contraception with women who have the potential to become pregnant including women who are perimenopausal or who recently became postmenopausal, until their postmenopausal status is fully established. 2- Fatigue and Dizziness: Since fatigue and dizziness have been observed with the use of Letrozole and somnolence was uncommonly reported, caution is advised when driving or using machinery. 3- Bone Effects: Consideration should be given to monitoring bone mineral density.