Drug information of Vernakalant
Vernakalant
Indicated for the rapid conversion of recent onset of atrial fibrillation to sinus rhythm in adults for non-surgery patients that lasts for less than 7 days of duration and post-cardiac surgery patients with atrial fibrillation lasting less than 3 days of duration.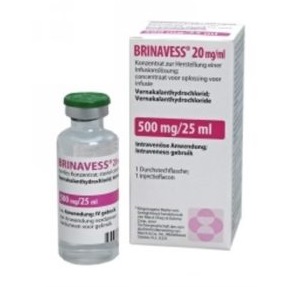 Mechanism of effect
Acts preferentially in the atria by prolonging atrial refractoriness and slowing impulse conduction in a rate-dependent fashion
Prominently blocks certain potassium channels, specifically, the atrial-selective potassium current Iκur
It is also a sodium channel blocker, depending upon heart rate (HR); as HR increases, affinity for the sodium channel increases; additionally, as the HR decreases, vernakalant binding to the sodium channel decreases
Pharmacodynamic
Vernakalant blocks currents in all phases of atrial action potential including atria-specific potassium currents (the ultra-rapid delayed rectifier and the acetylcholine dependent potassium currents) and prolongs the refractory period. It dose-dependently prolongs atrial refractoriness, prolongs AV nodal conduction and refractoriness, and slightly prolongs QRS duration without significantly affecting ventricular refractory period. Vernakalant has a high affinity to ion channels specifically involved in repolarization of atrial tissue and is thought to have a low proarrhythmic potential.
Pharmacokinetics
Volume of distribution:Approximately 2L/kg.
Protein binding:Displays low protein binding and the free fraction of vernakalant in human serum is 53-63% at concentration range of 1-5 μg/ml.
Metabolism:Vernakalant is mainly eliminated by CYP2D6 mediated O-demethylation in CYP2D6 extensive metabolisers. Glucuronidation is the main metabolism pathway in CYP2D6 poor metabolisers.
Route of elimination:Mainly eliminated via renal excretion.
Half-life:Elimination half life in CYP2D6 extensive metabolizers is 3 hours and 5.5 hours in poor metabolizers.
Clearance:The typical total body clearance of vernakalant was estimated to be 0.41 l/hr/kg.
Drug indications
Arrhythmias
IV antiarrhythmic pending FDA approval for rapid conversion of recent onset atrial fibrillation to sinus rhythm
Dosage
Patients in atrial fibrillation should receive 3 mg per kilogram body weight given as a 10-minute infusion into a vein. If the heart rhythm has not returned to normal 15 minutes after the first infusion has been given, a second dose of 2 mg/kg should be given. Patients should not be given more than 5 mg/kg of Brinavess within any 24-hour period
Drug contraindications
cardiac failure
,
Hypersensitivity to this drug
,
acute coronary syndrome (ACS)
,
Aortic Stenosis
,
systolic blood pressure < 100 mmHg
,
Second- or third-degree AV block
,
severe bradycardia
Hypersensitivity to the active substance or to any of the excipients
Patients with severe aortic stenosis, patients with systolic blood pressure < 100 mm Hg, and patients with heart failure class NYHA III and NYHA IV.
Patients with prolonged QT at baseline (uncorrected > 440 ms), or severe bradycardia, sinus node dysfunction or second degree and third degree heart block in the absence of a pacemaker.
Use of intravenous rhythm control antiarrhythmics (class I and class III) within 4 hours prior to, as well as in the first 4 hours after, vernakalant administration.
Acute coronary syndrome (including myocardial infarction) within the last 30 days.
Side effects
nausea
,
vomiting
,
eye itching
,
vertigo
,
palpitations
,
itching
,
ECG prolonged QT
,
Visual abnormalities
,
difficulty urinating
,
sneezing
,
Syncope
,
Nose irritation
,
sinus bradycardia
Dysgeusia-Sneezing-Paraesthesia-dizziness-Bradycardia - atrial flutter-Hypotension-Cough-nasal discomfort-Nausea- paraesthesia oral- vomiting- Pruritus- hyperhidrosis-Infusion site pain- feeling hot-infusion site paraesthesia-Hypoaesthesia-burning sensation-parosmia-syncope- somnolence-Lacrimation increased-eye irritation- visual impairment-Sinus arrest-ventricular tachycardia- palpitations- bundle branch block left- ventricular extrasystoles- AV block first degree-AV block complete-bundle branch block right-sinus bradycardia- ECG QRS complex prolonged- cardiogenic shock- blood pressure diastolic increased-Atrial flutter with 1:1 atrioventricular conduction-Flushing-hot flush- pallor- Dyspnoea- throat irritation-oropharyngeal pain- nasal congestion- suffocation feeling- choking sensation-rhinorrhea- Dry mouth-diarrhoea- hypoaesthesia oral- defecation urgency-Pruritus generalized- cold sweat-Pain in extremity-Fatigue- infusion site irritation- infusion site hypersensitivity- infusion site pruritus-malaise
Interactions
Ipecac
,
Thioridazine
,
Ranitidine
,
Cisapride
,
Flupentixol
,
Flecainide
,
Tegaserod
,
Temafloxacin
,
Mephenytoin
,
Nimesulide
,
Phenacetin
,
Prenylamine
,
Remoxipride
,
Sarafloxacin
,
Asunaprevir
,
Dextropropoxyphene
,
Encainide
,
Fendiline
,
Flumequine
,
Indenolol
,
phenformin
,
Roxithromycin
,
Aminophenazone
,
Bepridil
,
Iproniazid
,
Alprenolol
,
Mibefradil
,
Dexfenfluramine
,
Terfenadine
,
Cinoxacin
,
Trovafloxacin
,
Cerivastatin
,
astemizole
,
Nefazodone
,
Fenfluramine
,
sparfloxacin
,
Sertindole
,
Grepafloxacin
Lysergic acid diethylamide
Alerts
-Cases of serious hypotension have been reported during and immediately following vernakalant infusion. Patients should be carefully observed for the entire duration of the infusion and for at least 15 minutes after completion of the infusion with assessment of vital signs and continuous cardiac rhythm monitoring.
-If any of the following signs or symptoms occurs, the administration of vernakalant should be discontinued and these patients should receive appropriate medical management:
A sudden drop in blood pressure or heart rate, with or without symptomatic hypotension or bradycardia
Hypotension
Bradycardia
ECG changes
-The patient should be further monitored for 2 hrs after the start of infusion and until clinical and ECG parameters have stabilised.
-Hypotension can occur in a small number of patients .Hypotension typically occurs early, either during the infusion or early after the end of the infusion, and can usually be corrected by standard supportive measures. Uncommonly, cases of severe hypotension have been observed.
-Patients with CHF showed a higher overall incidence of hypotensive events, during the first 2 hours after dose in patients treated with vernakalant compared to patients receiving placebo
-Patients with a history of CHF showed a higher incidence of ventricular arrhythmia in the first two hours post dose
-Due to the higher incidence of the adverse reactions of hypotension and ventricular arrhythmia in patients with CHF, vernakalant should be used cautiously in haemodynamically stable patients with CHF functional classes NYHA I to II. There is limited experience with the use of vernakalant in patients with previously documented LVEF ≤ 35 %. Its use in these patients is not recommended.
-In patients with valvular heart disease, there was a higher incidence of ventricular arrhythmia events in vernakalant patients until 24 hours after dosing
-Patients receiving vernakalant have a higher incidence of converting to atrial flutter within the first 2 hours post-dose. This risk is higher in patients who use Class I antiarrhythmics
-As the clinical trial experience in patients with advanced hepatic impairment is limited, vernakalant is not recommended in these patients.
- it has not been evaluated in patients with clinically meaningful valvular stenosis, hypertrophic obstructive cardiomyopathy, restrictive cardiomyopathy, or constrictive pericarditis and its use cannot be recommended in such cases. There is limited experience with vernakalant in patients with pacemakers.
-Vernakalant cannot be recommended in patients previously administered intravenous AADs (class I and III) 4-24 hours prior to vernakalant due to lack of data.
-Resumption or initiation of oral maintenance antiarrhythmic therapy can be considered starting 2 hours after vernakalant administration.
Points of recommendation
-The vials are for single use only and must be diluted prior to administration.
-Prior to attempting pharmacological cardioversion, patients should be adequately hydrated and haemodynamically optimised and if necessary patients should be anticoagulated in accordance with treatment guidelines. In patients with uncorrected hypokalaemia (serum potassium of less than 3.5 mmol/l), potassium levels should be corrected prior to use of vernakalant.
-Direct-current cardioversion may be considered for patients who do not respond to therapy
Pregnancy level
HAVE NOT BEEN ESTABLISHED
There are no data from the use of vernakalant hydrochloride in pregnant women. Studies in animal have shown malformations after repeated oral exposure .
As a precautionary measure, it is preferable to avoid the use of vernakalant during pregnancy.
Breast feeding warning
It is unknown whether vernakalant/metabolites are excreted in human milk. There is no information on the excretion of vernakalant/metabolites in animal milk. A risk to the newborns/infants cannot be excluded.
Caution should be exercised when used in breast-feeding women.
Drug forms
Brinavess