Drug information of conivaptan
conivaptan
Conivaptan reduces the level of a hormone that regulates the balance of water and salt (sodium) in the body. High levels of this hormone can cause an imbalance that results in low sodium levels and fluid retention.
Conivaptan is used to treat hyponatremia (low sodium levels). Conivaptan improves urine flow without causing the body to lose too much sodium as you urinate.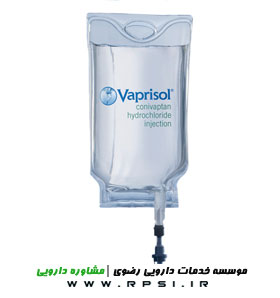 Mechanism of effect
Conivaptan is a dual AVP antagonist with nanomolar affinity for human arginine vasopressin V1A and V2 receptors in vitro. This antagonism occurs in the renal collecting ducts, resulting in aquaresis, or excretion of free water
Pharmacodynamic
Conivaptan is a nonpeptide, dual antagonist of arginine vasopressin (AVP) V1A and V2 receptors. The level of AVP in circulating blood is critical for the regulation of water and electrolyte balance and is usually elevated in both euvolemic and hypervolemic hyponatremia. The AVP effect is mediated through V2 receptors, which are functionally coupled to aquaporin channels in the apical membrane of the collecting ducts of the kidney. These receptors help to maintain plasma osmolality within the normal range by increasing permeability of the renal collecting ducts to water. Vasopressin also causes vasoconstriction through its actions on vascular 1A receptors. The predominant pharmacodynamic effect of conivaptan in the treatment of hyponatremia is through its V2 antagonism of AVP in the renal collecting ducts, an effect that results in aquaresis, or excretion of free water. Conivaptan's antagonist activity on V1A receptors may also cause splanchnic vasodilation, resulting in possible hypotension or variceal bleeding in patients with cirrhosis. The pharmacodynamic effects of conivaptan include increased free water excretion (i.e., effective water clearance [EWC]) generally accompanied by increased net fluid loss, increased urine output, and decreased urine osmolality.
Pharmacokinetics
Protein binding
99%
Metabolism
CYP3A4 is the sole cytochrome P450 isozyme responsible for the metabolism of conivaptan. Four metabolites have been identified. The pharmacological activity of the metabolites at V1a and V2 receptors ranged from approximately 3-50% and 50-100% that of conivaptan, respectively.
Half life
5 hours
Drug indications
Hyponatremia
Dosage
Hyponatremia
Indicated to raise serum sodium in hospitalized patients with euvolemic and hypervolemic hyponatremia
Load: 20 mg IV infusion over 30 minutes; and THEN
20 mg IV as continuous infusion over 24-hour period for 2-4 days
After initial day of treatment, may increase to 40 mg/day if necessary
Monitor serum sodium and volume status frequently; a significant increase in serum sodium (>12 mEq/L/24 hours) may result in serious neurologic effects
Drug contraindications
Hypersensitivity
Hypovolemic hyponatremia
Anuria; no benefit can be expected in patients unable to make urine
Side effects
Osmotic demyelination syndrome
Infusion site reactions
Interactions
Midazolam
,
Chlordiaze poxide
,
fentanyl
,
Ranolazine
,
Axitinib
,
nelfinavir
,
Mefloquine
,
brigatinib
,
Felodipine
,
Tipranavir
,
Dabrafenib
,
Acalabrutinib
,
Cabazitaxel
,
Maraviroc
,
Halofantrine
,
Mibefradil
,
Nicardipine
,
cobicistat
,
Delavirdine
,
Fostamatinib
,
Terfenadine
,
Fesoterodine
,
Alfuzosin
,
Pazopanib
,
Palbociclib
,
Ixazomib
,
Pimavanserin
,
Tasimelteon
,
Betrixaban
,
trabectedine
,
Duvelisib
,
elagolix
,
Avanafil
,
Entrectinib
,
Lopinavir and Ritonavir
,
Cabozantinib
,
Cariprazine
,
Cobimetinib
,
Temsirolimus
,
ELBASVIR/GRAZOPREVIR
,
Larotrectinib
,
gilteritinib
,
glasdegib
,
Abemaciclib
,
Eliglustat
,
riociguat
,
oleandomycin
,
Bepridil
,
Gefitinib
,
Dasatinib
,
Cannabidiol
,
voxelotor
,
silodosin
,
Venetoclax
,
Avapritinib
,
Asunaprevir
,
tucatinib
,
Capmatinib
Alerts
Has not been shown to be effective for the treatment of the signs and symptoms of heart failure and is not approved for this indication
Safety data with hypervolemic hyponatremia associated with heart failure is limited; restrict use to raise serum sodium in such patients only after consideration of other treatment options
Infusion site reactions are common and can include serious reactions, even with proper infusion rates; administer via large veins, and rotate infusion site q24hr
Discontinue if undesirably rapid rise in serum Na (>12 mEq/L/day
Hepatic/renal impairment
Conivaptan inhibits CYP3A4; rhabdomyolysis occurred in patients who were also receiving a CYP3A-metabolized HMG-CoA reductase inhibitor
Coadministration of digoxin with oral conivaptan resulted in a 1.8- and 1.4-fold increase in digoxin Cmax and AUC, respectively; monitor digoxin levels
Pregnancy level
There are no available data in pregnant women to inform a drug-associated risk for major birth defects and miscarriage
Breast feeding warning
No information regarding conivaptan or metabolites in human milk, effects of conivaptan on breastfed infant, or effects of conivaptan on milk production; because of potential for serious adverse reactions, including electrolyte abnormalities (e.g., hypernatremia), hypotension, and volume depletion in breastfed infants, advise a woman not to breastfeed during treatment with conivaptan