Drug information of Lomustine
Lomustine
An alkylating agent of value against both hematologic malignancies and solid tumors.
For the treatment of primary and metastatic brain tumors as a component of combination chemotherapy in addition to appropriate surgical and/or radiotherapeutic procedures. Also used in combination with other agents as secondary therapy for the treatment of refractory or relapsed Hodgkin's disease.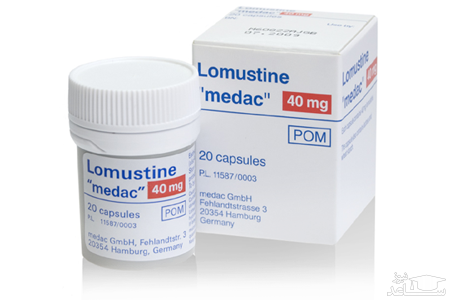 Mechanism of effect
Inhibition of DNA & RNA synthesis resulting from carbamylation of DNA polymerase, alkylation of DNA, and alteration of RNA proteins
Pharmacodynamic
Lomustine is an alkylating agent of the nitrosourea type. Lomustine and its metabolites interferes with the function of DNA and RNA. It is cell cycle–phase nonspecific. Cancers form when some cells within the body multiply uncontrollably and abnormally. These cells then spread and destroy nearby tissues. Lomustine acts by slowing this process down. It kills cancer cells by damaging the DNA (the genetic material inside the cells) and stops them from dividing.
Pharmacokinetics
Half-Life Elimination (biphasic): 16-24 hr (parent drug); 16-48 hr (active metabolite)
Peak plasma time: ~3 hr
Metabolism: Liver
Duration: 5-6 weeks (bone marrow recovery)
Excretion: Urine (50%); feces (<5%)
Dosage
130 mg/m² PO once q6week
Interactions
Trastuzumab
,
pimecrolimus
,
Deferiprone
,
Fingolimod
,
Natalizumab
,
Influenza vaccine
,
Measles vaccine
,
nivolumab
,
Typhoid vaccine (live), oral
,
Yellow fever vaccine
,
Rubella Vaccines
,
Mumps vaccine
,
Palifermin
,
Ocrelizumab
,
Ofatumumab
,
Zoster Vaccines
,
Vitamin A
,
Vitamin E
,
Clozapine
,
teriflunomide
,
Varicella-Zoster Vaccines
,
thiotepa
,
Adenovirus types 4 and 7 live, oral
,
cholera vaccine live
,
Remdesivir
,
Meningococcal conjugate vaccine
,
Rabies Vaccine
,
sirukumab
,
secukinumab
Alerts
Myelosuppression is delayed, dose-related, and cumulative; thrombocytopenia is generally more severe than leukopenia; may occur 4-6 weeks after drug administration and persist for 1- 2 weeks; thrombocytopenia and leucopenia may contribute to bleeding and overwhelming infections in an already compromised patient; monitor blood counts weekly for 6 or more weeks after a dose; do not give therapy more frequently than every 6 weeks; bone marrow toxicity is cumulative; adjust dose based on nadir blood counts from prior dosage

Therapy should be administered by experienced cancer physician; prescribe, dispense, and administer enough capsules for one dose; fatal toxicity occurs with overdosage; prescribe, dispense, and administer only enough capsules for one dose;

Causes myelosuppression that can result in fatal infections and bleeding; monitor blood counts for at least 6 weeks after each dose; do not give more frequently than q6wk due to delayed myelosuppression
Avoid pregnancy; can cause fetal harm; advise males and females of reproductive potential of potential risk to fetus and to use effective contraception; advise males with female partners of reproductive potential to use effective contraception during treatment and for 3.5 months after the final dose; therapy may result in reduced fertility in males and females of reproductive potential
Hepatotoxicity reported; increased levels of transaminases, alkaline phosphatase and bilirubin can occur; monitor liver function
Can cause renal failure; monitor renal function
Delayed pulmonary toxicity may occur; pulmonary infiltrates and/or fibrosis may occur; perform pulmonary function tests prior to treatment and repeat frequently; permanently discontinue therapy in patients diagnosed with pulmonary fibrosis
Secondary malignancies reported; acute leukemia and myelodysplasia can occur with long-term use
Points of recommendation
both physician and pharmacist should emphasize to patient that only one dose of the drug is taken every 6 weeks
Breast feeding warning
Unknown if metabolites present in breast milk; avoid nursing during treatment and for 2 weeks after final dose
Related drugs
Estramustine
,
Streptozocin
,
Oxaliplatin
,
Ifosfamide
,
Busulfan
,
Procarbazine
,
Temozolomide
,
Mechlorethamine
,
trabectedine
,
Carmustine
,
Dacarbazine
,
Cisplatin
,
Cyclophosphamide
,
Carboplatin
,
Chlorambucil
,
Altretamine
,
Melphalan
,
Mitomycin
,
thiotepa
,
Bendamustine
Drug forms
Gleostine, CCNU
Tags