Drug information of Lisinopril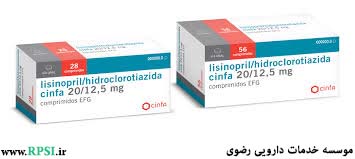 Mechanism of effect
Lisinopril inhibits angiotensin-converting enzyme (ACE) in human subjects and animals
Pharmacodynamic
Lisinopril is an orally active ACE inhibitor that antagonizes the effect of the RAAS. The RAAS is a homeostatic mechanism for regulating hemodynamics, water and electrolyte balance
Pharmacokinetics
Following oral administration of Lisinopril, peak serum concentrations of Lisinopril occur within about 7 hours. Food does not alter the bioavailability of Lisinopril. Lisinopril does not undergo metabolism and is excreted unchanged entirely in the urine.
Dosage
Usual Adult Dose for Hypertension Initial dose: 10 mg orally once a day; 5 mg orally once a day Maintenance dose: 20 to 40 mg orally once a day Maximum dose: 80 mg orally once a day Usual Pediatric Dose for Hypertension Pediatric patients greater than or equal to 6 years of age: Initial dose: 0.07 mg/kg orally once a day (Maximum initial dose is 5 mg once a day) Maintenance dose: Dosage should be adjusted according to blood pressure response at 1 to 2 week intervals. Maximum dose: Doses above 0.61 mg/kg or greater than 40 mg have not been studied in pediatric patients
Side effects
dry mouth
,
constipation
,
dizziness
,
fatigue
,
Blurred vision
,
Diarrhea
,
asthenia
,
urticaria
,
hypotension
,
neutropenia
,
Hyperkalemia
,
Creatinine increased
,
syncope
,
diabetes mellitus
,
renal failure
,
pancreatitis
,
flatulence
,
MI
,
orthostatic hypotension
,
Tinnitus
,
Visual abnormalities
Interactions
Amlodipine/Atorvastatine
,
Drospirenone
,
Iron sucrose
,
Allopurinol
,
Nitroglycerin
,
Yohimbine
,
Sitagliptin
,
potassium citrate
,
Dimethyl Fumarate
,
Doxazosin
,
Triamterene
,
Canagliflozin
,
Telmisartan
,
Sacubitril and valsartan
,
Celecoxib
,
Sulindac
,
Azilsartan
,
Candesartan
,
Irbesartan
,
Olmesartan
,
Aliskiren
,
Treprostinil
,
Meclofenamate
,
Nabumetone
,
Sulfamethoxazole
,
Iron Dextran Complex
,
Nesiritide
,
Angiotensin II
Alerts
1-When pregnancy is detected, discontinue Lisinopril as soon as possible 2-Drugs that act directly on the renin-angiotensin system can cause injury and death to the developing fetus 3-Do not co-administer aliskiren with Lisinopril in patients with diabetes. 4-Angioedema of the face, extremities, lips, tongue, glottis and/or larynx, including some fatal reactions, have occurred in patients treated with angiotensin converting enzyme inhibitors, including Lisinopril, at any time during treatment. Patients with involvement of the tongue, glottis or larynx are likely to experience airway obstruction, especially those with a history of airway surgery. Lisinopril should be promptly discontinued and appropriate therapy and monitoring should be provided until complete and sustained resolution of signs and symptoms of angioedema has occurred. 5-Intestinal angioedema has occurred in patients treated with ACE inhibitors. These patients presented with abdominal pain. 6-Lisinopril can cause symptomatic hypotension, sometimes complicated by oliguria, progressive azotemia, acute renal failure or death. 7-Serum potassium should be monitored periodically in patients receiving Lisinopril.
Points of recommendation
1-Should be given as a single daily dose. 2-May be given with or without food. 3-In some patients with heart failure who have normal or low blood pressure, additional lowering of systemic blood pressure may occur with this drug. This effect is anticipated and is not usually a reason to discontinue treatment. If hypotension becomes symptomatic, a reduction of dose or discontinuation of may be necessary.