Drug information of Maprotiline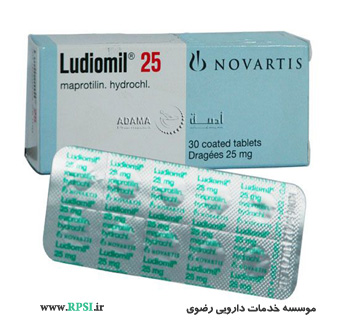 Mechanism of effect
The postulated mechanism of Maprotiline is that it acts primarily by potentiation of central adrenergic synapses by blocking reuptake of norepinephrine at nerve endings. This pharmacologic action is thought to be responsible for the drug's antidepressant and anxiolytic effects.
Pharmacodynamic
Maprotiline is a tetracyclic antidepressant. Although its main therapeutic use is in the treatment of depression
Pharmacokinetics
Absorption: Slowly, but completely absorbed from the GI tract following oral administration. Protein binding: 88% Metabolism: Hepatic Approximately 60% of a single orally administered dose is excreted in urine as conjugated metabolites within 21 days; 30% is eliminated in feces. Half life: Average ~ 51 hours
Dosage
Usual Adult Dose for Depression
Outpatients with Mild to Moderate Depression:
-Initial dose: 75 mg orally once a day or in divided doses
-Maintenance dose: 75 to 150 mg/day
-Maximum dose: 225 mg/day
Inpatients with Moderate to Severe Depression:
-Initial dose: 100 to 150 mg orally once a day or in divided doses
-Maintenance dose: 75 to 150 mg/day
-Maximum dose: 225 mg/day
Side effects
nausea
,
insomnia
,
dry mouth
,
constipation
,
dizziness
,
Blurred vision
,
rash
,
fever
,
impotence
,
anxiety
,
confusion
,
Gynecomastia
,
Tremor
,
agitation
,
urinary retention
,
petechiae
,
hallucinations
,
Agranulocytosis
,
mydriasis
Interactions
Ergotamine-C
,
Acetylcholine
,
Expectorant
,
Propranolol
,
Trazodone
,
Tranylcypromine
,
Zolpidem
,
Cisapride
,
Galantamine
,
Naphazoline
,
Nilotinib
,
Venlafaxine
,
Clozapine
,
potassium citrate
,
Sodium Oxybate
,
safinamide
,
rasagiline
,
Diethylpropion
,
Dolasetron
,
Palonosetron
,
vandetanib
,
Droperidol
,
Procainamide
,
Mefloquine
,
Indapamide
,
Dofetilide
,
lisdexamfetamine
,
Peginterferon alfa-2b
,
pilocarpine oral
,
Arsenic trioxide
,
Desvenlafaxine
,
Xylometazoline
,
Propylhexedrine
,
Milnacipran
,
acrivastine+pseudoephedrine
,
Halofantrine
,
Grepafloxacin
,
Dexfenfluramine
,
Huperzine A
,
Arformoterol
,
Benzphetamine
,
Levomilnacipran
,
glycopyrrolate topical
,
5-hydroxytryptophan
,
Bepridil
,
bedaquiline
,
vemurafenib
Alerts
1-Patients of all ages who are started on antidepressant therapy should be monitored appropriately and observed closely for clinical worsening, suicidality, or unusual changes in behavior.
2-It should be noted that Maprotiline is not approved for use in treating bipolar depression.
3-The pupillary dilation that occurs following use of many antidepressant drugs including Maprotiline may trigger an angle-closure attack in a patient with anatomically narrow angles who does not have a patent iridectomy.
4-Seizures have been associated with the use of Maprotiline.
Points of recommendation
1-Patients, their families and their caregivers should be encouraged to be alert to the emergence of anxiety, agitation, panic attacks, insomnia, irritability, hostility, aggressiveness, impulsivity, akathisia (psychomotor restlessness), hypomania, mania, other unusual changes in behavior, worsening of depression, and suicidal ideation, especially early during antidepressant treatment and when the dose is adjusted up or down.
2-Maprotiline should be discontinued if there is evidence of pathological neutrophil depression. Leukocyte and differential counts should be performed in patients who develop fever and sore throat during therapy.
3-Take without regard to meals. Limit caffeine intake.