Drug information of Abacavir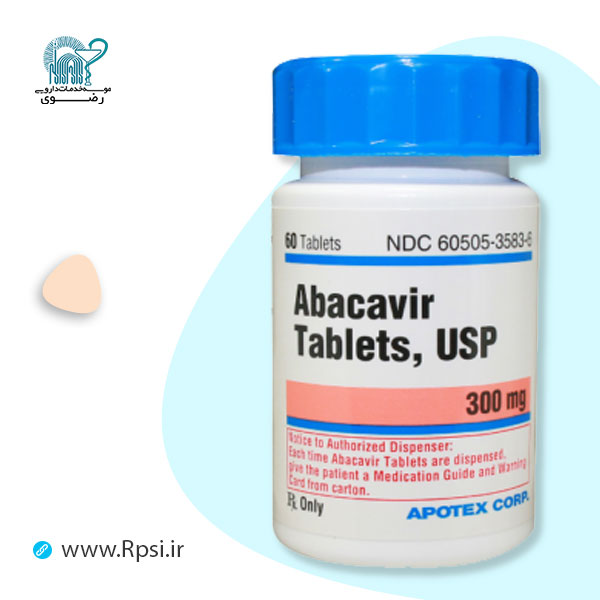 Mechanism of effect
Abacavir is a carbocyclic synthetic nucleoside analogue and an antiviral agent. Intracellularly, abacavir is converted by cellular enzymes to the active metabolite carbovir triphosphate, an analogue of deoxyguanosine-5'-triphosphate (dGTP). Carbovir triphosphate inhibits the activity of HIV-1 reverse transcriptase (RT) both by competing with the natural substrate dGTP and by its incorporation into viral DNA. Viral DNA growth is terminated because the incorporated nucleotide lacks a 3'-OH group, which is needed to form the 5′ to 3′ phosphodiester linkage essential for DNA chain elongation.
Pharmacodynamic
The concentration of drug necessary to effect viral replication by 50 percent (EC50) ranged from 3.7 to 5.8 μM (1 μM = 0.28 mcg/mL) and 0.07 to 1.0 μM against HIV-1IIIB and HIV-1BaL, respectively, and was 0.26 ± 0.18 μM against 8 clinical isolates.
Pharmacokinetics
Absorption: Rapid & extensive absorption
Vd: 0.86 L/kg
Protein Bound: 50%
Metabolism: hepatic via alcohol dehydrogenase & glucuronyl transferase to inactive carboxylate & glucuronide metabolites
Bioavailability: 83%
Half-life elimination: 1.5 hr
Peak Plasma Time: 0.7-1.7 hr
Excretion: Urine (80%); feces (16%)
Peak plasma concentration: 3 mcg/mL (300 mg); 4.26 mcg/mL (600 mg)
AUC: 6.02 mcg·h/mL (300 mg); 11.95 mcg·h/mL (600 mg)
Pharmacogenomics
Patients who carry the HLA-B*5701 allele are at high risk for experiencing a hypersensitivity reaction
Prior to initiating therapy with abacavir, screening for the HLA-B*5701 allele is recommended
For HLA-B*5701-positive patients, treatment with an abacavir-containing regimen is not recommended
Dosage
Adult
HIV Infection
300 mg PO q12hr, OR
600 mg PO qDay
Pediatric
HIV Infection
Neonates/infants <3 months: Safety and efficacy not established
Oral solution
≥3 months: 8 mg/kg PO q12hr or 16 mg/kg/day; not to exceed 600 mg/day
Tablet
≥14 kg to <20 kg: 150 mg PO q12hr, OR 300 mg qDay
≥20 to <25 kg: 150 mg AM and 300 mg PM, OR 450 mg qDay
≥25 kg: 300 mg PO q12hr, OR 600 mg PO qDay in combination with other antiretroviral agents
Alerts
Lactic acidosis and severe hepatomegaly with steatosis, including fatal cases, reported with nucleoside analogues, including abacavir; a majority of these cases have been in women; female gender and obesity may be risk factors; suspend dosing in those who develop clinical or laboratory findings suggestive of lactic acidosis or pronounced hepatotoxicity
Immune reconstitution syndrome reported with combination ART; during the initial treatment phase, patients whose immune systems respond may develop an inflammatory response to indolent or residual opportunistic infections (eg, Mycobacterium avium infection, cytomegalovirus, Pneumocystis jirovecii pneumonia [PCP], or tuberculosis); autoimmune disorders (eg, Grave disease, polymyositis, and Guillain-Barré syndrome) have also been reported
Use has been associated with increased risk of myocardial infarction in observational studies, but not in a meta-analysis of 26 randomized trials; caution with risks for coronary heart disease and minimizing modifiable risk factors, including smoking, hypertension, and hyperlipidemia, prior to use
Black Box Warnings
Hypersensitivity reactions
Severe and sometimes fatal hypersensitivity reaction, with multiple organ involvement, have occurred
Patients who carry the HLA-B*5701 allele are at a higher risk of a hypersensitivity reaction; although, hypersensitivity reactions have occurred in patients who do not carry the HLA-B*5701 allele
Contraindicated with history of prior hypersensitivity reaction to abacavir and in patients who are HLA-B*5701-positive
All patients should be screened for the HLA-B*5701 allele before initiating or reinitiating abacavir, unless patients have a previously documented HLA-B*5701 allele assessment
If hypersensitivity is suspected, discontinue abacavir immediately, regardless of HLA-B*5701 status and even when other diagnoses are possible
Points of recommendation
Follow all directions on your prescription label and read all medication guides or instruction sheets. Use the medicine exactly as directed.
Abacavir can be taken with or without food.
Measure liquid medicine carefully. Use the dosing syringe provided, or use a medicine dose-measuring device (not a kitchen spoon).
You will need frequent medical tests.
Use all HIV medications as directed and read all medication guides you receive. Do not change your dose or dosing schedule without your doctor's advice. Every person with HIV should remain under the care of a doctor.
Store at room temperature away from moisture and heat.
You may store the oral solution (liquid) in the refrigerator but do not let it freeze.
What happens if I miss a dose?
Take the medicine as soon as you can, but skip the missed dose if it is almost time for your next dose. Do not take two doses at one time.
Get your prescription refilled before you run out of medicine completely. If you miss several doses, you may have a dangerous or even fatal allergic reaction once you start taking abacavir again.
Avoid drinking alcohol. It may increase your risk of liver damage.
Taking abacavir will not prevent you from passing HIV to other people. Do not have unprotected sex or share razors or toothbrushes. Talk with your doctor about safe ways to prevent HIV transmission during sex. Sharing drug or medicine needles is never safe, even for a healthy person.