Drug information of entacapone
entacapone
When used with carbidopa and levodopa (Atamet, Parcopa, Sinemet), entacapone increases levels of levodopa in the body.
Entacapone is used together with carbidopa and levodopa to treat "wearing-off" symptoms of Parkinson's disease, such as stiffness, tremors, muscle spasms, and poor muscle control.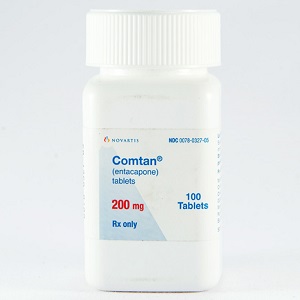 Mechanism of effect
Entacapone is a reversible and selective inhibitor of catechol-O-methyltransferase (COMT). When entacapone is taken with levodopa, the pharmacokinetics are altered, resulting in more sustained levodopa serum levels compared to levodopa taken alone. The resulting levels of levodopa provide for increased concentrations available for absorption across the blood-brain barrier, thereby providing for increased CNS levels of dopamine, the active metabolite of levodopa.
Pharmacokinetics
Absorption
Rapid
Distribution
IV: Vdss: 20 L
Metabolism
Isomerization to the cis-isomer, followed by direct glucuronidation of the parent and cis-isomer
Excretion
Feces (90%); urine (10%)
Onset of Action
Rapid
Time to Peak
Serum: 1 hour
Half-Life Elimination
Beta phase: 0.4 to 0.7 hours; gamma phase: 2.4 hours
Protein Binding
98%, primarily to albumin
Special Populations: Hepatic Function Impairment
AUC and Cmax are approximately 2-fold higher in those with a history of alcoholism and hepatic impairment.
Drug indications
Parkinson disease: Adjunct to levodopa/carbidopa therapy in patients with idiopathic Parkinson disease who experience "wearing-off" symptoms at the end of a dosing interval
Dosage
Usual Adult Dose for Parkinson's Disease
200 mg orally concomitantly with each dose of levodopa-carbidopa up to a maximum of 8 times a day
Maximum dose: 1600 mg per day

Comments:
-Upon initiation, a majority of patients required levodopa dose reductions or an extension of the interval between their levodopa doses, especially those receiving levodopa doses of 800 mg/day or greater, and patients with baseline moderate or severe dyskinesia.

Use: As an adjunct to levodopa-carbidopa to treat end-of-dose "wearing-off" in patients with Parkinson's disease.
Drug contraindications
Hypersensitivity to entacapone or any component of the formulation
Canadian labeling: Additional contraindications (not in U.S. labeling): Clinical or laboratory evidence of uncompensated cardiovascular, endocrine, hematologic, pulmonary (including bronchial asthma), or renal disease; history of neuroleptic malignant syndrome (NMS) and/or nontraumatic rhabdomyolysis; hepatic impairment; narrow-angle glaucoma; pheochromocytoma; in the presence of a suspicious, undiagnosed skin lesion or history of melanoma; concomitant use with a nonselective monoamine oxidase (MAO) inhibitor (eg, tranylcypromine, phenelzine) or concomitant use with both a selective MAO-A and selective MAO-B inhibitor; when administration of a sympathomimetic amine is contraindicated
Side effects
Side effects requiring immediate medical attention
Along with its needed effects, entacapone may cause some unwanted effects. Although not all of these side effects may occur, if they do occur they may need medical attention.
Check with your doctor immediately if any of the following side effects occur while taking entacapone:
More common
Absence of or decrease in body movements
hyperactivity
increase in body movements
seeing, hearing, or feeling things that are not there
twisting
twitching
uncontrolled repetitive movements of the tongue, lips, face, arms, or legs
Less common
Cough or hoarseness
fever or chills
lower back or side pain
painful or difficult urination
Rare
Confusion
muscle cramps
pain
shortness of breath
stiffness
unusual tiredness or weakness
Side effects not requiring immediate medical attention
Some side effects of entacapone may occur that usually do not need medical attention. These side effects may go away during treatment as your body adjusts to the medicine. Also, your health care professional may be able to tell you about ways to prevent or reduce some of these side effects.
Check with your health care professional if any of the following side effects continue or are bothersome or if you have any questions about them:
More common
Abdominal or stomach pain
constipation
diarrhea
dizziness
nausea
Less common
Acid or sour stomach
anxiety
belching
bruising
burning feeling in the chest or stomach
difficult or labored breathing
dry mouth
heartburn
indigestion
irritability
loss of strength or energy
muscle pain or weakness
passing gas
restlessness
sleepiness or unusual drowsiness
small, red spots on the skin
stomach discomfort, upset, or tenderness
sweating increased
tightness in the chest
tremor
trouble sleeping
unusual or unpleasant (after) taste
unusual weak feeling
Interactions
Ferrous Gluconate
,
Procarbazine
,
Tranylcypromine
,
Furazolidone
,
Linezolid
,
Sodium Oxybate
,
Phenelzine
,
isocarboxazid
,
methylene blue
,
propoxyphene
,
ozanimod
,
lasmiditan
furazolidone ,isocarboxazid , linezolid , methylene blue , ozanimod , phenelzine , procarbazine , propoxyphene , sodium oxybate , tranylcypromine
Alerts
Concerns related to adverse effects:
Abnormal thinking/behavioral changes: Abnormal thinking and behavior changes have been reported and may include aggressive behavior, agitation, confusion, delirium, delusions, disorientation, paranoid ideation, and psychotic-like behavior.
Diarrhea: Has been associated with delayed development of diarrhea (usual onset after 4 to 12 weeks); use with caution in patients with lower gastrointestinal disease or an increased risk of dehydration. Diarrhea may be a sign of drug-induced colitis (primarily lymphocytic). Monitor for weight loss. Discontinue use with prolonged diarrhea.
Dyskinesia: New-onset or exacerbation of preexisting dyskinesia may occur when used as an adjunct to levodopa. Decreasing the dose of levodopa may ameliorate these side effects in some cases.
Hallucinations: May cause hallucinations.
Impulse control disorders: Compulsive behaviors and/or loss of impulse control, which has manifested as pathological gambling, libido increases (hypersexuality), intense urges to spend money uncontrollably, and other intense urges have been reported. Dose reduction or discontinuation of therapy has been reported to reverse these behaviors in some, but not all cases.
Melanoma: Risk for melanoma development is increased in Parkinson disease patients; drug causation or factors contributing to risk have not been established. Patients should be monitored closely and periodic skin examinations should be performed. The Canadian labeling contraindicates use in patients with suspicious, undiagnosed skin lesions or history of melanoma.
Neuroleptic malignant syndrome: Entacapone, in conjunction with other drug therapy that alters brain biogenic amine concentrations (eg, MAO inhibitors, SSRIs), has been associated with a syndrome resembling neuroleptic malignant syndrome (hyperpyrexia and confusion - some fatal) on abrupt withdrawal or dosage reduction. Concomitant use of entacapone and nonselective MAO inhibitors should be avoided.
Orthostatic hypotension: May cause orthostatic hypotension and syncope.
Pleural/retroperitoneal fibrosis: Dopaminergic agents from the ergot class have been associated with fibrotic complications, such as retroperitoneal fibrosis, pulmonary infiltrates or pleural effusion and thickening. These complications may resolve when the drug is discontinued, but complete resolution does not always occur. It is unknown whether nonergot, pro-dopaminergic agents like entacapone confer this risk.
Rhabdomyolysis: Severe rhabdomyolysis has been reported with use.
Somnolence: Patients have reported falling asleep while engaging in activities of daily living; this has been reported to occur without significant warning signs and may occur as late as up to 1 year after initiation of treatment. Monitor for daytime somnolence or preexisting sleep disorder. Use caution in the presence of sleep disorders, with other CNS depressants, sedating agents, psychoactive drugs or ethanol. Patients must be cautioned about performing tasks which require mental alertness (eg, operating machinery or driving).
Before taking this medicine
You should not use entacapone if you are allergic to it.
To make sure entacapone is safe for you, tell your doctor if you have:
low blood pressure;
liver disease; or
a history of mental illness or psychosis.
Points of recommendation
You may have increased sexual urges, unusual urges to gamble, or other intense urges while taking entacapone. Talk with your doctor if this occurs.
People with Parkinson's disease may have a higher risk of skin cancer (melanoma). Talk to your doctor about this risk and what skin symptoms to watch for. You may need to have regular skin exams.
It is not known whether this medicine will harm an unborn baby. Tell your doctor if you are pregnant or plan to become pregnant.
It is not known whether entacapone passes into breast milk or if it could harm a nursing baby. Tell your doctor if you are breast-feeding a baby.
Follow all directions on your prescription label. Your doctor may occasionally change your dose to make sure you get the best results. Do not take this medicine in larger or smaller amounts or for longer than recommended.
Entacapone must be taken together with carbidopa and levodopa. Entacapone used alone will not treat symptoms of Parkinson's disease.
Entacapone can be taken with or without food. Taking the medicine with food may help prevent nausea, which is a common side effect of entacapone.
Drink plenty of liquids while you are taking entacapone.
Entacapone may cause you to fall asleep during normal daytime activities such as working, talking, eating, or driving. You may fall asleep suddenly, even after feeling alert. Tell your doctor if you have any problems with daytime sleepiness or drowsiness.
Call your doctor if you have ongoing vomiting or diarrhea, or if you are sweating more than usual. You can easily become dehydrated while taking this medicine, which can lead to severely low blood pressure or a serious electrolyte imbalance.
You should not stop using entacapone suddenly. Follow your doctor's instructions about tapering your dose.
Store at room temperature away from moisture and heat.
Take the missed dose as soon as you remember. Skip the missed dose if it is almost time for your next scheduled dose. Do not take extra medicine to make up the missed dose.
Overdose symptoms may include agitation and aggression, or severe drowsiness, confusion, and loss of consciousness.
This medication may impair your thinking or reactions. Be careful if you drive or do anything that requires you to be alert. Entacapone may cause you to fall asleep suddenly, even after feeling alert.
Avoid getting up too fast from a sitting or lying position, or you may feel dizzy. Get up slowly and steady yourself to prevent a fall.
Storage
Store at 25°C (77°F); excursions are permitted between 15°C and 30°C (59°F and 86°F).
Avoid drinking alcohol. It can increase some of the side effects of entacapone.
Pregnancy level
C
AU: Use is contraindicated
UK: Use is not recommended
US: Use during pregnancy only if the potential benefit justifies the potential risk to the fetus.

AU TGA pregnancy category: B3
US FDA pregnancy category: C
Breast feeding warning
AU: Use is contraindicated
UK: Use is not recommended
US: Caution is advised

Excreted into human milk: Unknown
Excreted into animal milk: Yes

The effects in the nursing infant are unknown.
Drug forms
Comtan