Drug information of glasdegib
glasdegib
Glasdegib is used in combination with cytarabine to treat acute myeloid leukemia. This combination is for use in adults who are 75 years or older, or who cannot use standard chemotherapy due to other medical conditions.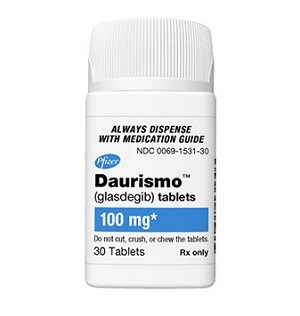 Mechanism of effect
Glasdegib is a small molecule inhibitor of the Hedgehog pathway. Glasdegib binds to and inhibits Smoothened (SMO), which is a transmembrane protein involved in hedgehog signal transduction. Glasdegib blocks the translocation of SMO into cilia and prevents SMO-mediated activation of downstream Hedgehog targets (Cortes 2018). In an animal AML model, glasdegib (in combination with low-dose cytarabine) reduced the percentage of CD45+/CD33+ blasts in the bone marrow and inhibited increases in tumor size to a greater extent than either agent alone.
Pharmacokinetics
Distribution:
188 L
Metabolism:
Primarily hepatic via CYP3A4, with minor contributions by CYP2C8 and UGT1A9
Excretion:
Urine: 49% (17% as unchanged drug); Feces: 42% (20% as unchanged drug)
Time to Peak:
1.3 to 1.8 hours
Half-Life Elimination:
17.4 hours ± 3.7 hours
Protein Binding:
91% to human plasma proteins
Drug indications
Acute myeloid leukemia: Treatment of newly diagnosed acute myeloid leukemia (in combination with low-dose cytarabine) in adult patients who are ≥75 years of age or who have comorbidities that preclude use of intensive induction chemotherapy.
Dosage

100 mg orally once a day on days 1 to 28 in combination with cytarabine 20 mg subcutaneously 2 times a day on days 1 to 10 of each 28-day cycle in the absence of unacceptable toxicity or loss of disease control; for patients without unacceptable toxicity, treat for a minimum of 6 cycles to allow time for clinical response

Use: This drug, in combination with low-dose cytarabine, for the treatment of newly-diagnosed acute myeloid leukemia (AML) in adult patients who are 75 years old or older or who have comorbidities that preclude use of intensive induction chemotherapy
Drug contraindications
There are no contraindications listed in the manufacturer's labeling.
Side effects
Along with its needed effects, glasdegib may cause some unwanted effects. Although not all of these side effects may occur, if they do occur they may need medical attention.
Check with your doctor immediately if any of the following side effects occur while taking glasdegib:
More common
Black, tarry stools
bleeding gums
blood in the urine or stools
chest pain
chills
confusion
cough
coughing up blood
decreased frequency or amount of urine
difficult or labored breathing
difficulty in swallowing
dizziness or fainting
drowsiness
dry mouth
fainting
fast, slow, or irregular heartbeat
fever
headache
increased blood pressure
increased menstrual flow or vaginal bleeding
increased thirst
lightheadedness
loss of appetite
loss of consciousness
lower back or side pain
mood or mental changes
muscle pain or cramps
muscle spasms (tetany) or twitching seizures
nausea
nervousness
nosebleeds
numbness or tingling in the hands, feet, or lips
painful or difficult urination
pale skin
paralysis
pinpoint red spots on the skin
pounding heartbeat
prolonged bleeding from cuts
rapid, shallow breathing
red or black, tarry stools
red or dark brown urine
seizures
sneezing
sore throat
stomach pain
swelling of the face, hands, ankles, or lower legs
tightness in the chest
trembling
troubled breathing with exertion
ulcers, sores, or white spots in the mouth
unusual bleeding or bruising
unusual tiredness or weakness
vomiting
weakness or heaviness of the legs
weight gain
Side effects not requiring immediate medical attention
Some side effects of glasdegib may occur that usually do not need medical attention. These side effects may go away during treatment as your body adjusts to the medicine. Also, your health care professional may be able to tell you about ways to prevent or reduce some of these side effects.
Check with your health care professional if any of the following side effects continue or are bothersome or if you have any questions about them:
More common
Bone or muscle pain
change in taste
constipation
cracked lips
decreased appetite
diarrhea
loose tooth
loss of taste
skin rash
thinning or loss of hair
toothache
Interactions
Ranolazine
,
Apomorphine
,
vandetanib
,
Quinine
,
Halofantrine
,
Grepafloxacin
,
Mibefradil
,
cobicistat
,
Delavirdine
,
Arformoterol
,
Alfuzosin
,
Paliperidone
,
Pazopanib
,
Butabarbital
,
Pimavanserin
,
Apalutamide
,
Crizotinib
,
Entrectinib
,
Amiodarone
,
Itraconazole
,
Bosentan
,
Papaverine
,
Primidone
,
Posaconazole
,
st. john's wort
,
Eslicarbazepine acetate
,
telotristat
,
bedaquiline
,
levomethadyl acetate
,
nafcillin
,
ozanimod
,
lefamulin
,
cenobamate
,
Lorlatinib
,
Siponimod
,
Troleandomycin
,
Ceritinib
,
conivaptan
,
Pasireotide
,
Dabrafenib
,
Gatifloxacin
,
Amisulpride
,
Iloperidone
,
ivosidenib
,
Cabozantinib
,
Anagrelide
,
Fosphenytoin
,
Idelalisib
,
Efavirenz
,
Telaprevir
,
Etravirine
,
Mesoridazine
,
Procainamide
,
Panobinostat
,
Ribociclib
,
Dofetilide
,
Ibutilide
,
Droperidol
,
vemurafenib
,
Osimertinib
,
Chloroquine
,
sparfloxacin
,
Indinavir
,
mitotane
,
Ivabradine
,
Mifepristone
,
Dolasetron
,
Telithromycin
,
boceprevir
,
Nefazodone
,
dronedarone
,
ritonavir
,
saquinavir
,
nelfinavir
,
nevirapine
,
Rifabutin
,
Rifapentine
,
Atazanavir
,
Toremifene
,
Quinidine
,
Ziprasidone
,
Carbamazepine
,
Ketoconazole
,
Clarithromycin
,
Clozapine
,
Enzalutamide
,
escitalopram
,
Modafinil
,
Moxifloxacin
,
Nilotinib
,
Haloperidol
,
Hydroxychloroquine
,
Voriconazole
,
Citalopram
,
Cisapride
,
Phenobarbital
,
Phenytoin
,
Fingolimod
,
Methadone
,
Pimozide
,
Thioridazine
,
Dexamethasone
,
Disopyramide
,
Rifampin
,
Sotalol
,
oleandomycin
,
Bepridil
,
Gemtuzumab
,
vemurafenib
,
Halaven
Alerts
Embryo-fetal toxicity:
Glasdegib can cause embryo-fetal death or severe birth defects when administered to a pregnant woman. Glasdegib is embryotoxic, fetotoxic, and teratogenic in animals. Conduct pregnancy testing in females of reproductive potential prior to initiation of glasdegib treatment. Advise females of reproductive potential to use effective contraception during treatment with glasdegib and for at least 30 days after the last dose. Advise males of the potential risk of glasdegib exposure through semen and to use condoms with a pregnant partner or a female partner of reproductive potential during treatment with glasdegib and for at least 30 days after the last dose to avoid potential drug exposure.


Concerns related to adverse effects:
• QTc prolongation: QTc prolongation and ventricular arrhythmias, including ventricular fibrillation and ventricular tachycardia may occur. A small percentage of patients in a clinical trial were found to have a QTc interval >500 msec; some patients had an increase from baseline >60 msec. Patients with baseline QTc >470 msec (or with a history of long QT syndrome or uncontrolled cardiovascular disease) were excluded from the clinical trial. Concomitant use of drugs known to prolong the QTc interval and CYP3A4 inhibitors may increase the risk of QTc interval prolongation. Monitor electrocardiograms (ECGs) and electrolytes; patients with congenital long QT syndrome, heart failure, electrolyte abnormalities, or those on concomitant medications known to prolong the QTc interval may require more frequent ECG monitoring. QTc interval prolongation may require therapy interruption, dose reduction, and/or permanent discontinuation.

Disease-related concerns:
Renal impairment: Patients with severe impairment are at increased risk of adverse reactions (including QTc interval prolongation) due to increased glasdegib concentrations; monitor closely.




Points of recommendation
Administer with or without food at approximately the same time each day. Do not split or crush the tablets.

Tell your doctor if you have ever had:
- heart problems;
- long QT syndrome (in you or a family member); or
- an electrolyte imbalance (such as low levels of potassium or magnesium in your blood).

Take the medicine as soon as you can, but skip the missed dose if your next dose is due in less than 12 hours. Do not use two doses at one time or use more than one dose in a 12-hour period.

Overdose symptoms may include tiredness, nausea, vomiting, dizziness, feeling like you might pass out, thirst, and little or no urination.Use should be avoided.

- Glasdegib can cause severe birth defects or death of a baby if the mother or the father is taking this medicine at the time of conception or during pregnancy.

If you are a woman who is able to get pregnant, you may need to have a negative pregnancy test before starting this treatment. Use effective birth control to prevent pregnancy while you are using this medicine and for at least 30 days after your last dose.

If you are a man, use condoms when having sex with a woman who is able to get pregnant, even if you have had a vasectomy. Keep using condoms for at least 30 days after your last dose.

Tell your doctor right away if a pregnancy occurs while either the mother or the father is using glasdegib.

This medicine may affect fertility (ability to have children) in men. However, it is important to use birth control to prevent pregnancy because glasdegib can harm an unborn baby.

Storage
Store at 20°C to 25°C (68°F to 77°F); excursions permitted between 15°C to 30°C (59°F to 86°F).
Pregnancy level
HAVE NOT BEEN ESTABLISHED
US FDA pregnancy category: Not assigned.
Risk Summary: Based on its mechanism of action and findings in animal studies, this drug can cause fetal harm when administered to a pregnant woman. It caused it caused embryotoxicity, fetotoxicity, and teratogenicity when given to animals during organogenesis at maternal exposures that were less than the human exposure at the recommended dose.
Breast feeding warning
Use should be avoided.
Excreted into human milk: Unknown
Excreted into animal milk: Data not available

Comments:
-There are no data on the presence of this drug or its active metabolites in human milk, the effects of the drug on the breastfed child, or its effect on milk production.
-Because of the potential for serious adverse reactions in a breastfed child, women taking this drug should not breastfeed during therapy and for at least 30 days after the last dose.
Drug forms
Daurismo