Drug information of Typhoid vaccine (live), oral
Typhoid vaccine (live), oral
Typhoid (also called "typhoid fever") is a serious disease caused by Salmonella typhi bacteria. Untreated typhoid infection may lead to kidney failure, or intestinal bleeding, which can be fatal. If the infection spreads to your gallbladder, you could become a chronic carrier of the bacteria that causes typhoid. A carrier may have no symptoms but is capable of spreading the infection to others.

Typhoid is spread through contact with the stool (bowel movements) of a person infected with the bacteria. This usually occurs by eating food or drinking water that has become contaminated with feces from an infected person. Once in the digestive tract, typhoid infection can spread to the blood and other parts of the body.

Typhoid can cause high fever, muscle aches, severe headache, weakness, confusion or agitation, loss of appetite, stomach pain, diarrhea or constipation, and rose-colored spots on the skin.

Typhoid vaccine is used to help prevent this disease in adults and children who are at least 6 years old. Although not part of a routine immunization schedule in the U.S., typhoid vaccine is recommended for:

people who travel to area where typhoid fever is common (non-industrialized parts of the world, especially Asia, Africa, and Central or South America);

people who live with someone who is a typhoid carrier; and

laboratory workers who may come into contact with Salmonella typhi in a work setting.

This vaccine works by exposing you to a small amount of the bacteria, which causes your body to develop immunity to the disease.

Typhoid vaccine will not treat an active infection that has already developed in the body, and will not prevent any disease caused by bacteria other than Salmonella typhi.

Like any vaccine, the typhoid vaccine may not provide protection from disease in every person.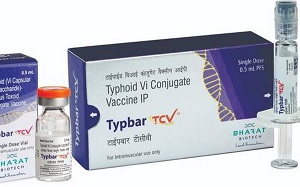 Drug indications
Typhoid Prophylaxis
Dosage
Usual Adult Dose for Typhoid Prophylaxis
1
capsule orally, on days 1, 3, 5, and 7, 1 hour before a meal, with cold or lukewarm fluids
Usual Pediatric Dose for Typhoid Prophylaxis
6
years and older
1
capsule orally, on days 1, 3, 5, and 7, 1 hour before a meal, with cold or lukewarm fluids
Drug contraindications
Safety and efficacy have not been established in patients younger than 6 years.
Side effects
General
The most common adverse events were abdominal pain, nausea, headache, fever, diarrhea, vomiting, and skin rash.
Gastrointestinal
Common (1% to 10%): Abdominal pain, nausea, diarrhea, vomiting, constipation, abdominal cramps
Other
Common (1% to 10%): Fever, influenza-like illness
Postmarketing reports: Asthenia, malaise, tiredness, shivering
Dermatologic
Common (1% to 10%): Skin rash, urticarial exanthema
Postmarketing reports: Urticaria in the trunk and/or extremities, dermatitis, exanthema, pruritus, urticaria
Nervous system
Common (1% to 10%): Headache
Postmarketing reports: Paresthesia, dizziness
Hypersensitivity
Postmarketing reports: Non-fatal anaphylactic shock, anaphylaxis
Musculoskeletal
Postmarketing reports: Arthralgia, myalgia[Ref]
Metabolic
Postmarketing reports: Anorexia
Interactions
Polymyxin b sulfate
,
Piperacillin
,
Thymoglubin
,
Lomustine
,
Metronidazole
,
prednisone
,
Prednisolone
,
Mefloquine
,
Dexrazoxane
,
Cefadroxil
,
Clofarabine
,
Halofantrine
,
Grepafloxacin
,
Canakinumab
,
Basiliximab
,
Alefacept
,
Aflibercept
,
Aztreonam
,
Aminosalicylic Acid
,
Axicabtagene ciloleucel
,
Pralatrexate
,
Paromomycin
,
trabectedine
,
tedizolid
,
dicloxacillin
,
Cefamandole
,
Secnidazole
,
Duvelisib
,
Plazomicin
,
Tafenoquine
,
Nelarabine
,
Telavancin
,
atovaquone/proguanil
,
Alemtuzumab
,
Dupilumab
,
Ocrelizumab
,
Ofatumumab
,
Tildrakizumab
,
Brodalumab
,
Rilonacept
,
Troleandomycin
,
bedaquiline
,
Dasatinib
,
ampicillin
,
Amikacin
,
Erythromycin
,
Streptomycin
,
Ofloxacin
,
Oxaliplatin
,
ixekizumab
,
ozanimod
,
cefaclor
,
cefpirome
,
cefprozil
,
ceftibuten
,
ertapenem
,
Siponimod
,
flucloxacillin
,
Roxithromycin
,
quinupristin and dalfopristin
,
Sulfamethoxazole
,
nafcillin
,
vedolizumab
,
Muromonab-CD3
,
Guselkumab
,
Ustekinumab
,
SULFISOXAZOLE
,
Temsirolimus
,
Cabazitaxel
,
Anakinra
,
temocillin
,
Ibrutinib
,
Pivmecillinam
,
Risankizumab
,
Tocilizumab
,
Tigecycline
,
Fleroxacin
,
Oxytetracycline
,
Demeclocycline
,
Ceftaroline
,
Oxacillin
,
Tobramycin
,
Golimumab
,
Mechlorethamine
,
Chlorhexidine
,
Neomycin
,
cefepime
,
Teicoplanin | Targocid
,
mercaptopurine
,
cortisone
,
Adalimumab
,
Certolizumab
,
Rifabutin
,
Rifapentine
,
Ticarcillin
,
Vancomycin
,
Linezolid
,
Trimethoprim
,
Hydroxychloroquine
,
Hydrocortisone
,
Clarithromycin
,
Chloramphenicol
,
Clindamycin
,
fosfomycin
,
Methylprednisolone
,
Meropenem
,
Melphalan
,
Moxifloxacin
,
Nitrofurantoin
,
Hydroxy urea
,
Fingolimod
,
Glatiramer acetate
,
Levofloxacin
,
Minocycline
,
Mycophenolate mofetil
,
Methotrexate
,
Ceftriaxone
,
Cefotaxime
,
Sulfadiazine
,
Ciprofloxacin
,
Sirolimus
,
Cyclosporine
,
Doxycycline
,
Deflazacort
,
Dexamethasone
,
Rifampin
,
Cefazolin
,
Ceftazidime
,
Tacrolimus
,
Tetracycline
,
Triamcinolone
,
Gemifloxacin
,
Gentamicin
,
Dapsone
,
Everolimus
,
Infliximab
,
Budesonide
,
Prednisolone fort
,
Procarbazine
,
Penicillin G
,
Daclizumab
,
Fidaxomicin
,
secukinumab
,
Cefoperazone
,
Cefiderocol
,
Bacampicillin
,
Famtrastuzumab
belimumab, ceftaroline, certolizumab pegol, ibrutinib, ixekizumab, lomustine, melphalan,
mechlorethamine, methotrexate, onasemnogene abeparvovec, oxaliplatin, procarbazine,
secukinumab, adalimumab, alefacept, amikacin, amoxicillin, ampicillin, anakinra, antithymocyte globulin equine, antithymocyte globulin rabbit, azathioprine, azithromycin, aztreonam, cefaclor, baricitinib, basiliximab, brodalumab, budesonide, cabazitaxel, canakinumab,
cefadroxil, cefamandole, cefazolin, cefepime, cefixime, cefotaxime, cefpirome, cefprozil,
ceftazidime, ceftibuten, ceftriaxone, cephalexin, chloramphenicol, chlorhexidine oral,
ciprofloxacin, clarithromycin, clindamycin, cortisone, cyclosporine, dapsone, deflazacort,
demeclocycline, dexamethasone, dicloxacillin, doxycycline, dupilumab, ertapenem, etanercept,
erythromycin base, erythromycin ethylsuccinate, erythromycin lactobionate, erythromycin stearate, everolimus, fingolimod, fleroxacin, flucloxacillin, fludrocortisone, fosfomycin,
gemifloxacin, gentamicin, glatiramer, golimumab, guselkumab, hydrocortisone, infliximab,
hydroxychloroquine sulfate, hydroxyurea, leflunomide, levofloxacin, linezolid, mefloquine,
mercaptopurine, meropenem, meropenem/vaborbactam, methylprednisolone,metronidazole,
minocycline, moxifloxacin, muromonab CD3, mycophenolate, nafcillin, neomycin PO,
nitrofurantoin, ofatumumab SC, ofloxacin, oxacillin, oxytetracycline, ozanimod, paromomycin,
penicillin G aqueous, penicillin VK, pivmecillinam, prednisolone, prednisone, rifabutin,
quinupristin/dalfopristin, rifampin, rifapentine, rilonacept, risankizumab, roxithromycin,
sarilumab, siponimod, sirolimus, streptomycin, sulfadiazine, sulfamethoxazole, sulfisoxazole,
tacrolimus, teicoplanin, temocillin, temsirolimus, tetracycline, ticarcillin, tigecycline,
tildrakizumab, tobramycin, tocilizumab, triamcinolone acetonide injectable suspension,
trimethoprim, upadacitinib, ustekinumab, vancomycin, vedolizumab
Alerts
Avoid eating anything for at least 1 hour after you take a capsule

Do not drink alcohol within 2 hours after you take a typhoid vaccine capsule. Alcohol can damage the capsule and could make the vaccine ineffective

In addition to using this vaccine, take precautions while traveling to further prevent coming into contact with bacteria that cause typhoid fever:
Avoid eating leafy vegetables such as spinach or lettuce, which are harder to wash properly.
Avoid eating raw fruits or vegetables that cannot be peeled, or that have been peeled by another person.
Avoid drinks that contain ice, or frozen treats and flavored ices that may have been made with contaminated water.
Avoid eating foods you have not cooked or prepared yourself. Use clean surfaces and utensils when preparing food.
Drink only bottled water (carbonated is best) or water that has been boiled for at least 1 minute
Points of recommendation
You should not receive this vaccine if you are sick with a fever or any type of infection, or a weak immune system caused by disease or by using certain medicine

You should not receive this vaccine if you have ever had an allergic reaction to typhoid vaccine in the past, or if you have:
a fever with any type of infection or illness
weak immune system caused by disease or by using certain medicine

If you have any of these other conditions, your vaccine may need to be postponed or not given at all:
stomach flu or any illness with vomiting or diarrhea
if you are taking an antibiotic, especially a sulfa drug
if you plan to start taking anti-malaria medicine within 10 days after receiving a typhoid oral vaccine

The typhoid oral vaccine is given in a set of 4 capsules. Take 1 capsule every other day at the same time of the day, such as when you first wake up

You will take a capsule every other day for 7 days. You will need to skip a day between capsules. Follow all instructions on the medicine package

Take this medicine with a full glass of cool or lukewarm water. Avoid very hot or cold water, which could cause the capsule to dissolve too quickly

Swallow the capsule as quickly as possible after placing it in your mouth

Swallow the capsule whole and do not crush, chew, break, or open it.

Take the capsule on an empty stomach, at least 1 hour before eating. Taking a capsule while there is food in your stomach could destroy the capsule and make the vaccine ineffective

Take each capsule according to the recommended schedule or this vaccine may not be effective. Plan ahead so that you complete all doses at least 1 week before you enter a typhoid risk area. The timing of this vaccination is very important for it to be effective

You must keep typhoid vaccine capsules cold. When you receive the capsules, place them in a refrigerator as soon as possible. Keep each capsule in the foil blister pack in the refrigerator until you are ready to take it. Do not allow the capsules to freeze

This vaccine should be effective for up to 5 years. You may need to take another series of 4 capsules every 5 years if you continue to be exposed to typhoid. Follow your doctor's instructions or the schedule recommended by the Centers for Disease Control and Prevention (CDC

Call your doctor if you forget to take a capsule on the scheduled day. You may need to start over to make sure you are fully protected against the disease


Pregnancy level
C
US FDA pregnancy category: C
it is not known whether typhoid vaccine will harm an unborn baby. However, if you are at a high risk for infection with typhoid fever during pregnancy, your doctor should determine whether you need this vaccine
Breast feeding warning
It may not be safe to breast-feed a baby while you are using typhoid vaccine (live), oral. Ask your doctor about any risks
Drug forms
Vivotif Berna