Drug information of mebeverine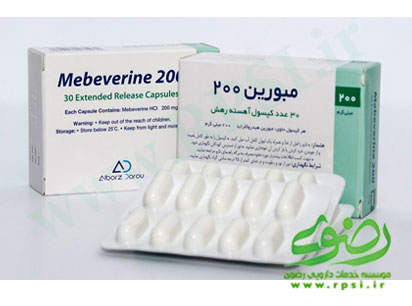 Mechanism of effect
The exact mechanism of action is not known, but multiple mechanisms, such as a decrease in ion channel permeabilities, blockade of noradrenaline reuptake, a local anesthetic effect, changes in water absorption as well as weak anti-muscarinergic and phosphodiesterase inhibitory effect might contribute to the local effect of mebeverine on the gastrointestinal tract .
Pharmacodynamic
It works by relaxing the muscles in and around the gut. It is a musculotropic antispasmodic drug without anticholinergic side effects.Musculotropic compounds act directly on the gut muscles at the cellular level to relax them. This relieves painful muscle spasms of the gut, without affecting its normal motility.
Pharmacokinetics
Absorption :
Mebeverine is rapidly and completely absorbed after oral administration of tablets. Time to peak plasma concentration: 1-3 hr.
Distribution :
No significant accumulation occurs after multiple doses.Plasma protein-binding: 75% to albumin .
Biotransformation :
Mebeverine hydrochloride is mainly metabolized by esterases, initially splitting the ester bonds into veratric acid and mebeverine alcohol. The main metabolite in plasma is DMAC (Demethylated carboxylic acid). The steady state elimination half-life of DMAC is 5.77h. During multiple dosing (200 mg b.i.d.) the Cmax of DMAC is 804 ng/ml and tmax is about 3 hrs. The relative bioavailability of the modified release capsule appears to be optimal with a mean ratio of 97% .
Elimination :
Via urine (95% as metabolites)
Mebeverine is not excreted as such, but metabolised completely; the metabolites are excreted nearly completely. Veratric acid is excreted into the urine; mebeverine alcohol is also excreted into the urine, partly as the corresponding carboxylic acid (MAC) and partly as the demethylated carboxylic acid (DMAC).

Drug indications
Carminative , IBS
Dosage
Adults :
- Mebeverine 135mg tablets
One tablet should be taken three times a day, 20 minutes before your three main meals.
- Mebeverine 200mg capsule
One capsule of 200 mg twice daily, to be given one in the morning and one in the evening.
Paediatrics :
Mebeverine is not recommended for use in children and adolescents below 18, due to insufficient data on safety and efficacy.

Side effects
Headache , insomnia , dizziness , anorexia , gastrointestinal disturbances
Alerts
- Colofac tablets contain lactose (80mg per tablet) and consideration should be given to patients with a potential diagnosis of lactose intolerance simulating irritable bowel syndrome .
- Mebeverine should be used with caution in: children, people with liver or kidney problems and those with a blood disease called porphyria.
Points of recommendation
This medication should not be used if you have certain medical conditions. Before using this medicine, consult your doctor or pharmacist if you have: paralytic ileus (lack of bowel movements, leading to blockage of the gut).
Before using this medication, tell your doctor or pharmacist your medical history, especially any of the following: any bleeding disorders (especially bleeding from the gut), severe constipation, having difficulty or pain when passing urine (water), recently had a fever, bloody stools, or have had abnormal vaginal bleeding or discharge.