Drug information of Levomilnacipran
Levomilnacipran
Levomilnacipran is a selective serotonin and norepinephrine reuptake inhibitor antidepressant (SNRI).
Levomilnacipran is used to treat major depressive disorder.
A similar medicine called milnacipran (Savella) is used to treat a chronic pain disorder called fibromyalgia. Levomilnacipran (Fetzima) should not be used to treat fibromyalgia.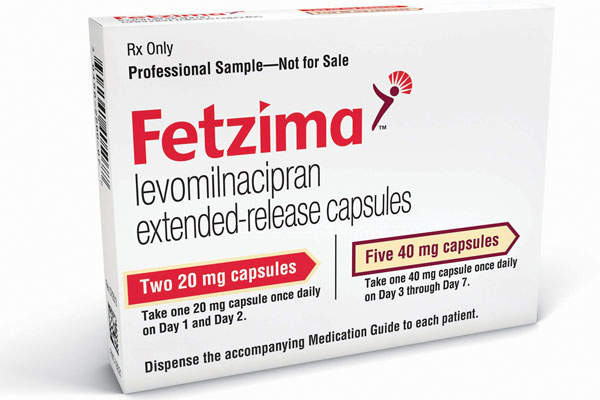 Mechanism of effect
Levomilnacipran, the more active enantiomer of milnacipran, is a potent inhibitor of norepinephrine and serotonin reuptake
Pharmacokinetics
Distribution
Vd: 387 to 473 L
Metabolism
Hepatic to inactive metabolites
Excretion
Urine (58% as unchanged drug)
Time to Peak
6 to 8 hours
Half-Life Elimination
12 hours
Protein Binding
22%
Drug indications
Major depressive disorder: Treatment of major depressive disorder (MDD)
Dosage
Depression: Oral: Initial: 20 mg once daily for 2 days; increase to 40 mg once daily; may then be increased in increments of 40 mg at intervals of 2 or more days; Maintenance: 40 to 120 mg once daily; Maximum: 120 mg/day
Drug contraindications
Hypersensitivity to levomilnacipran, milnacipran, or any component of the formulation; use of MAO inhibitors intended to treat psychiatric disorders (concurrently or within 7 days of discontinuing levomilnacipran, or within 2 weeks of discontinuing the MAO inhibitor); initiation of levomilnacipran in a patient receiving linezolid or intravenous methylene blue
Canadian labeling: Additional contraindications (not in US labeling): Use in patients with myocardial infarction or cardiac intervention within the past 12 months; HF (NYHA Class III or IV); uncontrolled tachyarrhythmia; uncontrolled hypertension; history of cerebrovascular accident.
Side effects
Warning:
Oral route (Capsule, Extended Release)
Antidepressants increased the risk of suicidal thoughts and behaviors in pediatric and young adult patients in short-term studies. Closely monitor all antidepressant-treated patients for clinical worsening, and for emergence of suicidal thoughts and behaviors. Not approved for use in pediatric patients.
Along with its needed effects, levomilnacipran may cause some unwanted effects. Although not all of these side effects may occur, if they do occur they may need medical attention.
Check with your doctor immediately if any of the following side effects occur while taking levomilnacipran:
More common
Difficult urination
fast, pounding, or irregular heartbeat or pulse
Less common
Anxiety
arm, back, or jaw pain
blurred vision
burning, crawling, itching, numbness, prickling, "pins and needles", or tingling feelings
chest pain or discomfort
chest tightness or heaviness
cloudy urine
confusion
decrease in the frequency of urination
difficulty in passing urine (dribbling)
difficulty with speaking
dizziness, faintness, or lightheadedness when getting up suddenly from a lying or sitting position
drooling
dry mouth
fainting
headache
irritability
loss of balance control
muscle trembling, jerking, or stiffness
nausea
painful urination
pounding in the ears
rapid or irregular heartbeat
restlessness
shaking
shuffling walk
slow heartbeat
stiffness of the limbs
sweating
trouble breathing
trouble sleeping
twisting movements of the body
uncontrolled movements, especially of the face, neck, and back
unusual tiredness or weakness
Some side effects of levomilnacipran may occur that usually do not need medical attention. These side effects may go away during treatment as your body adjusts to the medicine. Also, your health care professional may be able to tell you about ways to prevent or reduce some of these side effects. Check with your health care professional if any of the following side effects continue or are bothersome or if you have any questions about them:
More common
Difficulty having a bowel movement (stool)
increased sweating
loss in sexual ability, desire, drive, or performance
vomiting
Less common
Abdominal or stomach pain
bloated or full feeling
decreased appetite
dry eyes
dry skin
feeling of warmth
headache, severe and throbbing
hives or welts, itching, or rash
passing gas
red eye
red face, neck, arms, and occasionally, upper chest
sudden sweating
thirst
yawning
Interactions
Sibutramine
,
Tapentadol
,
Dolasetron
,
Palonosetron
,
Dexfenfluramine
,
Ramucirumab
,
Amitriptyline
,
Iopamidol
,
Ondansetron
,
Itraconazole
,
Imipramine
,
Bupropion
,
iobenguane I 131
,
st. john's wort
,
vortioxetine
,
Troleandomycin
,
Ceritinib
,
5-hydroxytryptophan
,
phendimetrazine
,
Ma huang
,
lasmiditan
,
Milnacipran
,
Mibefradil
,
cobicistat
,
Metrizamide
,
Benzphetamine
,
Mazindol
,
Alfentanil
,
Indinavir
,
Idelalisib
,
Lorcaserin
,
Telaprevir
,
Desvenlafaxine
,
Amprenavir
,
Fosamprenavir
,
Vilazodone
,
Telithromycin
,
boceprevir
,
Sufentanil
,
saquinavir
,
nelfinavir
,
eletriptan
,
Mirtazapine
,
Phenylpropanolamine
,
Tryptophan
,
Almotriptan
,
Diethylpropion
,
Frovatriptan
,
Fenfluramine
,
Methamphetamine
,
ritonavir
,
meperidine
,
iohexol (Omnipaque)
,
Nefazodone
,
Dextroamphetamine
,
Pentazocine
,
Naratriptan
,
Remifentanil
,
safinamide
,
methylene blue
,
rasagiline
,
propoxyphene
,
protriptyline
,
Atazanavir
,
Linezolid
,
phentermine
,
Phenelzine
,
Amoxapine
,
isocarboxazid
,
Clarithromycin
,
Clomipramine
,
Zolmitriptan
,
escitalopram
,
ergotamine
,
fentanyl
,
Granisetron
,
Maprotiline
,
Nortriptyline
,
Venlafaxine
,
Voriconazole
,
Ketoconazole
,
Sertraline
,
Selegiline
,
Citalopram
,
Fluvoxamine
,
Fluoxetine
,
Furazolidone
,
Tranylcypromine
,
Trimipramine
,
Desipramine
,
Duloxetine
,
Dihydroergotamine
,
Rizatriptan
,
Buspirone
,
Paroxetine
,
Procarbazine
,
Posaconazole
,
Trazodone
,
Tramadol
,
oleandomycin
,
Netupitant
Alerts
Before taking this medicine:
You should not use levomilnacipran if you are allergic to levomilnacipran or milnacipran (Savella).
Do not use levomilnacipran within 7 days before or 14 days after you have taken an MAO inhibitor. A dangerous drug interaction could occur. MAO inhibitors include isocarboxazid, linezolid, methylene blue injection, phenelzine, rasagiline, selegiline, and tranylcypromine.
Tell your doctor if you have ever had:
glaucoma;
heart problems, high blood pressure;
a stroke;
bleeding problems;
urination problems;
kidney disease;
a seizure;
low levels of sodium in your blood;
bipolar disorder(manic depression);
if there is a history of depression, manic behavior, or suicide in your family; or
if you drink alcohol.
Be sure your doctor knows if you also take stimulant medicine, opioid medicine, herbal products, or medicine for depression, mental illness, Parkinson's disease, migraine headaches, serious infections, or prevention of nausea and vomiting. These medicines may interact with levomilnacipran and cause a serious condition called serotonin syndrome.
Some young people have thoughts about suicide when first taking an antidepressant. Your doctor should check your progress at regular visits. Your family or other caregivers should also be alert to changes in your mood or symptoms.
Concerns related to adverse effects:
• Bleeding risk: May impair platelet aggregation resulting in increased risk of bleeding events, particularly if used concomitantly with aspirin, NSAIDs, warfarin or other anticoagulants. Bleeding related to SNRI use has been reported to range from relatively minor bruising and epistaxis to life-threatening hemorrhage.
• Cardiovascular effects: May increase blood pressure and heart rate; blood pressure and heart rate should be evaluated prior to initiating therapy and periodically thereafter; consider dose reduction or gradual discontinuation of therapy in individuals with sustained hypertension or tachycardia during therapy; use with caution in patients with preexisting hypertension, tachyarrhythmias (eg, atrial fibrillation), or other cardiovascular disease.
• Fractures: Bone fractures have been associated with antidepressant treatment. Consider the possibility of a fragility fracture if an antidepressant-treated patient presents with unexplained bone pain, point tenderness, swelling, or bruising .
• Ocular effects: May cause mild pupillary dilation which in susceptible individuals can lead to an episode of narrow-angle glaucoma. Consider evaluating patients who have not had an iridectomy for narrow-angle glaucoma risk factors.
• Serotonin syndrome: Potentially life-threatening serotonin syndrome (SS) has occurred with serotonergic agents (eg, SSRIs, SNRIs), particularly when used in combination with other serotonergic agents (eg, triptans, TCAs, fentanyl, lithium, tramadol, buspirone, St John's wort, tryptophan) or agents that impair metabolism of serotonin (eg, MAO inhibitors intended to treat psychiatric disorders, other MAO inhibitors [ie, linezolid and intravenous methylene blue]). Monitor patients closely for signs of SS such as mental status changes (eg, agitation, hallucinations, delirium, coma); autonomic instability (eg, tachycardia, labile blood pressure, diaphoresis); neuromuscular changes (eg, tremor, rigidity, myoclonus); GI symptoms (eg, nausea, vomiting, diarrhea); and/or seizures. Discontinue treatment (and any concomitant serotonergic agent) immediately if signs/symptoms arise.
• SIADH and hyponatremia: SSRIs and SNRIs have been associated with the development of SIADH; hyponatremia has been reported rarely (including severe cases with serum sodium <110 mmol/L). Age (the elderly), volume depletion and/or concurrent use of diuretics likely increases risk. Discontinue treatment in patients with symptomatic hyponatremia.
• Urinary hesitancy or retention: May cause increased urinary hesitation or resistance; advise patient to report symptoms of urinary hesitation/difficulty. Use caution in patients prone to obstructive urinary disorders.
Points of recommendation
Be sure your doctor knows if you also take stimulant medicine, opioid medicine, herbal products, or medicine for depression, mental illness, Parkinson's disease, migraine headaches, serious infections, or prevention of nausea and vomiting. These medicines may interact with levomilnacipran and cause a serious condition called serotonin syndrome.
Ask your doctor about taking this medicine if you are pregnant. Taking an SNRI antidepressant during late pregnancy could increase your risk of excessive bleeding just after you give birth, and may cause serious medical complications in the baby. However, you may have a relapse of depression if you stop taking your antidepressant. Tell your doctor right away if you become pregnant. Do not start or stop taking this medicine without your doctor's advice.
If you are pregnant, your name may be listed on a pregnancy registry to track the effects of levomilnacipran on the baby.
If you breastfeed while taking levomilnacipran, tell your doctor if your baby is agitated or irritable and has feeding problems or trouble gaining weight.
Take the medicine at the same time each day, with or without food.
Your blood pressure and heart rate will need to be checked often.
Do not stop using levomilnacipran suddenly, or you could have unpleasant withdrawal symptoms. Follow your doctor's instructions about tapering your dose.

Storage
Store at 25°C (77°F); excursions permitted between 15°C and 30°C (59°F and 86°F).
Pregnancy level
C
This drug should be used during pregnancy only if the benefit outweighs the risk to the fetus.

US FDA pregnancy category: C

Comments:
-A pregnancy exposure registry is available.
-Neonates exposed to this drug late in the third trimester may require respiratory support, tube feeding, and/or prolonged hospitalization.
-Exposed neonates should be monitored after delivery for direct toxic effects of this drug, drug discontinuation syndrome, and serotonin syndrome (e.g., respiratory distress, cyanosis, apnea, seizures, temperature instability, feeding difficulty, vomiting, hypoglycemia, hypo/hypertonia, hyperreflexia, tremor, jitteriness, irritability, constant crying).
Breast feeding warning
A decision should be made to discontinue breast-feeding or discontinue the drug, taking into account the importance of the drug to the mother.

Excreted into human milk: Yes (milnacipran, enantiomer); Unknown (parent compound)
Excreted into animal milk: Yes

Comments:
-The effects in the nursing infant are unknown.
-Exposed infants should be monitored for agitation, feeding, irritability, and weight gain.
Drug forms
Fetzima , Fetzima Titration