Drug information of Methscopolamine
Methscopolamine
Methscopolamine reduces the secretions of certain organs in the body, such as the stomach.
Methscopolamine is used to reduce stomach acid secretion to help control peptic ulcers. methscopolamine does not help heal an ulcer.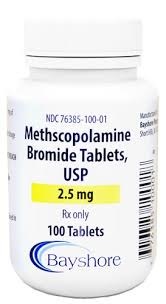 Mechanism of effect
Methscopolamine acts by interfering with the transmission of nerve impulses by acetylcholine in the parasympathetic nervous system (specifically the vomiting center). It does so by acting as a muscarinic antagonist.
Pharmacodynamic
Methscopolamine is a muscarinic antagonist structurally similar to the neurotransmitter acetylcholine and acts by blocking the muscarinic acetylcholine receptors and is thus classified as an anticholinergic. Methscopolamine has many uses including the prevention of motion sickness. It is not clear how Methscopolamine prevents nausea and vomiting due to motion sickness. The vestibular part of the ear is very important for balance. When a person becomes disoriented due to motion, the vestibule sends a signal through nerves to the vomiting center in the brain, and vomiting occurs. Acetylcholine is a chemical that nerves use to transmit messages to each other. It is believe that Methscopolamine prevents communication between the nerves of the vestibule and the vomiting center in the brain by blocking the action of acetylcholine. Methscopolamine also may work directly on the vomiting center. Methscopolamine must be taken before the onset of motion sickness to be effective.
Pharmacokinetics
absorption: Poorly and unreliably absorbed, total absorption is 10-25%.
Onset: Not Available
Duration: Not Available
Metabolism: Little is known about the fate and excretion of methscopolamine.
Drug indications
Used as adjunctive therapy for the treatment of peptic ulcer. Also used to treat nausea and vomiting due to motion sickness.
Dosage
Average dose: 2.5 mg orally one half hour before meals, and 2.5 to 5 mg at bedtime
-A starting dose of 12.5 mg daily (total dose) is clinically effective in most patients without appreciable side effects.
-Patients with severe symptoms needing prompt relief: Start with 5 mg orally one half hour before meals and at bedtime (total daily dose: 20 mg)
Side effects
confusion
difficulty breathing
dizziness or fainting
fast or irregular heartbeat
fever
pain or difficulty passing urine
skin rash
vomiting
weakness or tiredness
Side effects that usually do not require medical attention (report to your doctor or health care professional if they continue or are bothersome):
anxiety, nervousness
change in sex drive or performance
constipation
difficulty sleeping
headache
loss of taste
nausea
Interactions
Acetylcholine
,
Itraconazole
,
Trazodone
,
Diazepam
,
Diphenhydramin
,
Digoxin
,
Risperidone
,
Zolpidem
,
Cetirizine
,
Ketoconazole
,
codeine
,
glycopyrrolate topical
Do not take this medicine with any of the following medications:
medicines used to treat erectile dysfunction (ED) like sildenafil, tadalafil, and vardenafil
This medicine may also interact with the following medications:
medicines for hay fever and other allergies
medicines for mental depression
medicines for mental problems and psychotic disturbances
Alerts
Before taking methscopolamine, tell your doctor or pharmacist if you are allergic to it or to scopolamine; or if you have any other allergies. This product may contain inactive ingredients, which can cause allergic reactions or other problems. Talk to your pharmacist for more details.
Before using this medication, tell your doctor or pharmacist your medical history, especially of: personal or family history of glaucoma (angle-closure type), enlarged prostate, problems with urination due to a blocked urinary tract, other stomach/intestinal problems (such as slow gut, blockage, ulcerative colitis, infection, ileostomy/colostomy patients with diarrhea), overactive thyroid, heart problems (such as coronary artery disease, angina, congestive heart failure, fast/irregular heartbeat, heart problems due to severe bleeding), high blood pressure, heartburn problems (such as acid reflux, hiatal hernia, esophagus problems), certain nervous system problem (autonomic neuropathy), myasthenia gravis, liver problems, kidney problems.
This drug may make you dizzy or drowsy or blur your vision. Alcohol or marijuana (cannabis) can make you more dizzy or drowsy. Do not drive, use machinery, or do anything that needs alertness or clear vision until you can do it safely. Limit alcoholic beverages. Talk to your doctor if you are using marijuana (cannabis).
This medication may make you sweat less, making you more likely to get heat stroke. Avoid doing things that may cause you to overheat, such as hard work or exercise in hot weather, or using hot tubs. When the weather is hot, drink a lot of fluids and dress lightly. If you overheat, quickly look for a place to cool down and rest. Get medical help right away if you have a fever that does not go away, mental/mood changes, headache, or dizziness.
Points of recommendation
They need to know if you have any of these conditions:
difficulty passing urine
glaucoma
heart disease
intestinal problems such as ulcerative colitis
kidney disease
liver disease
myasthenia gravis
stomach or bowel obstruction
an unusual or allergic reaction to methscopolamine, other medicines, foods, dyes, or preservatives
pregnant or trying to get pregnant
breast-feeding
Visit your doctor or health care professional for regular checks on your progress.
You may get drowsy or dizzy. Do not drive, use machinery, or do anything that needs mental alertness until you know how this medicine affects you. Do not stand or sit up quickly, especially if you are an older patient. This reduces the risk of dizzy or fainting spells. Alcohol can make you more dizzy, and increase flushing and rapid heartbeats. Avoid alcoholic drinks.
Your mouth may get dry. Chewing sugarless gum or sucking hard candy, and drinking plenty of water may help. Contact your doctor if the problem does not go away or is severe.
This medicine may cause dry eyes and blurred vision. If you wear contact lenses you may feel some discomfort. Lubricating drops may help. See your eye doctor if the problem does not go away or is severe.
Avoid extreme heat. This medicine can cause you to sweat less than normal. Your body temperature could increase to dangerous levels, which can lead to heat stroke.