Drug information of Aminolevulinic acid topical
Aminolevulinic acid topical
A compound produced from succinyl-CoA and glycine as an intermediate in heme synthesis. It is used as a photochemotherapy for actinic keratosis.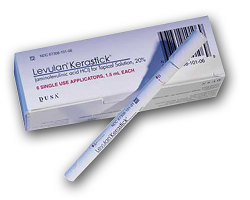 Mechanism of effect
Aminolevulinic acid is a precursor of photoactive porphyrins, which accumulate in the skin lesions where the product has been applied and are subsequently illuminated with a photodynamic lamp
When exposed to the light, the accumulated photoactive porphyrins produce a photodynamic reaction, resulting in a cytotoxic process dependent on the simultaneous presence of oxygen, which as a result generates a singlet oxygen; the singlet oxygen can then react to form superoxide and hydroxyl radicals
Pharmacodynamic
The metabolism of aminolevulinic acid (ALA) is the first step in the biochemical pathway resulting in heme synthesis. Aminolevulinic acid is not a photosensitizer, but rather a metabolic precursor of protoporphyrin IX (PpIX), which is a photosensitizer. The synthesis of ALA is normally tightly controlled by feedback inhibition of the enzyme, ALA synthetase, presumably by intracellular heme levels. ALA, when provided to the cell, bypasses this control point and results in the accumulation of PpIX, which is converted into heme by ferrochelatase through the addition of iron to the PpIX nucleus.
Pharmacokinetics
Ameluz
Plasma concentration: After occlusion for 3 hr, up to 2.5-fold increase of aminolevulinic acid plasma concentrations observed
Peak plasma time: 3 hr
Peak plasma concentration: 27.19 ng/mL
AUC: 142.83 ng·hr/mL
Levulan Kerastick
Peak plasma time: 2 hr
Peak plasma concentration: 249.9 ng/mL
AUC: 669.9 ng·hr/mL
· Half-life: 5.7 hr
Dosage
Usual Adult Dose for Actinic Keratosis
One application and one dose of illumination per treatment site per 8 week treatment session
Duration of therapy: Treated lesions that have not completely resolved after 8 weeks may be treated a second time.
Interactions
Mequinol
,
aminolevulinic acid oral
,
Amiodarone
,
Adapalene
,
Erythromycin
,
Ofloxacin
,
Ibuprofen
,
Isotretinoin
,
Cobimetinib
,
SULFISOXAZOLE
,
Nabumetone
,
Oxaprozin
,
etodolac
,
vemurafenib
,
Demeclocycline
,
Panitumumab
,
Verteporfin
,
Porfimer
,
Alitretinoin (topical)
,
Bendroflumethiazide
,
Chlorthalidone
,
Bexarotene
,
Celecoxib
,
Sulindac
,
Oxytetracycline
,
Simeprevir
,
flurbiprofen
,
chlorpropamide
,
Ketoprofen
,
fenoprofen
,
Diflunisal
,
Pirfenidone
,
Prochlorperazine
,
Tolbutamide
,
glyburide
,
Tolazamide
,
Afatinib
,
Indapamide
,
Voriconazole
,
Ketorolac
,
Chlorpromazine
,
Bicalutamide
,
Chlorothiazide
,
Glipizide
,
Metolazone
,
Mefenamic acid
,
Meloxicam
,
Moxifloxacin
,
acitretin
,
Hydrochlorothiazide
,
Ciprofloxacin
,
Fluphenazine
,
Griseofulvin
,
Glimepiride
,
Levofloxacin
,
Minocycline
,
Tolmetin
,
Thioridazine
,
Gemifloxacin
,
Doxycycline
,
Diclofenac
,
Sulfadiazine
,
Indomethacin
,
perphenazine
,
Piroxicam
,
Tetracycline
,
Tretinoin
,
Trifluoperazine
,
Valdecoxib
,
Gefitinib
,
Sarecycline
Alerts
Ameluz
Transient amnestic episodes reported during postmarketing use of topical gel in combination with photodynamic therapy
BF-RhodoLED lamp may cause eye irritation, glare, or injury; protective eye equipment must be used by patient, healthcare providers and any person present during the illumination period
Has not been tested on patients with inherited or acquired coagulation disorders; special care should be taken to avoid bleeding during lesion preparation
Eyelid edema and mucous membrane irritation reported; rinse eyes with water in case of accidental contact
Levulan Kerastick
Topical solution contains alcohol and is intended for topical use only; irritation may occur if applied to eyes or mucus membranes; do not apply to eyes or to mucous membranes; excessive irritation may be experienced if this product is applied under occlusion >3 hr
Treatment site will become photosensitive and patients should avoid exposure of photosensitive treatment sites to sunlight or bright indoor light (e.g., examination lamps, operating room lamps, tanning beds, or lights at close proximity) for 40 hours; exposure may result in a stinging and/or burning sensation and may cause erythema and/or edema of the lesions; before exposure to sunlight, patients should protect treated lesions from sun by wearing a wide- brimmed hat or similar head covering of light-opaque material, and/or a long-sleeved shirt and/or gloves; because of potential for skin to become photosensitized, the topical solution should be used by a qualified health professional to apply drug to no more than 5mm of perilesional skin surrounding the target actinic keratosis lesions
Safety and efficacy not established on patients with inherited or acquired coagulation defects
Points of recommendation
If you are treated with Levulan Kerastick solution:
You must return to your doctor's office within 14 to 18 hours afterward to receive light treatment.
Once the solution has been applied, keep the treated skin dry.
Do not wash the skin while waiting for your light treatment.
For up to 48 hours, you will need to protect your skin from bright light. Sunscreen will not be effective enough to protect you while this medicine is on your skin or scalp. Avoid exposure to both sunlight and bright indoor light. Wear protective clothing and a wide-brimmed hat when you are outdoors. If you feel stinging or burning of the treated skin, reduce your exposure to light.
You may have some redness, swelling, and scaling of your lesions and the surrounding skin. These symptoms should go away completely within 4 weeks.
Call your doctor if you have severe skin discomfort, or if you have new or worsening skin problems.
Call your doctor for instructions if you cannot return for your light treatment within the recommended 14 to 18 hours after Levulan Kerastick was applied. The timing of this medicine and light treatment is extremely important to the success of your treatment.
Avoid using other medications on the areas treated with aminolevulinic acid unless your doctor tells you to.
Pregnancy level
Group c - Not adequate studies in pregnant women