Drug information of Calcitriol (topical)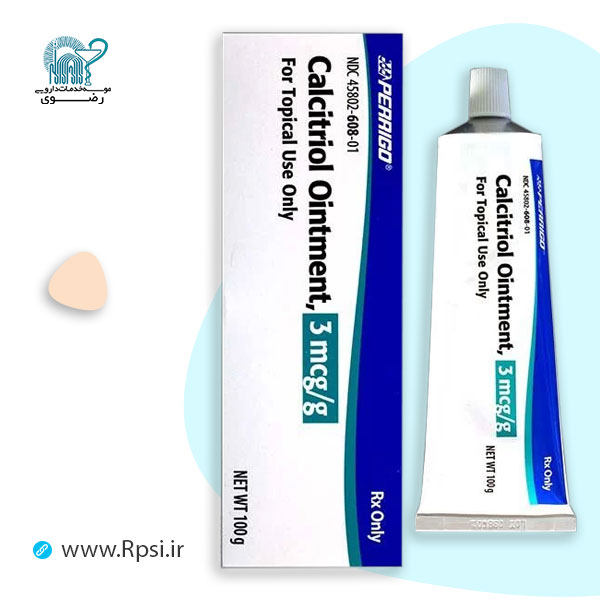 Mechanism of effect
The mechanism by which calcitriol is beneficial in the treatment of psoriasis has not been established.
Pharmacokinetics
Absorption
Oral: Rapid
Metabolism
Primarily to calcitroic acid and a lactone metabolite
Excretion
Excretion: Feces (27%); urine (7%, unchanged in 24 hours)
Clearance: Children 1.8 to 16 years undergoing peritoneal dialysis: 15.3 mL/hour/kg
Time to Peak
Oral: 3 to 6 hours; Hemodialysis: 8 to 12 hours
Duration of Action
Oral, IV: 3 to 5 days
Half-Life Elimination
Children 1.8-16 years undergoing peritoneal dialysis: 27.4 hours; Healthy adults: 5 to 8 hours; Hemodialysis: 16 to 22 hours
Protein Binding
99.9%
Drug indications
Plaque psoriasis: Management of mild-to-moderate plaque psoriasis.
Dosage
Usual Adult Dose for Psoriasis:
Ointment: Apply to affected areas twice a day, morning and evening

Comments:
-The maximum weekly dose should not exceed 200 g.

Use: Treatment of mild to moderate plaque psoriasis in adults 18 years and older.
Drug contraindications
There are no contraindications listed in the manufacturer's labeling.
Canadian labeling: Hypersensitivity to calcitriol or any component of the formulation; ophthalmic or internal use; hypercalcemia or a history of abnormal calcium metabolism; concurrent systemic treatment of calcium homeostasis; severe renal impairment or end-stage renal disease (ESRD); hepatic impairment.
Side effects
Get emergency medical help if you have signs of an allergic reaction: hives; difficult breathing; swelling of your face, lips, tongue, or throat.
Stop using this medicine and call your doctor at once if you have:
blistering, or severe redness, itching, or other irritation of treated areas; or
worsened symptoms or no improvement in psoriasis.
Using calcitriol topical can affect your body's ability to metabolize calcium. Tell your doctor right away if you have symptoms of high levels of calcium in your blood (hypercalcemia), including:
nausea, vomiting, loss of appetite, constipation;
increased thirst or urination;
lack of energy, feeling tired;
muscle weakness;
confusion; or
bone pain.
Common side effects may include:
calcium in your urine;
itching; or
abnormal lab tests.
Interactions
abaloparatide , bendroflumethiazide , benzthiazide , calcifediol , calcitriol , calcium acetate , calcium carbonate , calcium chloride , calcium citrate , calcium glubionate , calcium gluceptate , calcium gluconate , calcium glycerophosphate , calcium lactate , calcium phosphate, tribasic , chlorothiazide , chlorotrianisene , chlorthalidone , cholecalciferol , conjugated estrogens , conjugated estrogens topical , dehydroepiandrosterone , dienestrol topical , diethylstilbestrol , dihydrotachysterol , doxercalciferol , ergocalciferol , esterified estrogens , estradiol , estradiol topical , estramustine , estrone , estropipate , estropipate topical , fluoxymesterone , hydrochlorothiazide , hydroflumethiazide , indapamide ,methyclothiazide , methyltestosterone ,metolazone , nandrolone , oxandrolone , oxymetholone , parathyroid hormone , paricalcitol , polythiazide , uinestrol , stanozolol , teriparatide , testolactone , testosterone , testosterone topical , trichlormethiazide .
Alerts

Concerns related to adverse effects:
Hypercalcemia: May cause hypercalcemia; if alterations in calcium occur, discontinue treatment until levels return to normal.
Other warnings/precautions:
Appropriate use: For external use only; not for ophthalmic, oral, or intravaginal use. Do not apply to facial skin, eyes, or lips. Absorption may be increased with occlusive dressings. Avoid or limit excessive exposure to natural or artificial sunlight, or phototherapy. The safety and effectiveness has not been evaluated in patients with erythrodermic, exfoliative, or pustular psoriasis.

calcitriol could make your skin more sensitive to harmful effects of the sun. Avoid sunlight or tanning beds. Wear protective clothing and use sunscreen (SPF 30 or higher) when you are outdoors.

Calcitriol topical is not approved for use by anyone younger than 18 years old.

Do not take by mouth. Topical medicine is for use only on the skin. Do not use calcitriol topical on your lips or face, or around your eyes.
Points of recommendation
Follow all directions on your medicine label and package. Tell each of your healthcare providers about all your medical conditions, allergies, and all medicines you use.

- Before taking this medicine
Tell your doctor if you have ever had:
low or high levels of calcium in your blood;
a calcium disorder or metabolic imbalance; or
if you are receiving UV light treatments (phototherapy) for your psoriasis.
Tell your doctor if you are pregnant or breastfeeding.
Wash your hands before and after applying calcitriol, unless you are using it to treat psoriasis on your hands.
Apply a thin layer of the medication and rub it in completely.
Do not cover treated skin areas unless your doctor has told you to.
Calcitriol topical is for use only on areas of psoriasis. Avoid getting it on healthy skin areas.
Store at room temperature away from moisture and heat. Do not freeze or refrigerate.
Do not share this medicine with another person, even if they have the same symptoms you have.
Use the medicine as soon as you can, but skip the missed dose if it is almost time for your next dose. Do not use two doses at one time.
Storage
Store at room temperature of 25°C (77°F); excursions permitted to 15°C to 30°C (59°F to 86°F); do not refrigerate; do not freeze.
Pregnancy level
Pregnancy Considerations
Adverse effects have been observed in some animal reproduction studies. When treatment for psoriasis in pregnancy is needed, the use of other agents is generally preferred .
Breast feeding warning
Relevant published information was not found as of the revision date
Drug forms
Vectical