Drug information of Methyl aminolevulinate
Methyl aminolevulinate
Methyl aminolevulinate topical (for the skin) is used in combination with red light therapy to treat a skin condition called actinic keratosis of the face and scalp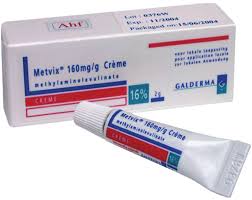 Mechanism of effect
Photosensitization following application of Metvixia Cream occurs through the metabolic conversion of methyl aminolevulinate (prodrug) to photoactive porphyrins (PAPs), which accumulate in the skin lesions to which Metvixia Cream has been applied. When exposed to light of appropriate wavelength and energy, the accumulated photoactive porphyrins produce a photodynamic reaction, resulting in a cytotoxic process dependent upon the simultaneous presence of oxygen.
Pharmacokinetics
The time-course of Protoporphyrin IX in actinic keratosis lesions and surrounding skin after application of Metvixia Cream has been monitored by means of fluorescence. Three hours after the application of Metvixia Cream fluorescence in the treated lesions was significantly greater than that seen in both treated and untreated normal skin, and after application of vehicle cream (not containing methyl aminolevulinate) to normal skin.
Drug indications
Keratosis
Dosage
Usual Adult Dose for Keratosis:
Apply directly on lesion(s), up to a total of 1 gram (half tube) per each treatment session. Two sessions one week apart should be administered.
Drug contraindications
Known sensitivity to methyl aminolevulinate or any component of the formulation, including peanut and almond oil
individuals with cutaneous photosensitivity; allergy to porphyrins
Side effects
Get emergency medical help if you have any of these signs of an allergic reaction: hives; difficult breathing; swelling of your face, lips, tongue, or throat.
Call your doctor at once if you have:
severe stinging, burning, redness, oozing, or swelling of treated skin areas (especially if these effects get worse or last longer than 3 weeks).
Interactions
Amiodarone
,
Acetazolamide
,
Ofloxacin
,
Ibuprofen
,
Isotretinoin
,
perphenazine
,
Hydrochlorothiazide
,
Voriconazole
,
Bicalutamide
,
ethacrynic acid
,
glyburide
,
Celecoxib
,
Furosemide
,
Griseofulvin
,
Levofloxacin
,
Methotrexate
,
Methoxalen
,
Nalidixic acid
,
Tetracycline
,
Dapsone
,
Doxycycline
,
Sulfasalazine
,
Ciprofloxacin
,
Fluphenazine
,
Gefitinib
,
Sarecycline
,
vemurafenib
A total of 121 drugs are known to interact with methyl aminolevulinate topical
Methyl aminolevulinate topical causes your skin to be more sensitive to light in areas where it has been applied. The risk and/or severity of reactions such as redness, scaling, swelling, stinging, and burning may be increased when it is used with other drugs that can also increase sensitivity to light.
A total of 121 drugs are known to interact with
methyl aminolevulinate topical

adapalene topical
coal tar topical
Alerts
Tell your caregivers right away if any of this medicine gets into your eyes, mouth, or nose.
Avoid touching the treated skin areas after Metvixia cream has been applied to them.
For at least 48 hours after your treatment, avoid exposing treated skin to sunlight, sunlamps, tanning beds, or other bright lights. Sunscreen is not effective enough to protect treated skin from harm caused by bright light during this time. Wear protective clothing whenever you are outdoors.
Even if you do not receive the light therapy portion of your treatment, you must still protect your skin from light for 48 hours after the Metvixia cream was applied.
Points of recommendation
Keep out of reach of children
For topical use only by physicians in the physician's office. Dispense only to physicians and only to be applied by a physician.
Physicians should wear nitrile gloves when applying and removing Metvixia Cream. Vinyl and latex gloves do not provide adequate protection when using this product.
Store/Transport refrigerated, 2˚ - 8˚C
Use contents within one week after opening.
Should not be used after 24 hours out of refrigerator
Breast feeding warning
It is not known whether methyl aminolevulinate passes into breast milk or if it could harm a nursing baby. Tell your doctor if you are breast-feeding a baby
Drug forms
Metvixia