Drug information of Metformin
Metformin
Metformin is an oral diabetes medicine that helps control blood sugar levels. Metformin is for people with type 2 diabetes. Metformin is sometimes used in combination with insulin or other medications, but it is not for treating type 1 diabetes.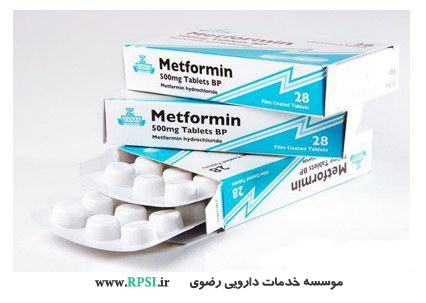 Mechanism of effect
Metformin is an antihyperglycemic agent which improves glucose tolerance in patients with type 2 diabetes, lowering both basal and postprandial plasma glucose. Its pharmacologic mechanisms of action are different from other classes of oral antihyperglycemic agents. Metformin decreases hepatic glucose production, decreases intestinal absorption of glucose, and improves insulin sensitivity by increasing peripheral glucose uptake and utilization.
Pharmacodynamic
Unlikesulfonylureas, Metformin does not produce hypoglycemia in either patients with type 2 diabetes or normal subjectsand does not cause hyperinsulinemia. With Metformin therapy, insulin secretion remains unchanged while fasting insulin levels and day-long plasma insulin response may actually decrease.
Pharmacokinetics
The absolute bioavailability of a Metformin hydrochloride tablet 500 mg given under fasting conditions is approximately 50-60%. Metformin is negligibly bound to plasma proteins, in contrast to sulfonylureas, which are more than 90% protein bound. Metformin is excreted unchanged in the urine and does not undergo hepatic metabolism, nor biliary excretion.tubular secretion is the major route of Metformin elimination. Following oral administration, approximately 90% of the absorbed drug is eliminated via the renal route within the first 24 hours, with a plasma elimination half-life of approximately 6.2 hours. In blood, the elimination half-life is approximately 17.6 hours,
Dosage
Usual Adult Dose for Diabetes Type 2 Immediate-release: Initial dose: 500 mg orally twice a day or 850 mg orally once a day Dose titration: Increase in 500 mg weekly increments or 850 mg every 2 weeks as tolerated Maintenance dose: 2000 mg daily Maximum dose: 2550 mg daily Usual Pediatric Dose for Diabetes Type 2 10 years or older: Immediate-release: Initial dose: 500 mg orally twice a day Dose titration: Increase in 500 mg weekly increments as tolerated Maintenance dose: 2000 mg daily Maximum dose: 2000 mg daily
Alerts
1-Lactic acidosis is a rare, but serious, metabolic complication that can occur due to Metformin accumulation during treatment with Metformin 2-Metformin is known to be substantially excreted by the kidney, and the risk of Metformin accumulation and lactic acidosis increases with the degree of impairment of renal function. Thus, patients with serum creatinine levels above the upper limit of normal for their age should not receive Metformin 3-In patients with advanced age, Metformin should be carefully titrated to establish the minimum dose for adequate glycemic effect, because aging is associated with reduced renal function. 4-Before initiation of Metformin therapy and at least annually thereafter, renal function should be assessed and verified as normal
Points of recommendation
1-Patients should be counselled against excessive alcohol intake, either acute or chronic, while receiving Metformin. 2-Metformin alone does not usually cause hypoglycemia, although it may occur when Metformin is used in conjunction with oral sulfonylureas and insulin 3-Patients should be informed that Metformin hydrochloride extended-release tablets must be swallowed whole and not crushed or chewed, 4-Response to all diabetic therapies should be monitored by periodic measurements of fasting blood glucose and glycosylated hemoglobin levels 5-Initial and periodic monitoring of hematologic parameters (e.g., hemoglobin/ hematocrit and red blood cell indices) and renal function (serum creatinine) should be performed, at least on an annual basis. While megaloblastic anemia has rarely been seen with Metformin hydrochloride tablets therapy, if this is suspected, Vitamin B12 deficiency should be excluded.