Drug information of Semaglutide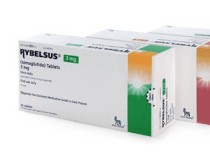 Mechanism of effect
Semaglutide is selective glucagon-like peptide-1 (GLP-1) receptor agonist. Acting on the same receptor as the endogenous hormone incretin, semaglutide increases glucose-dependent insulin secretion, decreases inappropriate glucagon secretion, and slows gastric emptying. Increases first- and second-phase insulin secretion.
Pharmacokinetics
Distribution
Vd: Oral: 8 L; SubQ: ~12.5 L
Metabolism
Proteolytic cleavage of the peptide backbone with sequential beta-oxidation of the fatty acid sidechain
Excretion
Urine (~3% as unchanged drug), feces
Time to Peak
Plasma: Oral: 1 hour; SubQ: 1 to 3 days
Half-Life Elimination
~1 week
Protein Binding
>99% to albumin
Drug indications
Labeled Indications
Diabetes mellitus, type 2: Adjunct to diet and exercise to improve glycemic control in adults with type 2 diabetes mellitus
Dosage
Oral Tablets:
Initial dose: 3 mg orally once a day for 30 days; then 7 mg orally once a day
-Titration: If additional glycemic control is needed after at least 30 days at 7 mg/day, may increase to 14 mg orally once a day
Maintenance dose: 7 to 14 mg/day
Maximum dose: 14 mg/day (taking two 7 mg tablets to achieve a 14 mg dose is not recommended)

Subcutaneous Administration:
Initial dose: 0.25 mg subcutaneously once a week for 4 weeks, then 0.5 mg subcutaneously once a week
-If additional glycemic control is needed after at least 4 weeks at 0.5 mg/week, may increase dose to 1 mg subcutaneously once a week
Maintenance dose: 0.5 to 1 mg subcutaneously once a week
Maximum dose: 1 mg/week

Switching between Subcutaneous Administration and Oral Tablets:
-Patients receiving 14 mg orally once a day can be transitioned to 0.5 mg subcutaneously once a week; subcutaneous administration should start after their last oral dose
-Patients receiving 0.5 mg subcutaneously once a week can be transitioned to 7 or 14 mg orally once a day; oral therapy should start up to 7 days after their last subcutaneous injection
-No equivalent oral dose is recommended to replace a subcutaneous dose of 1 mg weekly

Comments:
-Doses of 0.25 mg subcutaneously once a week and 3 mg orally once a day are intended for treatment initiation and are not effective doses for glycemic control.
-This drug is not recommended as a first-line therapy due to the uncertain relevance of rodent C-cell tumor findings to humans.
-This drug has not been studied in patients with a history of pancreatitis; other antidiabetic therapies should be considered in these patients.

Use: As an adjunct to diet and exercise to improve glycemic control in adults with type 2 diabetes mellitus.
Drug contraindications
Hypersensitivity to semaglutide or any component of the formulation; personal or family history of medullary thyroid carcinoma (MTC); patients with multiple endocrine neoplasia syndrome type 2 (MEN2)
Canadian labeling: Additional contraindications (not in US labeling): Pregnancy; breastfeeding
Side effects
Along with its needed effects, semaglutide may cause some unwanted effects. Although not all of these side effects may occur, if they do occur they may need medical attention.
Check with your doctor immediately if any of the following side effects occur while taking semaglutide:
Less common
Gaseous abdominal pain
recurrent fever
stomach fullness
yellow eyes or skin
Rare
Burning feeling in the chest or stomach
indigestion
stomach upset
tenderness in the stomach area
Incidence not known
Anxiety
blurred vision
chills
cold sweats
confusion
cool, pale skin
discouragement
dizziness
fast heartbeat
feeling sad or empty
headache
increased heart rate
increased hunger
irritability
lack of appetite
loss of consciousness
loss of interest or pleasure
nausea
nervousness
nightmares
seizures
shakiness
slurred speech
tiredness
trouble concentrating
trouble sleeping
unusual tiredness or weakness
Some side effects of semaglutide may occur that usually do not need medical attention. These side effects may go away during treatment as your body adjusts to the medicine. Also, your health care professional may be able to tell you about ways to prevent or reduce some of these side effects. Check with your health care professional if any of the following side effects continue or are bothersome or if you have any questions about them:
More common
Diarrhea
stomach pain
vomiting
Less common
Belching
bloated, full feeling
constipation
excess air or gas in the stomach or intestines
heartburn
passing gas
stomach discomfort or upset
Rare
Bleeding, blistering, burning, coldness, discoloration of skin, feeling of pressure, hives, infection, inflammation, itching, lumps, numbness, pain, rash, redness, scarring, soreness, stinging, swelling, tenderness, tingling, ulceration, or warmth at the injection site
change in taste
loss of taste
Alerts
You should not use semaglutide if you are allergic to it, or if you have:
multiple endocrine neoplasia type 2 (tumors in your glands);
a personal or family history of medullary thyroid carcinoma (a type of thyroid cancer); or
diabetic ketoacidosis (call your doctor for treatment).
Tell your doctor if you have ever had:
a stomach or intestinal disorder;
pancreatitis;
kidney disease; or
eye problems caused by diabetes (retinopathy).
In animal studies, semaglutide caused thyroid tumors or thyroid cancer. It is not known whether these effects would occur in people using regular doses. Ask your doctor about your risk.
Semaglutide may harm an unborn baby. Tell your doctor if you are pregnant or plan to become pregnant. Semaglutide can have long-lasting effects on your body. Avoid getting pregnant for at least 2 months after you stop using semaglutide.
You should not breastfeed while using semaglutide.
Semaglutide is not approved for use by anyone younger than 18 years old.
You may have low blood sugar (hypoglycemia) and feel very hungry, dizzy, irritable, confused, anxious, or shaky. To quickly treat hypoglycemia, eat or drink a fast-acting source of sugar (fruit juice, hard candy, crackers, raisins, or non-diet soda).
Points of recommendation
Rybelsus (oral) is taken by mouth. Take Rybelsus on an empty stomach when you first wake up, at least 30 minutes before you eat or drink anything. Take this medicine with no more than 4 ounces of water. Swallow the tablet whole and do not crush, chew, or break it.
Rybelsus works best if you eat 30 to 60 minutes after taking it.
Ozempic (injection) is injected under the skin. A healthcare provider may teach you how to properly use the medication by yourself.
Read and carefully follow any Instructions for Use provided with Ozempic. Ask your doctor or pharmacist if you don't understand all instructions.
Prepare an injection only when you are ready to give it. Do not use if the medicine looks cloudy or has particles in it. Call your pharmacist for new medicine.
Ozempic is usually given once per week at any time of the day, with or without a meal. If you want to change your weekly injection day, wait at least 2 days after your most recent injection before giving another one.
Your healthcare provider will show you where on your body to inject Ozempic. Use a different place each time you give an injection. Do not inject into the same place two times in a row.
Your doctor may prescribe a glucagon injection kit in case you have severe hypoglycemia. Be sure your family or close friends know how to give you this injection in an emergency.
Also watch for signs of high blood sugar (hyperglycemia) such as increased thirst or urination.
Blood sugar levels can be affected by stress, illness, surgery, exercise, alcohol use, or skipping meals. Ask your doctor before changing your dose or medication schedule.
Call your doctor if you have ongoing vomiting or diarrhea, or if you are sweating more than usual. You can easily become dehydrated while taking semaglutide. This can lead to kidney failure.
Semaglutide is only part of a complete treatment program that may also include diet, exercise, weight control, regular blood sugar testing, and special medical care. Follow your doctor's instructions very closely.
Store Rybelsus tablets in their original package at room temperature, away from moisture and heat.


Storing unopened Ozempic injection pens: Store in the refrigerator. Do not freeze semaglutide, and throw away the medication if it has become frozen. Do not use an unopened injection pen if the expiration date on the label has passed.
Storing after your first use: You may keep an "in-use" injection pen in the refrigerator or at room temperature. Protect the pen from heat and sunlight. Remove the needle before storing an injection pen, and keep the cap on the pen when not in use. Throw the injection pen away 56 days after the first use.
Use a disposable needle only once. Follow any state or local laws about throwing away used needles and syringes. Use a puncture-proof "sharps" disposal container (ask your pharmacist where to get one and how to throw it away). Keep this container out of the reach of children and pets.
Storage
Injection: Prior to initial use, store at 2°C to 8°C (36°F to 46°F). After initial use, store at 2°C to 8°C (36°F to 46°F) or 15°C to 30°C (59°F to 86°F) for up to 56 days; discard after 56 days. Do not freeze (discard if freezing occurs) or store directly adjacent to the refrigerator cooling element. Protect from excessive heat and sunlight. Keep pen capped when not in use.
Oral: Store at 20°C to 25°C (68°F to 77°F); excursions permitted to 15°C to 30°C (59°F to 86°F). Store in original blister card; protect from moisture.
Pregnancy level
HAVE NOT BEEN ESTABLISHED
AU TGA pregnancy category: D
US FDA pregnancy category: Not assigned
Breast feeding warning
Oral Administration: Not recommended
Subcutaneous Administration: Benefit should outweigh risk

Excreted into human milk: Unknown
Excreted into animal milk: Yes

Drug forms
Ozempic, Rybelsus